While there are no shortage of email marketing solutions, the challenge is finding the one to deliver on the features you need and want without the extra costs and unnecessary complications. So, when you're hunting for the right platform, make sure to build your list of must haves, and match it with the right subscription cost.
Eventually, not all tools out there offer quality features at a good pricing. With an ever-growing online industry and so many different approaches to email marketing – we've decided to narrow down the top 10 email marketing services and built a list of some of the best tools in the market right now that cover different use cases.
Here's our shortlisted mix of some of the best email marketing services in 2023 so far:
So let's get into it;
1. Mailmeteor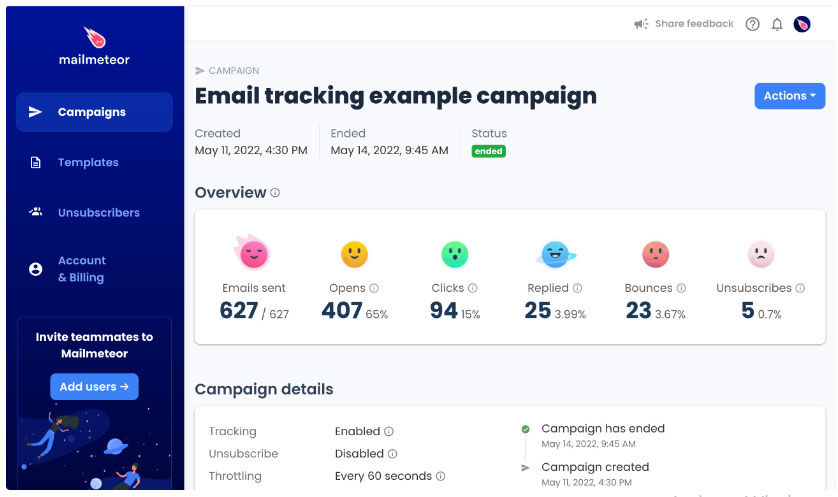 Our top pick, and for very valid reasons.
If you use Gmail, Mailmeteor is by far your greatest option. It works exceptionally well for entrepreneurs, independent professionals, small businesses, and email marketers who want to communicate with their contacts, personalize their messages, track their progress, and get more results from their efforts. Mailmeteor is the perfect sidekick to your Gmail account, and gives you the best bang for your buck.
Mailmeteor is a complete email marketing platform with practical features to schedule your campaigns, personalize emails, create templates, follow up with your contacts, and get insights on your work. Power up using autopilot, and integrate with CRMs like HubSpot.
The dashboard is easy-to-use for anyone. All it takes is a few clicks to start building campaigns that work. So, Mailmeteor is made for professionals who really want to upskill their email marketing with ease and save time but increase productivity and results.
There are three pricing plans and a freemium. The free plan is enough to get you going with small accounts, but will be enough for beginners. It allows up to 50 emails per day and includes some basic (and necessary) features to get started.
The paid plans for 1 user:
Premium: €9.99 per month or €49.99 for two years
Pro: €24.99 per month or €249.99 for two years
Business: €49.99 per month or €499.99 for two years
Teams of 5 or more enjoy greater discounts and all paid plans allow sending 2,000 emails per day. The premium plan includes email building and scheduling. The pro plan adds automation, follow-ups, email sequences, and email validations.
Lastly, the business plan includes custom domain tracking, one-minute follow-ups, access to valuable trainings and webinars, with priority support. The best option depends on your need, but the two-year plans bring great value at discounts of over 50%.
2. GetResponse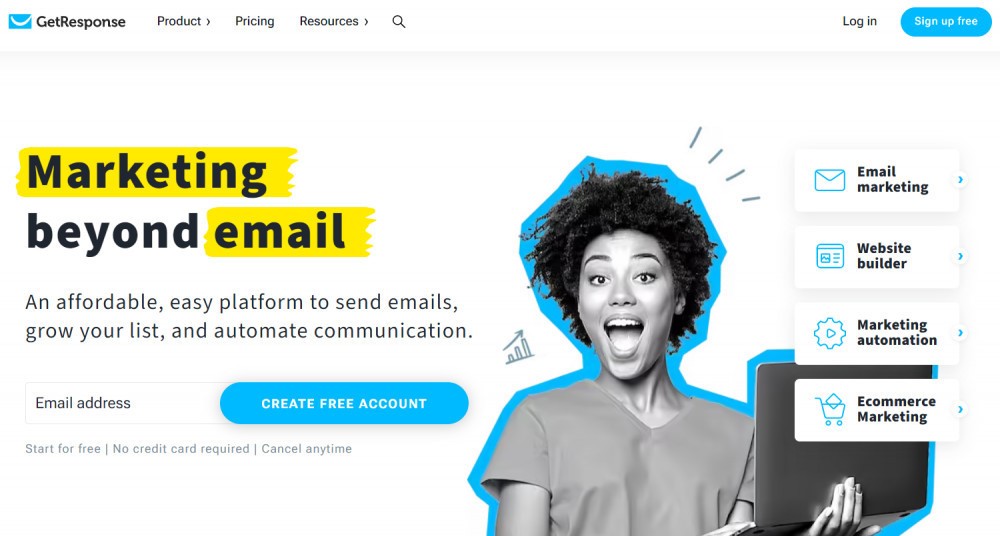 GetResponse is one of the oldest email marketing services. It was founded in 1998, and many email marketers have used it all these years. Today it's considered a good all-in-one marketing tool focusing on small businesses.
It has the standard features of an email marketing tool that allows you to send emails, create templates, and use automation. But GetResponse also includes a website builder, landing page builder, eCommerce tools, and other features.
This all-in-one platform has pros and cons. The pros: beginners can start working on their projects without much experience or digital skills. They can get a pre-made landing page or email form, get some leads, and send emails.
However, if your focus is on email marketing alone, these features are not helpful. The pricing will increase fast as you add more contacts.
There are four pricing plans:
Free: Up to 500 contacts and 2,500 newsletters out per month
Email marketing: $16 per month for 1,000 contacts
Marketing automation: $54 per month for 1,000 contacts
eCommerce marketing: $106 per month for 1,000 contacts
As you add up contacts, your cost goes up.
Luckily their plans offer discounts for 1 and 2 year plans.
3. HubSpot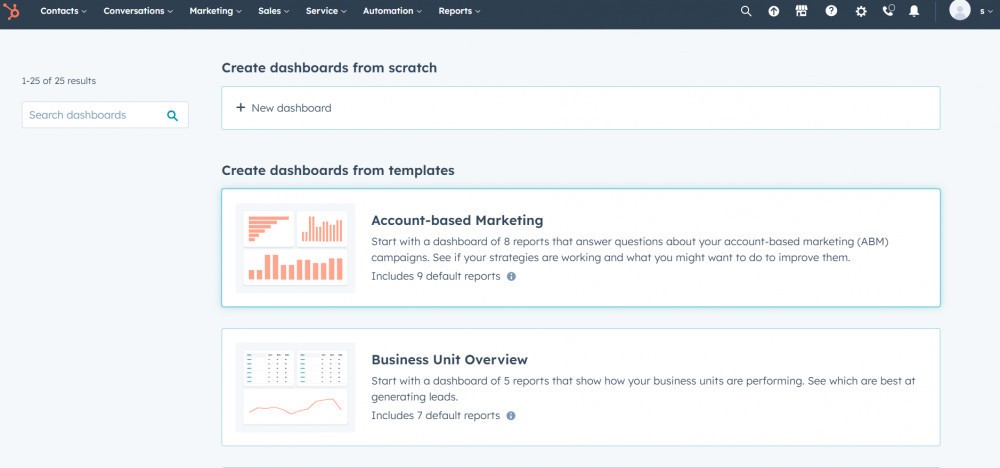 HubSpot is a popular CRM and marketing tool. It also includes multiple features for marketing and sales teams, including social media management, website CMS, lead and form management, attribution, and sales workflows.
The email service is some of the best in class in terms of reporting and insights with a drag-and-drop builder and various pre-made templates for email formats. This makes it easy to get started without much work on your end.
When it comes to email marketing, HubSpot includes all the important features of a good tool. However, you can't choose a plan for email marketing alone, and the added features add up to the price. So, it's ideally beneficial for businesses who want to use a wide function platform that integrates all parts of their marketing and sales efforts.
However, there is a steep learning curve for using HubSpot. Many moving parts need to work together.
HubSpot's pricing plan is slightly more complicated:
Starter plans pay €20 per month for 1,000 contacts with a selection of features to get started.
Professional: €880 per month for 2,000 marketing contacts
Enterprise is at €3,300 per month for 10,000 contacts
You can always purchase banks of contacts if your list grows past your limit.
The full list of features and pricing can be found here, and your choice of plans will hugely depend on what are the capabilities you look for.
4. Drip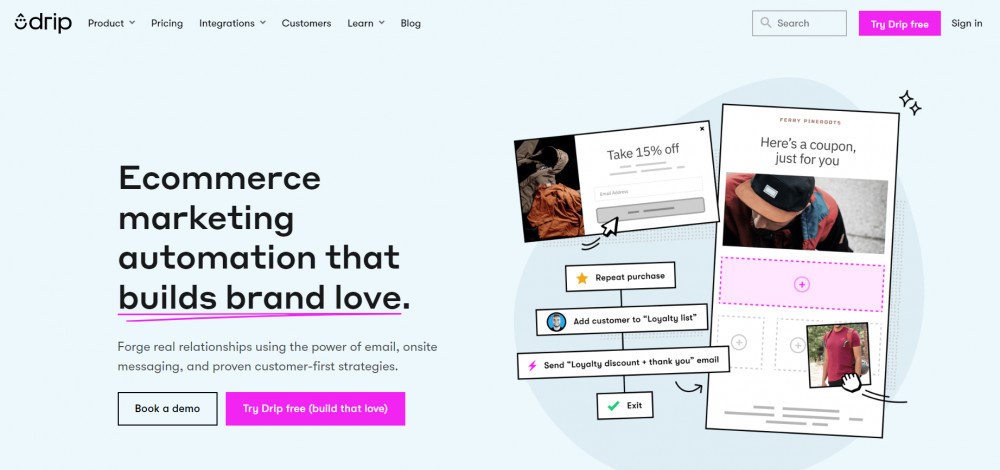 Drip is the platform for e-commerce businesses that want to make use email marketing. Their focus is specific to e-commerce and is made obvious in their positioning.
However, they have some nice email marketing tools for email creation, follow-ups, and automation. You can also create sales funnels and use personalization to customize your messaging.
Drip also offers easy integrations for Shopify, WordPress, WooCommerce, and other popular e-commerce platform. Another winning feature is smart automation to assist your effort to increase sales for your online store powered with detailed reports, tracking, and split tests.
The pricing plans are a little expensive though. If you want a tool only for email marketing, Drip shouldn't be your first pick compared to the other options on this list. But if you want a tool with many features aimed at eCommerce, then it might be just right for you!
The starting price is $39 for 2,500 contacts and unlimited email sends. Your cost increases by $10 for every 500 contacts (up to 6,000). Use Drip's calculator to gauge your cost anywhere above that.
Drip provides its users with plenty of educational material and content to help them make the best of their e-commerce work, as well as plenty of tutorials to increase your email marketing performance when it comes to growing your online sales.
5. AWeber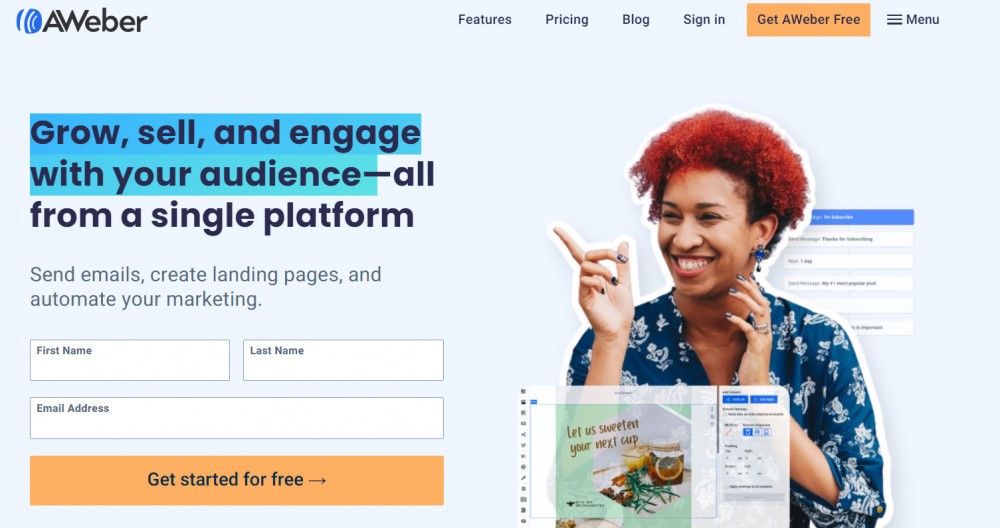 AWeber is a popular email marketing tool for beginners. They like AWeber because it's quite easy to use with simple features. It includes an AI assistant, and easily integrates with different platforms
AWeber includes integrations for many online tools like WordPress, Wix, Blogger, Weebly, Clickfunnels, and many more. It also has a useful simple drag-and-drop builder and pre-made templates to get you started fast. That's what makes AWeber a favorite among bloggers and YouTubers growing and communicating with their audiences.
However, all these features are on a basic level if you don't get the upper tier plans. While it's a good option for people with small subscriber sizes, it's not the best option for mass emails or advanced automation.
AWeber has different pricing plans than other email marketing services because it doesn't focus on the subscribers or list sizes. Prices vary depending on list profiles, landing pages, and email automations.
Here are the pricing plans:
Free: Up to 500 contacts and 3,000 emails per month.
Lite: $12.50 per month billed annually. Up to 1 email list, three landing pages, and three email automations.
Plus: $20 per month billed annually. It includes unlimited email lists and landing pages while it gives access to advanced landing page features.
Unlimited: $899 per month billed annually. It is a fixed price for businesses with a large number of subscribers and includes personalized account management.
You can find their full pricing structure here.
6. Moosend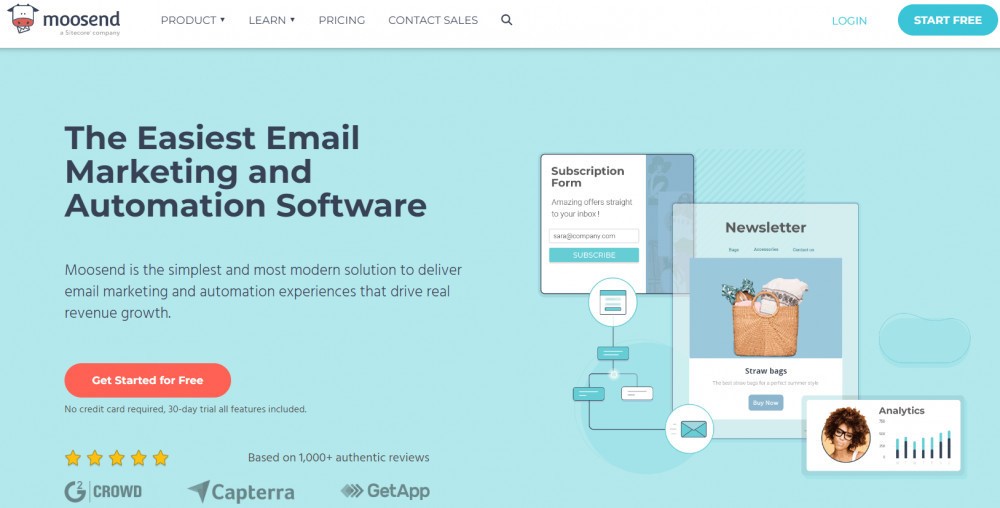 Moosend is an email list-building tool and an email marketing service. It has automation features and tools that help businesses grow their leads with landing pages, AI recommendations, and countdown times. These features heavily focus on list building and conversions.
When it comes to emails, you can create your own emails from their builder and create automation workflows. It can be useful when you want to create sequences.
Moosend also includes reporting tools, A/B tetsing landing pages, and generate data from heatmaps, with geographical reporting.
While it is an affordable option to get started with a low number of contacts, the price adds up fast. There is a free trial for thirty days, and then you can start with:
$9 for 500 subscribers.
$16 for 1,000 subscribers.
$24 for 2,000 subscribers.
$32 for 3,000 subscribers, etc.
There is an enterprise plan for businesses that need account management and dedicated IPs.
Overall, Moosend is a decent list-building tool. If your goal is to send many emails to your customers or an existing email list, it can become a pricey and limited platform.
7. ConvertKit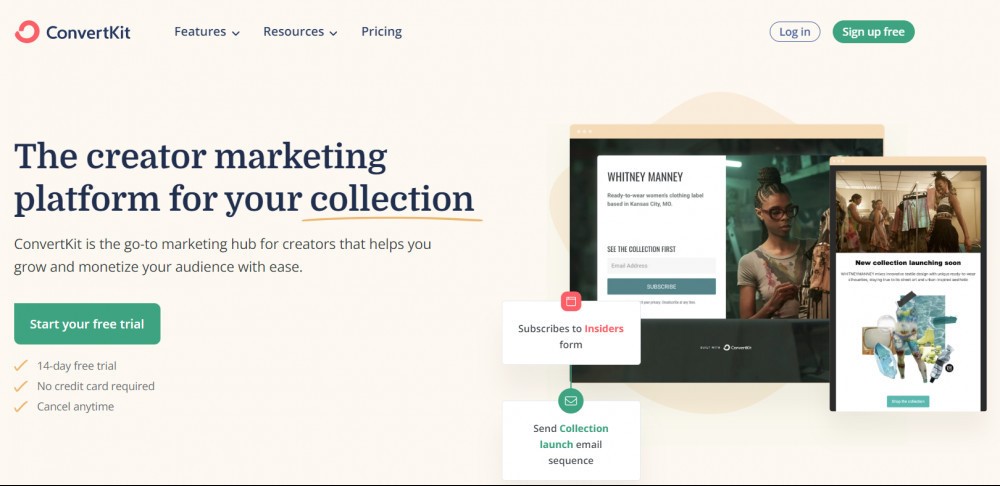 Perfect for creators looking for ways to promote their content, grow, and monetize their audiences. ConvertKit enables creators to send content right to the inbox of their subscribers.
ConvertKit creates segments of subscribers based on your criteria so you can activate them and generate sales from your email marketing. This feature could also be useful for other online business models to increase their conversion rates. So maybe ConvertKit can work for you.
ConvertKit also includes:
A landing page builder
Nice templates to get you started
A/B testing capability
Smart workflows
Many creators can now add marketing to their list of expertise and skills, as ConvertKit provides valuable trainings and a platform that is quite accessible and easy to use.
The pricing plans also depends on your contact list size. The price goes up as you grow your audience. There are three pricing plans:
Free: It includes unlimited landing pages, email forms, and broadcasts, but you are limited to up to 300 subscribers. Creators can sell digital products and subscriptions with the free version.
Creator: $9 per month up to 300 subscribers or $108 yearly. But adds automation, one of its most valuable features.
Creator Pro: $29 per month for 300 subscribers or $290 yearly. This plan comes with a host of features like referral systems, subscriber scoring, and advanced reporting.
As usual, your subscription cost will increase with your subscriber list size.
8. MailerLite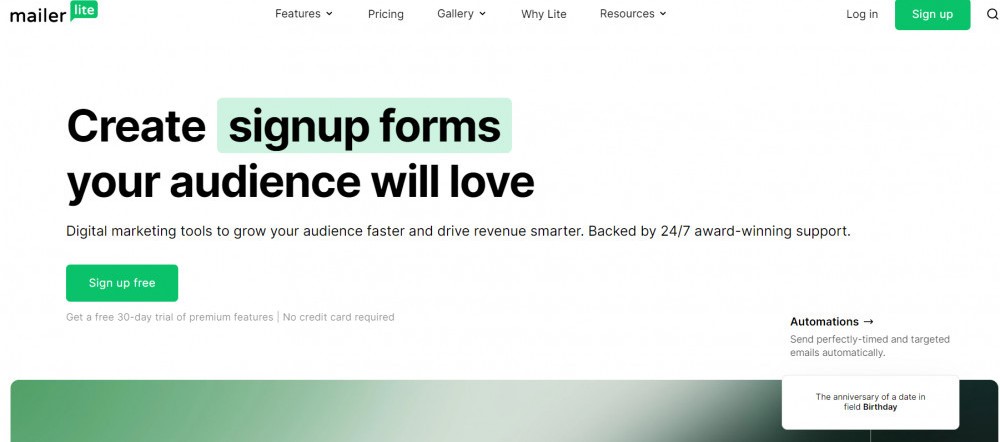 MailerLite is a simple-to-use email marketing tool with multiple features. You can use this tool to grow your email list or to manage your emailing efforts to reach your audience.
MailerLite is also an accessiblee option for beginners who want to start their campaigns as fast as possible. There is a drag-and-drop website builder, email forms, landing pages, and automation options.
you can also sell digital products, promote your e-commerce store, and sell paid subscriptions.
Lastly, MailerLite helps you send transactional emails and set up email automations based on specific actions on your website, such as a purchase of a specific category and cart abandonment.
MailerLite can become complicated because of its many features. The users must know what they want before getting started. Much like HubSpot in pricing complication, it has different pricing plans based on the features you use:
For marketing, audience, and automation:
Free: It includes 1 user, up to 12,000 emails per month, and 10 landing pages.
Growing business: $9 per month for 1,000 subscribers. It includes up to 3 users, unlimited monthly emails and landing pages, and enables the selling of digital products.
Advanced: $19 per month for up to 1,000 subscribers. It enables popups and various integrations.
You can estimate your monthly billing using their calculator here.
MailerLite also has different plans for Transactional functions, so make sure you check what fits your needs best.
9. Constant Contact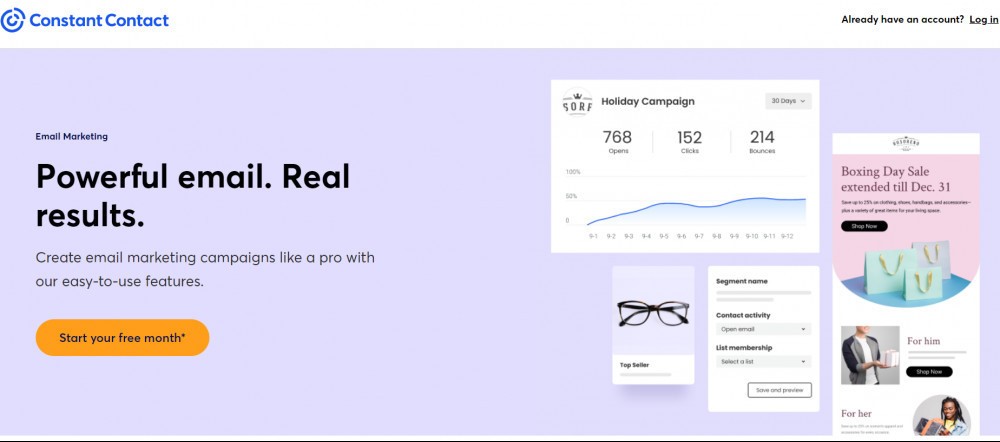 Constant Contact is another popular email marketing tool with many features that allow you to use it regardless of industry. You can add your email lists, use templates, integrate with other platforms, perform A/B testing, and much more.
This email marketing service tries to cover all the areas of digital marketing, so it can become complicated. If you want to use it only for your email campaigns, just focus on that. It has two pricing plans, depending on what you want to use it for: email marketing or lead generation.
Email marketing pricing plans:
Core: $9.99 per month for 500 contacts. It includes all the important features of email marketing, including email templates, sign-up forms, and A/B testing. The price goes up when you add contacts.
Plus: $45 per month for 500 contacts. It enables automation based on action, some integrations, and sync with e-commerce platforms.
Lead generation and CRM plans:
These pricing plans start from $199 per month for 5,000 contacts. It includes retargeting ads, chatbots, sales pipelines, sales dialers, and more.
10. Brevo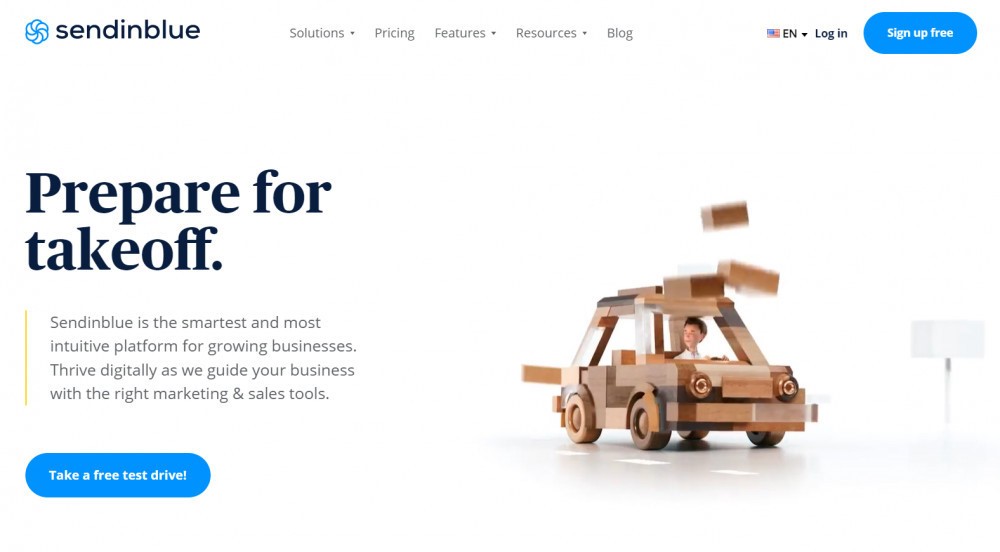 Sendinblue (recently renamed Brevo) is an email marketing tool that offers nice email templates, automation, and A/B testing. It's easy to use if you are a beginner and can help with many marketing functions.
The automation includes workflows based on scenarios and actions, while it provides analytics to make decisions. Lastly, Brevo gives you capabilities to manage bulk emails and integrations for different platforms. However, some features are available only with the upper tier plans. Here are the four pricing plans:
Free: You can send up to 300 emails per day, transactional emails, and SMS and WhatsApp campaigns.
Starter: $25 for 20,000 emails per month. It removes Sendingblue's logo and enables basic analytics.
Business: $65 per month for 20,000 emails per month. It enables marketing automation, A/B testing, phone support, and advanced analytics.
Enterprise (custom pricing) with personalized accounts and advanced integrations.
If you want to send more than 20,000 emails per month on any of the plans above, it will surely cost a premium. However, there are no limits on the number of contacts or email lists.
Conclusion
Now that we've covered 10 of the best tools out there for various use cases, which one fits your requirements?
If you're looking for an industry agnostic platform, with quick set up, and integrates seamlessly with your Gmail – we highly recommend Mailmeteor, it's the #1 emailing platform for Gmail. Trusted by 5 million users worldwide, making it hands-down, the best email service to send personalized mass emails with Gmail and track your results for more success from your email campaigns.
Whether you are a marketing leader, content creator, email marketer, PR professional, or growing your email audience for any reason – the service you pick should highly complement your needs. Most tools provide a free trial or a freemium, so your deciding factor will end up feature-based or depending on your contact list limits.
So pick wisely, and always make the best of every email you send!
Published in: