Gmail is a widely used, sophisticated, and user-friendly email platform. There are currently several methods to maximize its potential, whether through native tools or third-party integrations, designed to boost the platform's efficiency.
In the first part, we'll go through the best native Gmail tools, built-in your inbox. In the second part, we'll detail list the best third-party apps to boost your productivity with Gmail.
The best native Gmail tools
Filters & Labels

Let's start with the built-in features that you're likely to ignore. Labels are, by far, the strongest organizing feature available in Gmail. A true cross between tags and folders, labels assist you in categorizing any new communications that arrive in your inbox.
As new messages pop up, just tag them and drag & drop them into the appropriate label.
You may even program Gmail to do this for you.
Filters is a powerful which detects certain emails as they appear in your inbox. It matches them with From, To, Subject, and More fields. You may use these filters to get particular emails to automatically bypass your inbox, and be archived and marked as read, such as promotional newsletters that you don't want to unsubscribe from but also don't want to see every day.
Customizable Emails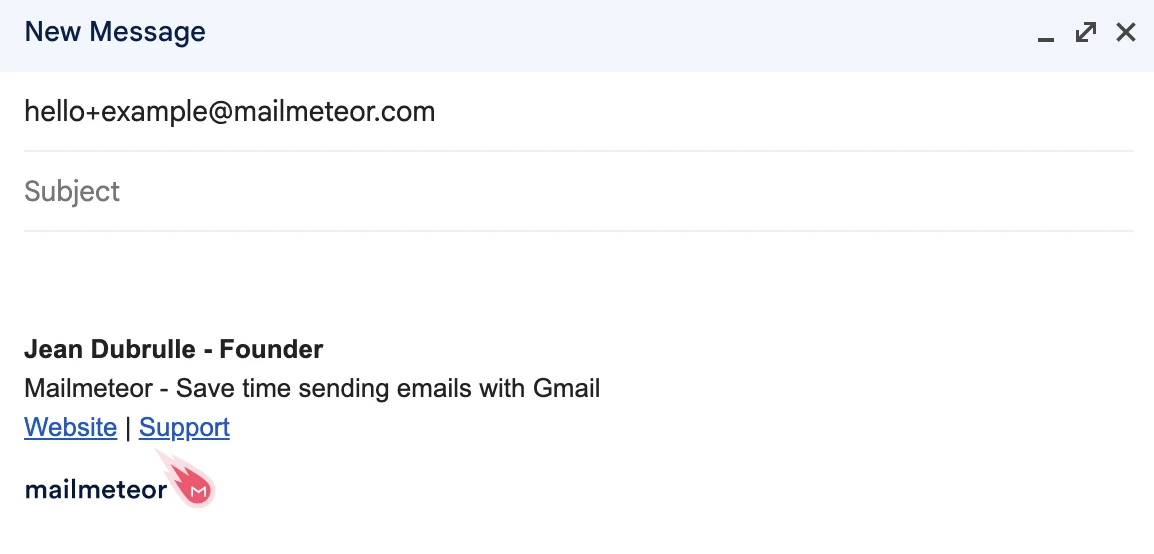 Another really useful function that many people are unaware of is the ability to personalise your email. Simply put a plus sign and a word between your Google login and @gmail.com (for [email protected]). Adding any number of periods between the letters of your Google username has a similar effect. Google disregards any extra periods and letters following a plus sign.
This practically allows you to own a limitless number of email accounts.
This tool allows you to join up for several social profiles with the same Gmail account. You may also combine this with filters and labels to keep things organised in advance. If you sign up for a new service but don't want to get emails from them, you may construct a filter that checks for "+junk", auto-archives and marks as read. This significantly reduces email clutter.
Gmail Advanced Features (formerly "Gmail Labs")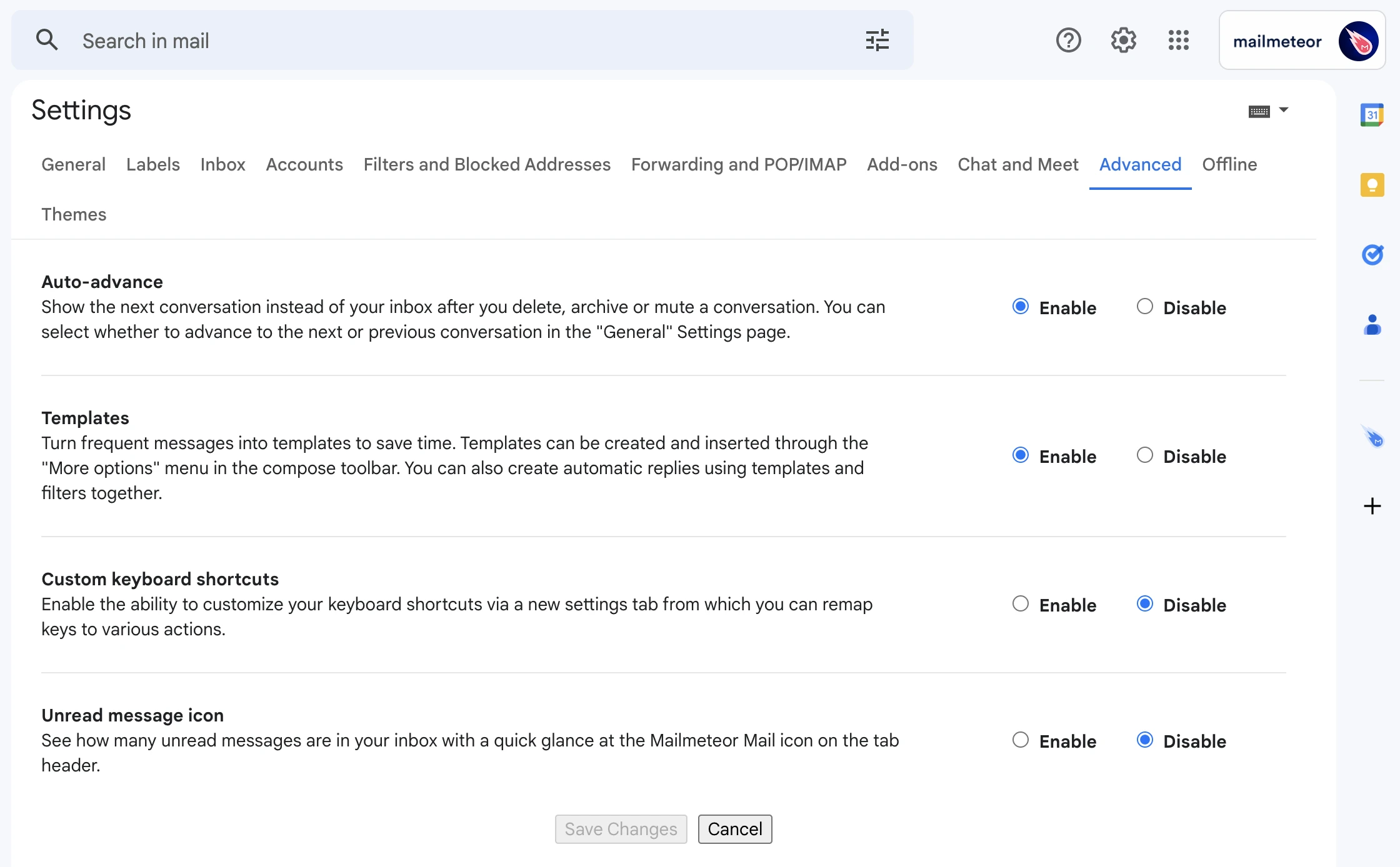 The most useful item in Gmail settings is the Advanced panel. This is Gmail's beta test for new features that may or may not make the final cut.
Custom Keyboard Shortcuts is a feature that takes single keystrokes to a whole new level. This option allows for many more shortcuts than the default and, as the name implies, allows you to modify all hotkeys to your taste.
There are a number of other features in Advanced that are as beneficial, like Auto-advance, which shows the next conversation instead of your inbox, after your delete, archive or mute a conversation. With some experience, you can reach inbox zero without using your mouse at all!
Last but not least, you may find Templates interesting. Templates allow you to turn frequent messages into text snippets you can reuse to save time composing emails.
Keyboard Shortcuts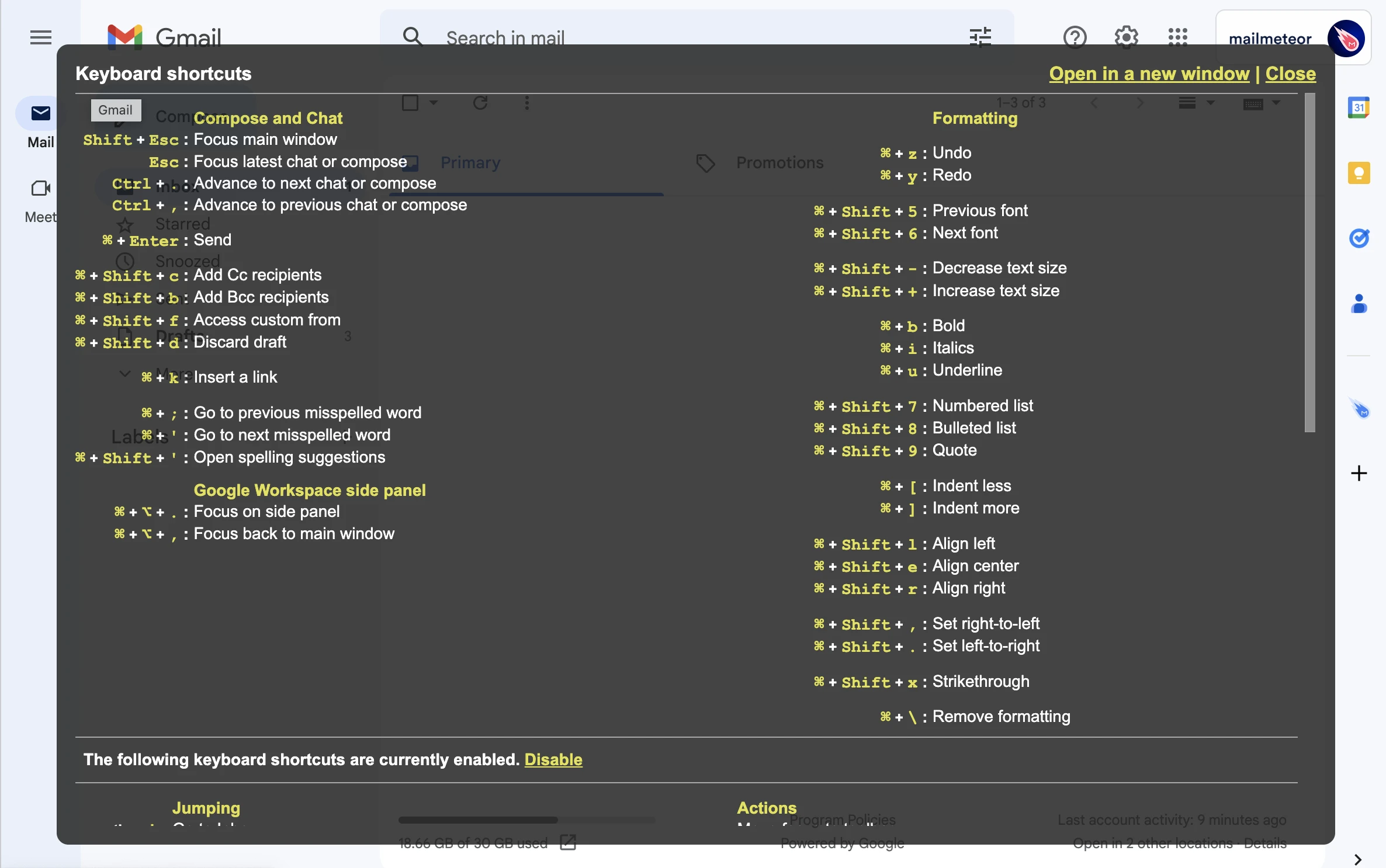 Keyboard shortcuts are another extremely useful feature that can be set on Gmail's Settings page under the General tab. Compose, Reply All, Forward, and other instructions can be queued up with the touch of a single button. You can also bulk archive by simply choosing all emails and then hitting E or Y.
Press "Shift + ?" in your inbox for a complete list of all of the Gmail shortcuts.
Smart compose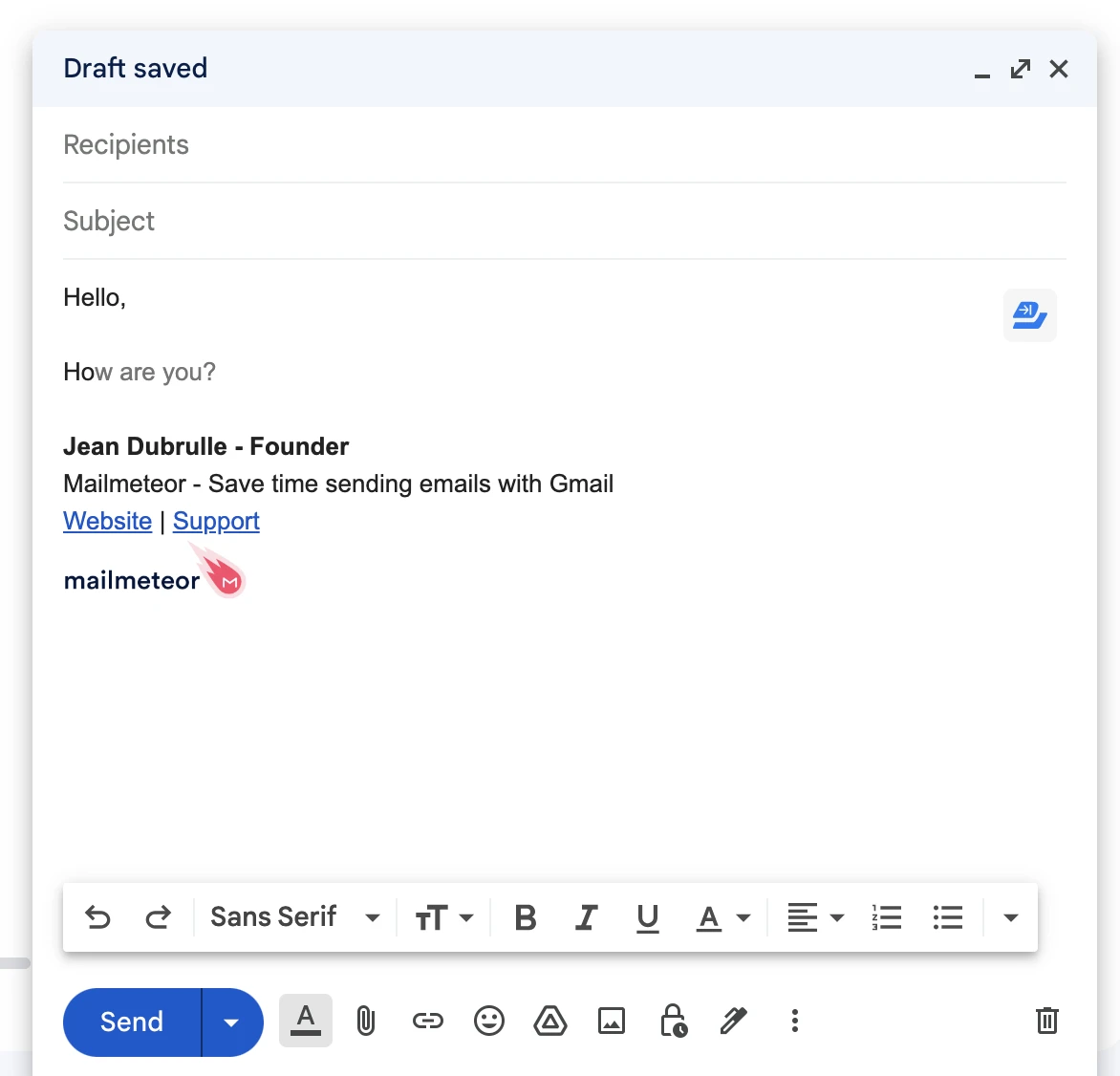 Gmail is becoming smarter and smarter over time and can nowknow suggest entire sentences.
Smart compose allows you to have predicted words and phrases displayed as you begin drafting an email. It also learns your email writing style so that you always sound like yourself. After some time, the Smart Compose feature will save you from wasting precious hours writing the same lines again and over. To use it, click to Settings and scroll down to Smart compose, then enable by selecting Writing recommendations on.
Top 20 best Gmail tools and add-ons
Now we have seen some of the best built-in Gmail features, let's see how you can take advantage of third-party tools to enhance your Gmail inbox and automate your workflow.
We have listed 20 of the best Gmail tools available in the Google Workspace marketplace, ranked by installations and reviews.
To help you pick the best ones, here are the top 5 tools for Gmail:
Mailmeteor makes it simple to compose, track, and manage bulk emails within Gmail. Its emphasis on user privacy, ease of usage, and premium features make it a perfect solution for anybody looking to improve their Gmail capabilities, from regular users to marketing professionals. Mailmeteor is free to use for up to 50 emails per day, with affordable premium plans if you want more emails or additional capabilities.
PS: you might wonder if Mailmeteor is really the best Gmail tool in the Google Workspace marketplace? It's a guide written by Mailmeteor, so that's a good question you might ask yourself. Well, with 5 million installs, 10,000 reviews and a score of 4.9/5, it's indeed the best tool of its category. Google itself has even recommended Mailmeteor as Market-leading applications to help you get work done.
With the Zoom for Gmail add-on, you can start an immediate meeting or arrange one with your Gmail email participants. After the meeting, the add-on will automatically send an email to everyone on the email thread, as well as a meeting recap.
You can use the Dropbox for Gmail extension to attach Dropbox files to Gmail messages, keep Gmail attachments in Dropbox, and merge your Dropbox and Gmail accounts.
According to Dropbox, the benefits of this connection include erasing concerns about file sizes and inbox capacity, which Google restricts to 15GB before charging. Sharing files is as simple as sharing a Dropbox link rather than attaching files or downloading them to your Google Drive.
For optimum efficiency, the Trello for Gmail add-on connects your boards and email. You can add new cards to your inbox without leaving the site or your Gmail mobile app.
The Trello for Gmail add-on is a good method to manage the inbox volume and ensure nothing crucial gets lost while monitoring sales leads, managing client feedback, or arranging an event.
When an inbox fills up on a first-come first-served basis, prioritizing email responses may get burdensome. Furthermore, regardless of how many messages are viewed, the vertical list of unopened emails can often feel interminable.
Sortd for Gmail turns an inbox into a Kanban board, similar to a project management software. This enables users to create personalised collections of emails that can be addressed by their importance. Sortd's free and subscription editions will appeal to Gmail users who work on different projects from a single email account.
Using the Slack for Gmail Add-On, you can pull context from an email into a Slack channel or direct message, keeping discussions going ahead. You have the option to include a message and files with your email.
Important communications from relatives or friends may be lost if they are jumbled up with everything else. You can use Evernote for Gmail to grab those personal emails from your Gmail inbox, transform them into notes, and preserve them all in one place. Having your personal emails in their own folder allows you to return to them later without being distracted. You get 60MB of free monthly uploads and a couple premium options to choose from if you need additional storage or more features.
You can create Asana tasks directly from your Gmail inbox with the Asana for Gmail integration. The tasks you create incorporate all of your email data by default, so you never miss anything. When rules are combined with Gmail, teams may automatically send emails from an account when particular project requirements are satisfied. This enables teams to transition from manually sending emails to configuring triggers to automatically send emails to the recipients of their choice.
MeisterTask for Gmail is a free add-on that converts your emails into tasks with a single click. The subject line of the forwarded email will be converted into the task title, and the email content will be added to the task as the task description. Both may be changed within the add-on if desired.
The BEE Templates for Gmail library has hundreds of mobile-responsive Gmail templates, and no matter what sort of email you need to send, an appropriate BEE template can be found. Are you planning a product launch, advertising a restaurant, or sending a Father's Day card? BEE's Gmail templates are ready to assist you in saving time while maintaining design. Furthermore, the editor's drag-and-drop capability eliminates the requirement for a coding background to generate these colorful HTML messages.
If you love using GIFs in your digital contact, you'll be happy to hear that Gfycat has created a solution to bring them to your email, so your responses are more visually appealing. The startup is using Gmail's add-ons platform, which allows you to add plugins from third-party developers and access them via a toolbar on the right side of your inbox.
With Bookipi for Gmail, you can send invoices right from your inbox. Sign in with your Bookipi or Invoice Bee account to sync all of your data (invoices, customers, items, etc.). If you're new to Bookipi, you can also join up with the Gmail plugin.
Keep track of key communications and make relevant information available to stakeholders with the Smartsheet for Gmail add-on. Without leaving Gmail, you can add emails and attachments straight to a specified row in a sheet, allowing you and your team to easily discover approvals and other important emails for easy reference.
You may also simply share projects by importing Google contacts from Gmail into Smartsheet.
You may use pdfFiller for Gmail to read PDFs and other attachments in your Gmail inbox to make immediate edits to documents or send them for signature to one or more recipients. Fillable fields may be added to your documents, PDF forms can be published on your website, shared with a QR code or direct link, or emailed.
Never again waste time looking for contacts. Share, access, comment on, and update consolidated contacts from anywhere, including your PC, mobile device, Google Contacts, Gmail, Outlook, WhatsApp, and other services. Your organization will soon have a clean and organized contact base thanks to the 2-way synchronization of Shared Contacts for Gmail.
The DocHub for Gmail add-on integrates a sidebar into your Gmail account, allowing you to immediately import files from Gmail into DocHub and effortlessly compose reply emails with signed or updated docs.
We commonly use email to keep up with and remind our coworkers of important assignments as more individuals work from home. Emails might often be ignored or forgotten about since they are maintained as a separate entity outside of your regular workflow context. Zapier aims to address this by connecting your Gmail threads into your preferred chat platform. It's free to use for 100 tasks per month and has many premium options to suit your needs.
MailTrack.io is a Gmail and Inbox mail tracking plugin that helps you know whether or not emails you've sent have been viewed. By adding double-check to your Gmail messages, the Mailtrack extension works with Gmail and G Suite.
Because emails come in at all hours of the day and night, you never actually get a break from them. Boomerang allows you to temporarily suspend your Gmail inbox for a certain period of time, enabling you to focus on other tasks. You may also establish reminders for critical emails, which aids in organization.
You receive 10 free message credits each month, with several subscription options available to access more sophisticated services. As an added incentive, all new Boomerang accounts come with a 30-day premium trial.
With SignatureSatori, you can manage all of your workers' Gmail email signatures in one spot. This will assist you in maintaining consistency in your company's branding. With a campaign planner, you can also harness the marketing potential of signatures.
This guide was written by Jean Dubrulle, Mailmeteor's cofounder. Mailmeteor is a simple & privacy-focused emailing software. Trusted by millions of users worldwide, it is often considered as the best tool send newsletters with Gmail. Give us a try and let us know what you think!