Want to harness the power of email marketing and grow your business? In this quick guide, we'll show you how to create a newsletter and attract your first subscribers.
Newsletters are everywhere. Your nearby flower shop has one. Your next door restaurant has one. Your freelance friend has one. And maybe you should have one too.
Why? Because newsletter emails are a great way to build a trusting relationship with your audience. And stay top-of-mind.
Research has shown that, for every $1 you spend on email marketing, you can expect an average return of $40. That's too good to ignore.
And yet, a lot of business owners are still reluctant to create a newsletter. Here are some of the main reasons why ⤵️
They think they don't have the skills
They think they have nothing worth sharing
They think it's going to take them too much time
But the truth is, they're missing out. Because creating a newsletter is one of the best decisions you can make to grow your business.
And it's not even that hard. In fact, as long as you follow the blueprint laid out in this article, your newsletter is certain to become a hit.
In this step-by-step guide, we'll show you how to create a newsletter and how to optimize it, so that you can get higher open and click-through rates (CTR).
Here's the game plan we're going to follow to get your newsletter up and running ⤵️
Sounds good? Then let's get started right away on building the first (ever) edition of your email newsletter :)
1. Define your newsletter strategy
There are a lot of newsletters out there. The average person receives 100 to 120 emails per day. And while not all of those emails are newsletters, the competition in your prospect inbox can be fierce.
To make your newsletter stand out from all the boring corporate or promotional emails, you need a plan. Your newsletter strategy should focus on 4 things:
What's your goal?
Who are you going to talk to?
What are you going to talk about?
How often will you email your subscribers?
Once you know the answer to these questions, you can create a newsletter that people actually want to read.
The goal of your newsletter
Let's start with your goal. What are you trying to achieve by creating a newsletter? It could be a few things:
Maybe you want to sell your products
Maybe you want to educate your readers
Maybe you want to improve brand awareness
Maybe you want to collect some customer feedback
Whatever your reason is, take a few minutes to think about your newsletter's objective. Because this will determine what type of content you'll send.
The audience of your newsletter
Next, let's focus on your target audience. Who do you want to attract with your newsletter? Who's your ideal subscriber?
If you haven't created a business persona yet, then this might be a good time to do so. Who are your buyers? How old are they? What do they like?
For instance, your target audience could be under 40 ecologically aware executives living in North America with an income of $80,000 or more.
You can target more than 1 business persona. In which case you may need to segment your mailing list.
Email segmentation will help you create more personalized content for your different subscriber groups, resulting in higher engagement rates.
The topics of your newsletter
Now that you know who you'll be sending your brand new email newsletter to, it's time to focus on what you're going to tell them.
Your newsletter topics and ideas are a key component of your success. If you send a boring or spammy newsletter, you'll lose people's attention.
Always make sure that the content you create is aligned with your audience's needs, interests and expectations.
Otherwise you'll end up getting unsubscribes. Or maybe even spam complaints. And your open rates will plummet.
Your content should also match your brand territory. If you sell bikes, for example, your newsletter could talk about ⤵️
Bike trip ideas
Discounts on bike parts
Tips on how to repair a bike
News about nearby bike events
Or stories about professional cyclists
But you should avoid talking about stuff that's too far out of your area of expertise.
In the end, the best way to find engaging newsletter topics for your specific audience is to ask them directly.
To do that, start a poll or a survey. Alternatively, you can also use social media.
Ask your readers about their goals, fears and aspirations. And create content around that.
Need some inspiration to start your newsletter? We've compiled a list of 10 amazing newsletter examples for you.
The frequency of your newsletter
Last but not least, you'll need to decide on your newsletter's frequency. Should you create a daily newsletter? Or send a monthly email?
There is no right answer here. Your decision will depend on your reader's expectations and your resources.
It takes time to create a newsletter. So if you're a small company, sending a daily update may be too much for you to handle.
On the other hand, if you send a newsletter only once every 6 months, your subscribers may end up forgetting about you.
Once you've chosen a cadence for your newsletter, try to stick to it. Consistency is key here.
Your goal should be to create a ritual and build up your readers' anticipation.
2. Pick a newsletter platform
There are multiple newsletter platforms out there. But not all of them are on par. So here are a few tips to choose the best email marketing software.
First, let's take a look at the features that newsletter platforms have to offer.
You may not need all those features right away. But most of them will be indispensable once your newsletter starts getting more traction. So try to anticipate your future needs.
Some key email newsletter features include ⤵️
Custom HTML templates – Customize your newsletter design and choose your own fonts, colors and layouts.
Email personalization – Add a personal touch to your newsletter to improve your engagement rates.
Email scheduling – Write your newsletter in advance and schedule it at the right time of the day to get more opens.
Email analytics – Track the performances of your newsletter and optimize your content to get better results.
A/B testing – Test multiple subject lines for your newsletter and pick the one that attracted the most attention.
The other factor that can help you pick a newsletter platform to create your newsletter is the pricing.
Trusted by over 5 million users worldwide, Mailmeteor is one of the most affordable emailing apps on the market.
Our premium plan starts at $9.99 /month and lets you send up to 2,000 emails per day.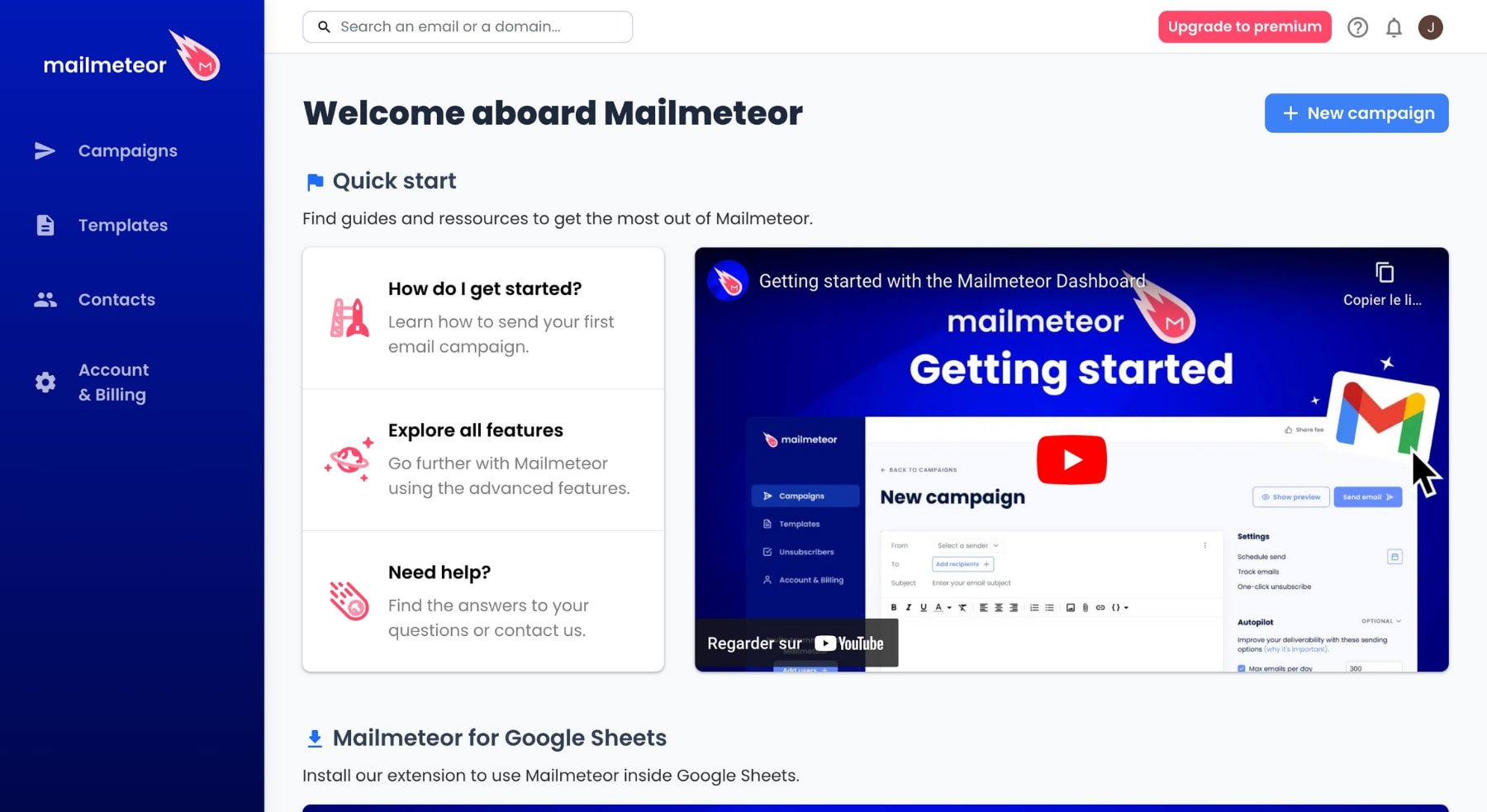 3. Attract newsletter subscribers
Next, let's start growing your email list. To do so, you'll need a reliable way to capture your newsletter subscribers.
You can add a newsletter sign up form on the homepage of your website. Or at the bottom of your blog articles.

You can also promote your newsletter on your social media profiles and share sign-up links.
The more capture points you have, the faster you'll be able to attract subscribers and build your email list.
To get more people to subscribe, create compelling sign up forms that let them know what they can expect from you.
You can also add an incentive, such as ⤵️
Free shipping
A small discount
Or exclusive content
We've written a detailed guide about newsletter sign up best practices. It's filled with tips and examples. So make sure to check it out :)
4. Create your newsletter design
Want to stand out from the competition in your prospect's inbox? Create an eye-catching design for your newsletter.
Match your brand identity
Your newsletter design should match your brand identity. Your readers should be able to tell who the email is from in less than 3 seconds.
The best way to convey your brand identity right from the start is to include your logo at the top of your newsletter.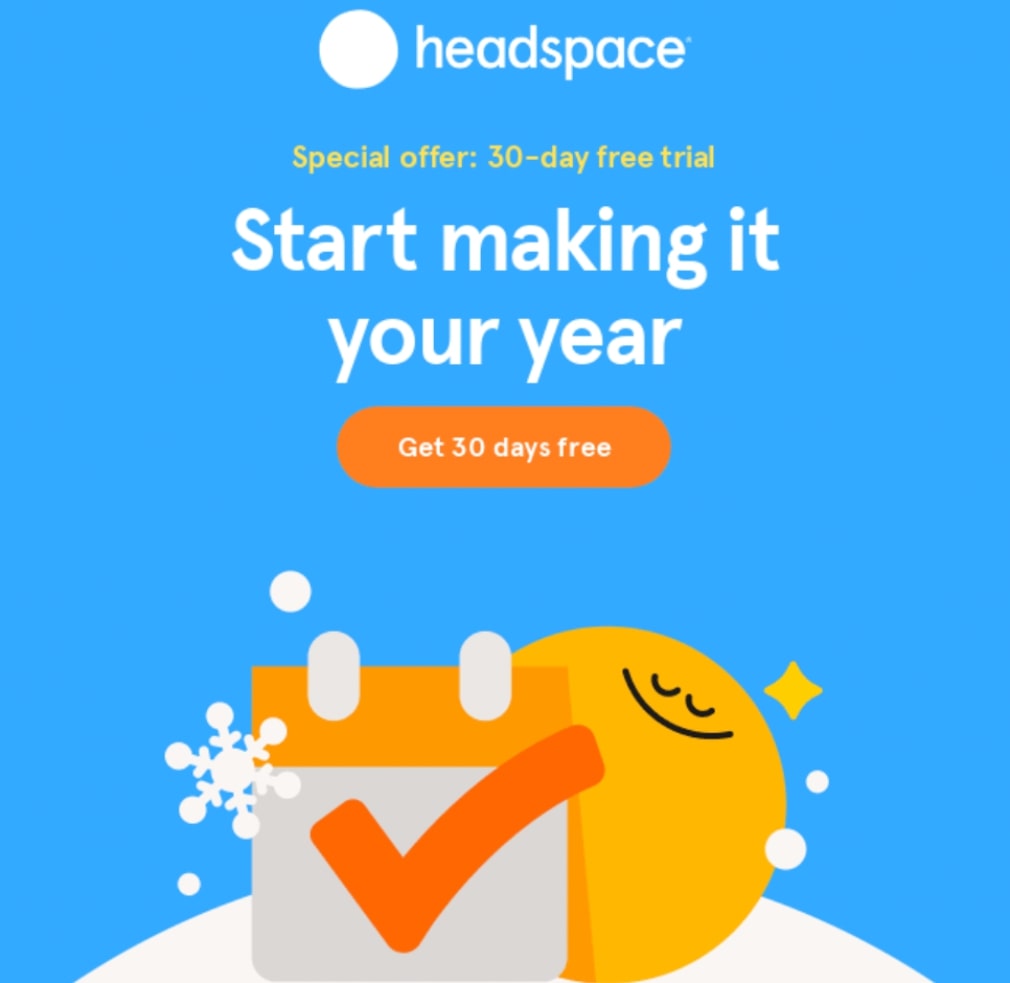 Also make sure you use the same fonts, colors and tone as on your other marketing channels. This will make your emails more easily recognizable.
Make your CTA stand out
When you create a newsletter, always make sure to include (at least) one call-to-action.
A CTA is basically a button or a prompt that is designed to encourage your reader to perform a specific action.
This action could be anything from visiting your website, to purchasing one of your products.
CTAs are a key component of your email marketing strategy. So make sure to give them the attention they deserve.
Here's how to create a newsletter CTA that converts ⤵️
Give your CTA some room to breathe
Pick a color that stands out
And use action words
Don't forget about the footer
Your newsletter footer is very important. Even if it's not the most visible part of your emails. This is where the legal stuff happens.
Make sure to add an unsubscribe link. This is mandatory since the General Data Protection Regulation (GDPR) was voted on.
Giving your subscribers an easy way to unsubscribe if they've lost interest will also reduce your chances of being flagged as spam.
In the footer of your newsletter, make sure to mention who you are, why your subscribers are receiving this email and how they can reach out to you.
You can also include a link to your social media. This will help you build a loyal audience across all your digital marketing channels.
5. Send your first newsletter
Almost there. Now that you have a newsletter design, it's time to prepare your newsletter and to schedule it.
Create a custom HTML template
For starters, create your own HTML email with our free email template builder. No coding required :)
Once your newsletter is ready, you can use the "Developer Mode" to send it as a custom HTML template directly from Gmail.
Here's how it works ⤵️
Step 1: Open Mailmeteor.
Step 2: Click on "Create a new template".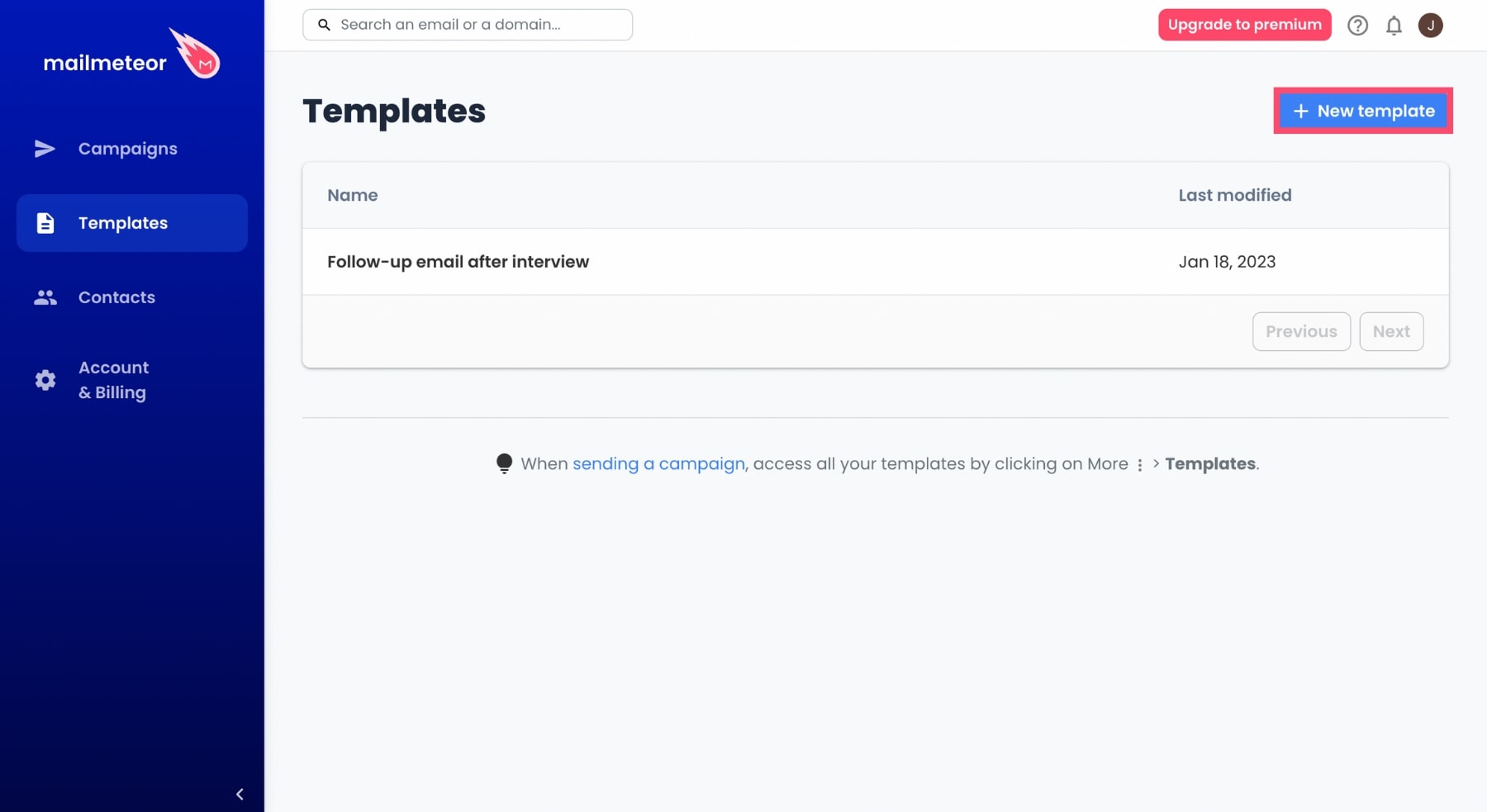 Step 3: In the editor, click on "< >" to access the Developer Mode.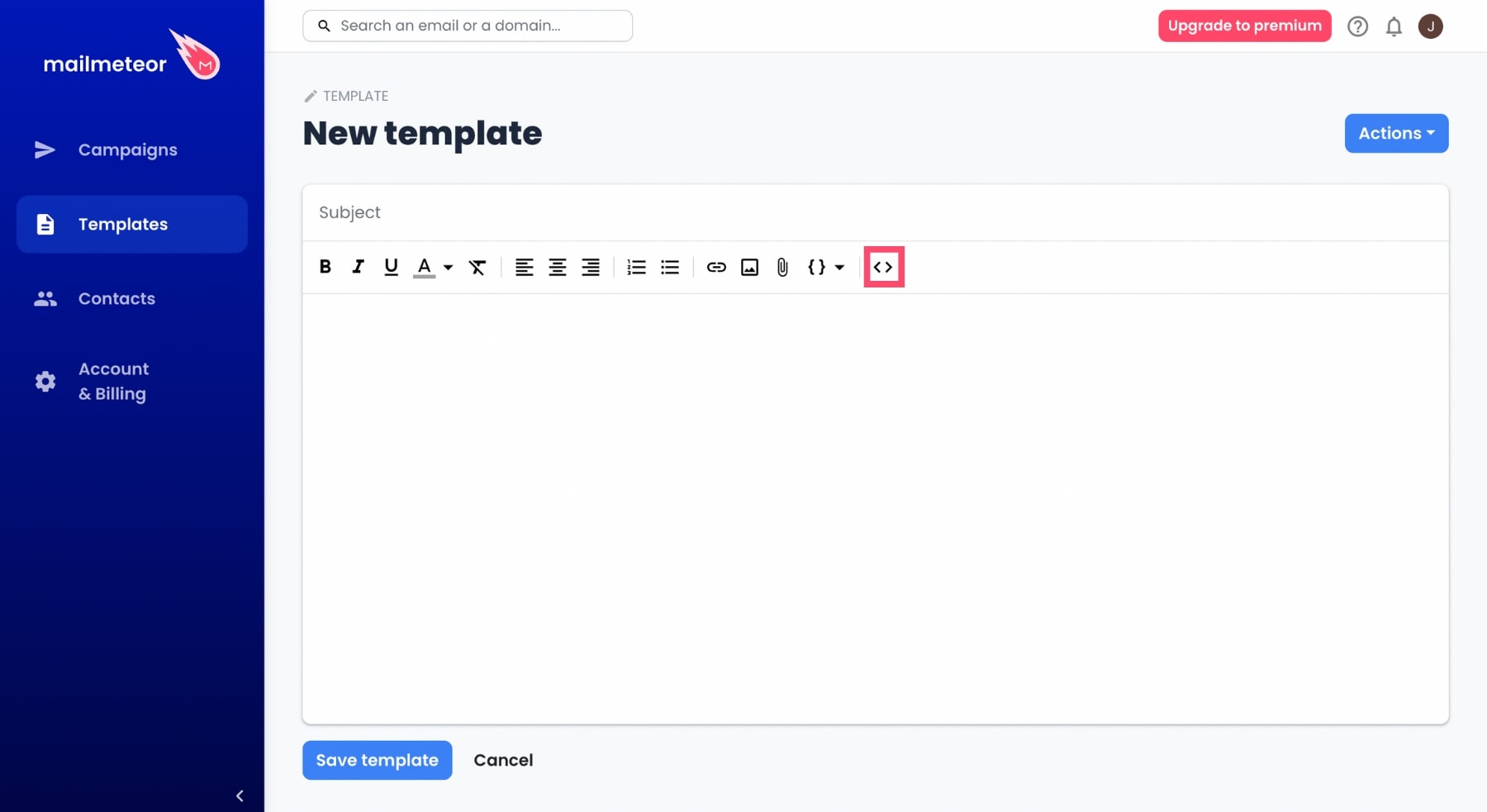 Lastly, copy and paste your raw HTML code and click on "Save template". Your newsletter template is now ready to be sent.
Craft a subject line
But first, you'll need to add a subject line to your newsletter. This is an important step.
Your subject line is the first thing your recipients will see. And it may very well determine whether they will open your newsletter, or skip it and move on with their lives.
We've written a complete guide on how to create the best email subject line. Make sure to go take a look :)
And if you need some extra help to create your newsletter, check out our subject line tester. Here's what it looks like ⤵️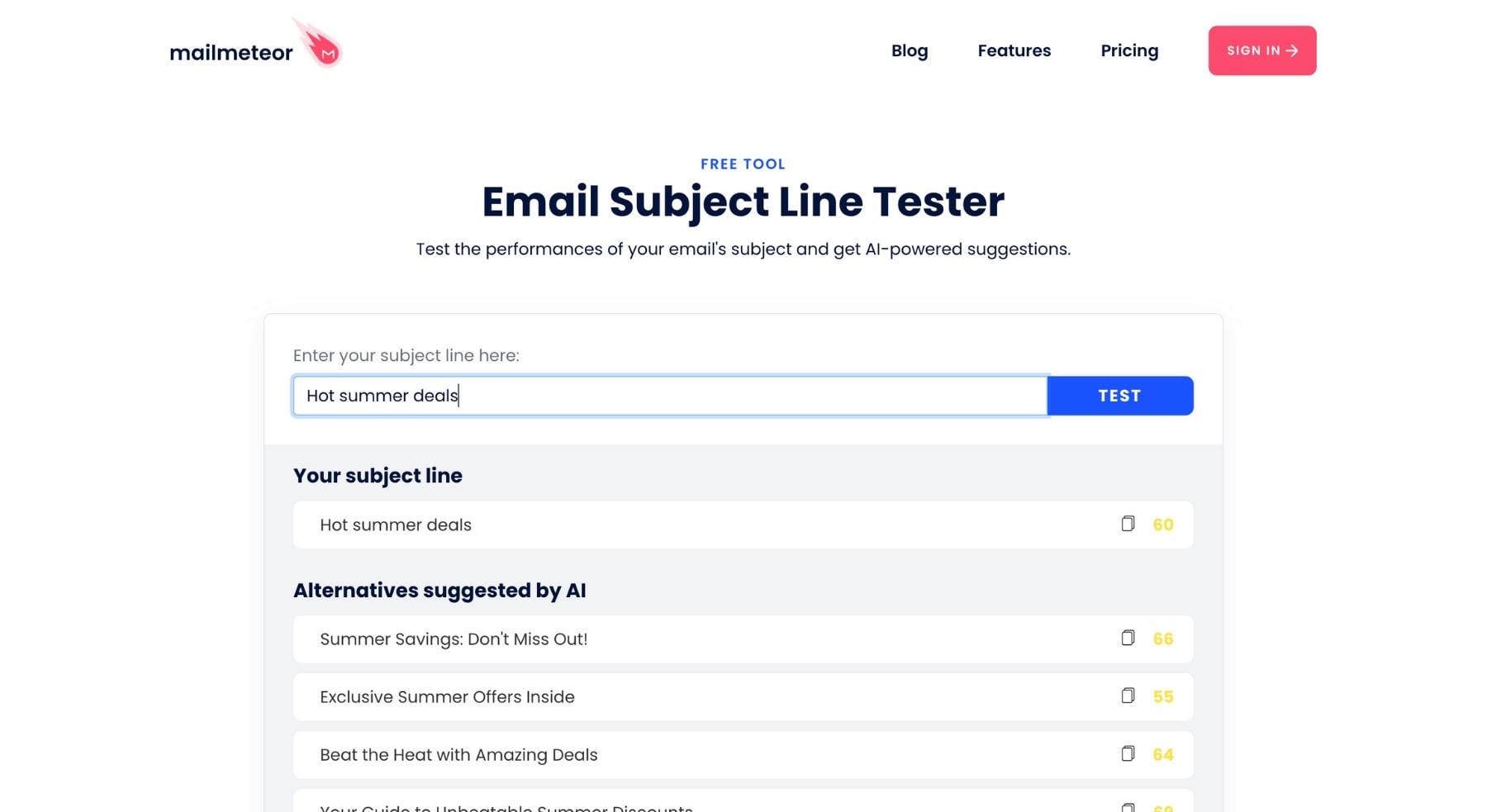 This free tool can test the performances of your newsletter's subject line and give you AI-powered suggestions to improve your open rates.
Add your recipients
Your newsletter is now ready. The next step is to select your recipients. To do that, Mailmeteor gives you 3 options ⤵️
Import a CSV file
Copy-paste your mailing list
Or pull your contacts from Google Sheets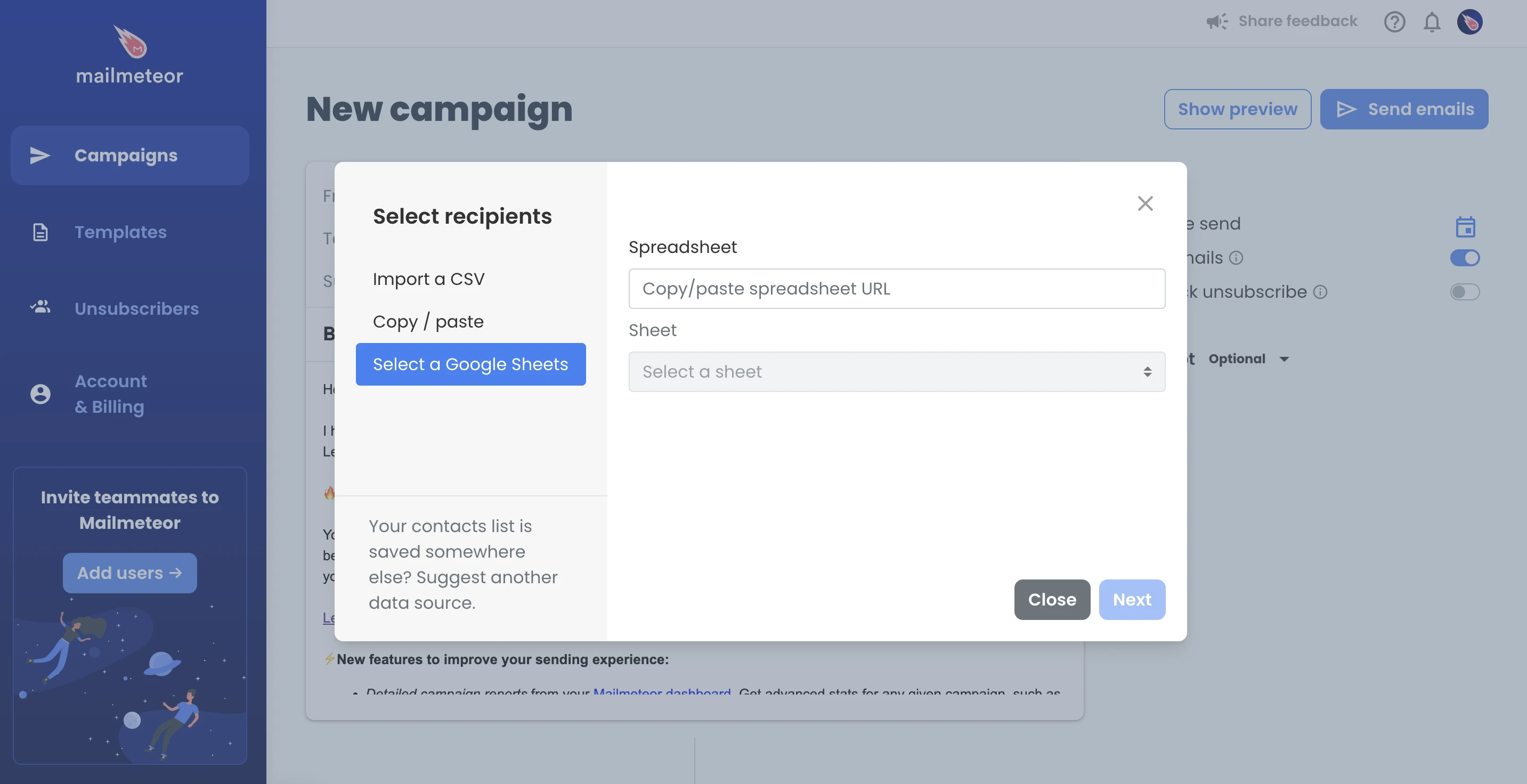 You can then edit your contact list directly from the Mailmeteor Dashboard. And move on to the final step.
Preview your newsletter
Before you send a newsletter, make sure to always click on the "Show preview" button to check if everything is in order.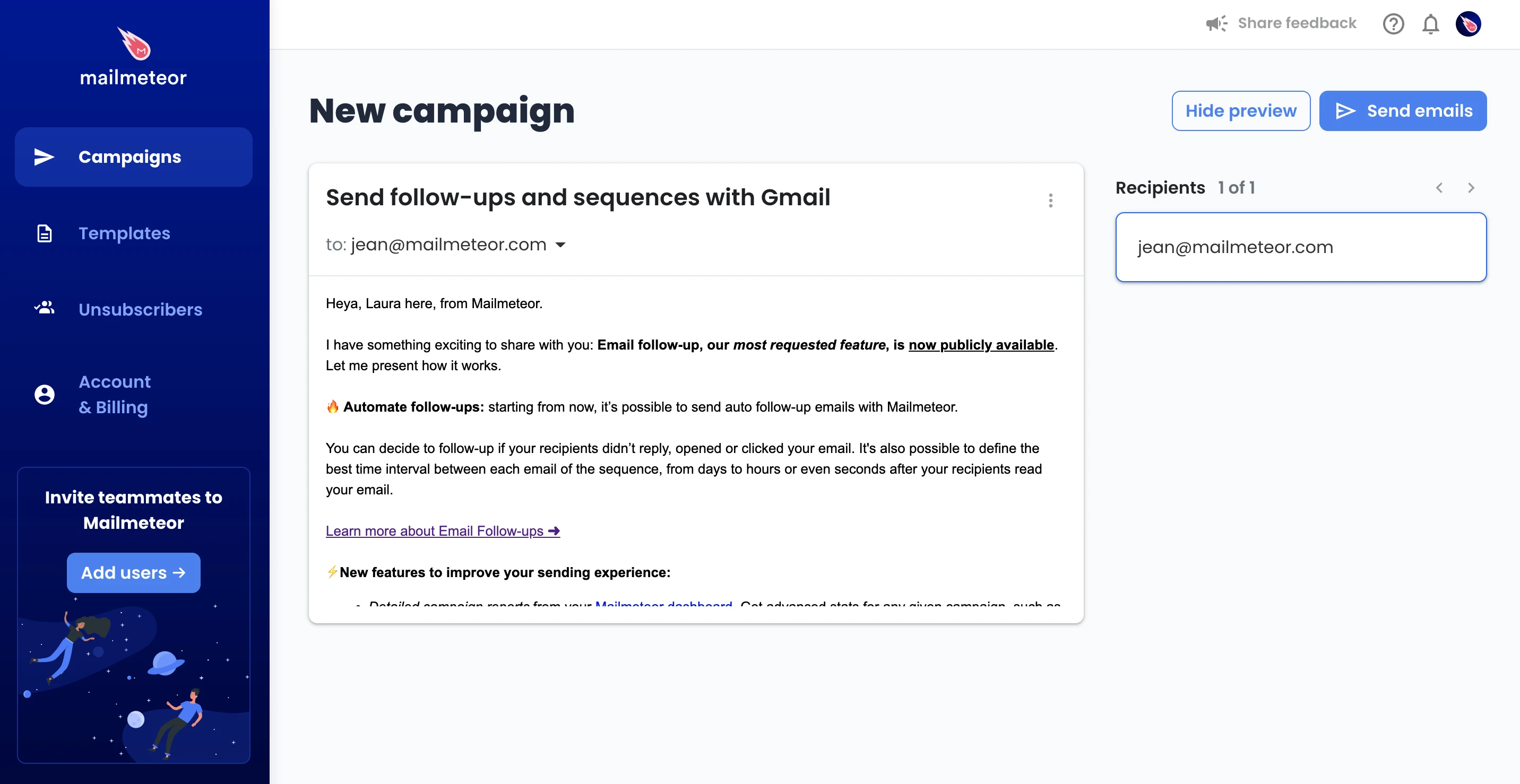 You can also send a test email to your email address. Use this feature to make sure that your newsletter looks great on web and on mobile. And while you're at it, check if your CTAs and your links are working properly.
When you're done, click on "Send emails" to send your newsletter with Gmail right away. Or try scheduling it at a later date.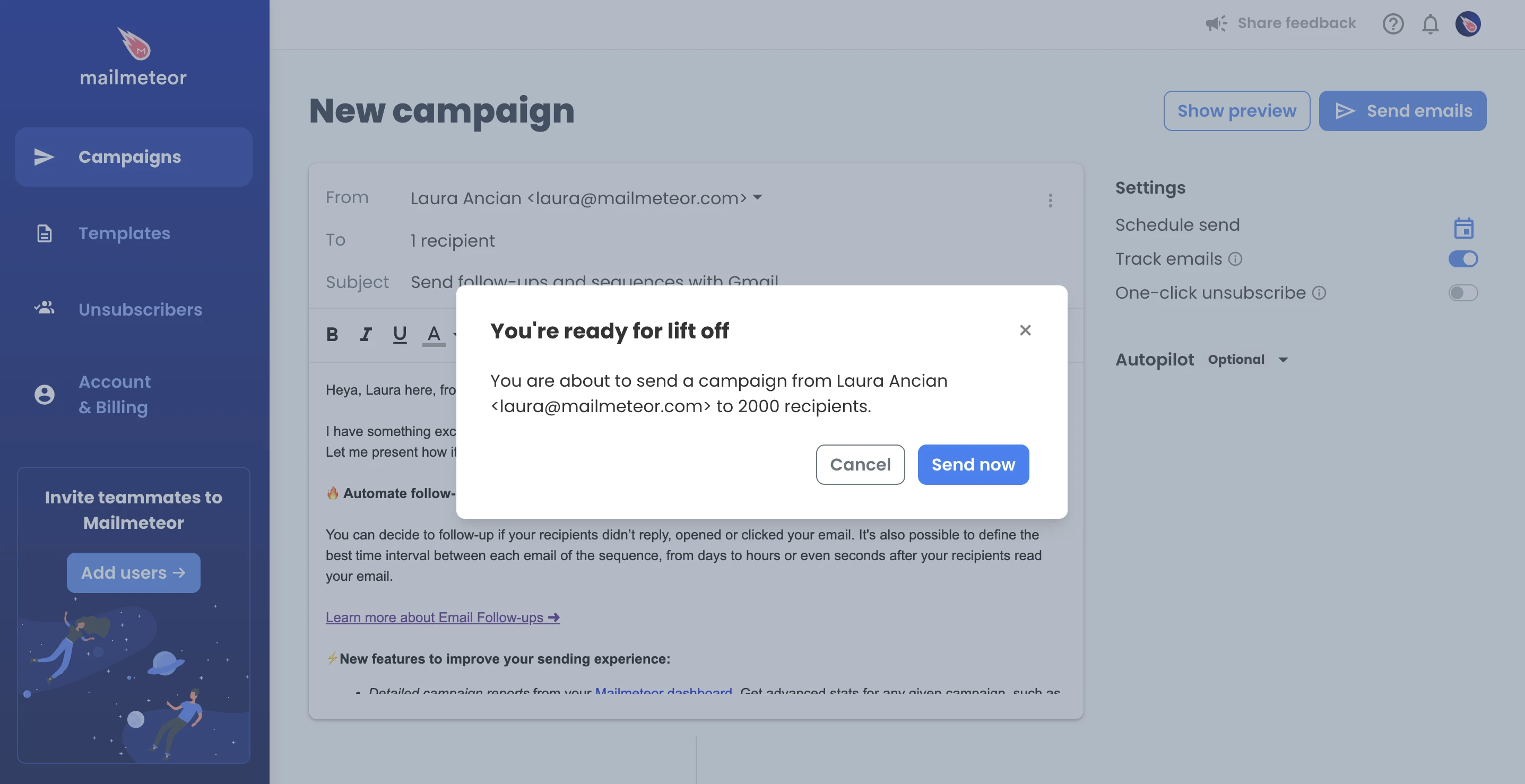 Sending out your first newsletter can seem quite daunting. But if you followed the steps outlined in this article, you have nothing to worry about :)
6. Track your newsletter
Your work doesn't quite end once you've sent your first newsletter. In fact, your email marketing journey has only just begun.
Now that you've created your first email newsletter, you can start to collect some feedback. And use it to improve your next editions.
Make sure to track the performance of your newsletter. And keep an eye on key metrics, such as ⤵️
Click-through rates
Opened emails
Unsubscribes
Bounces
With Mailmeteor, you can track your newsletter in real-time, and see how well a specific edition performed.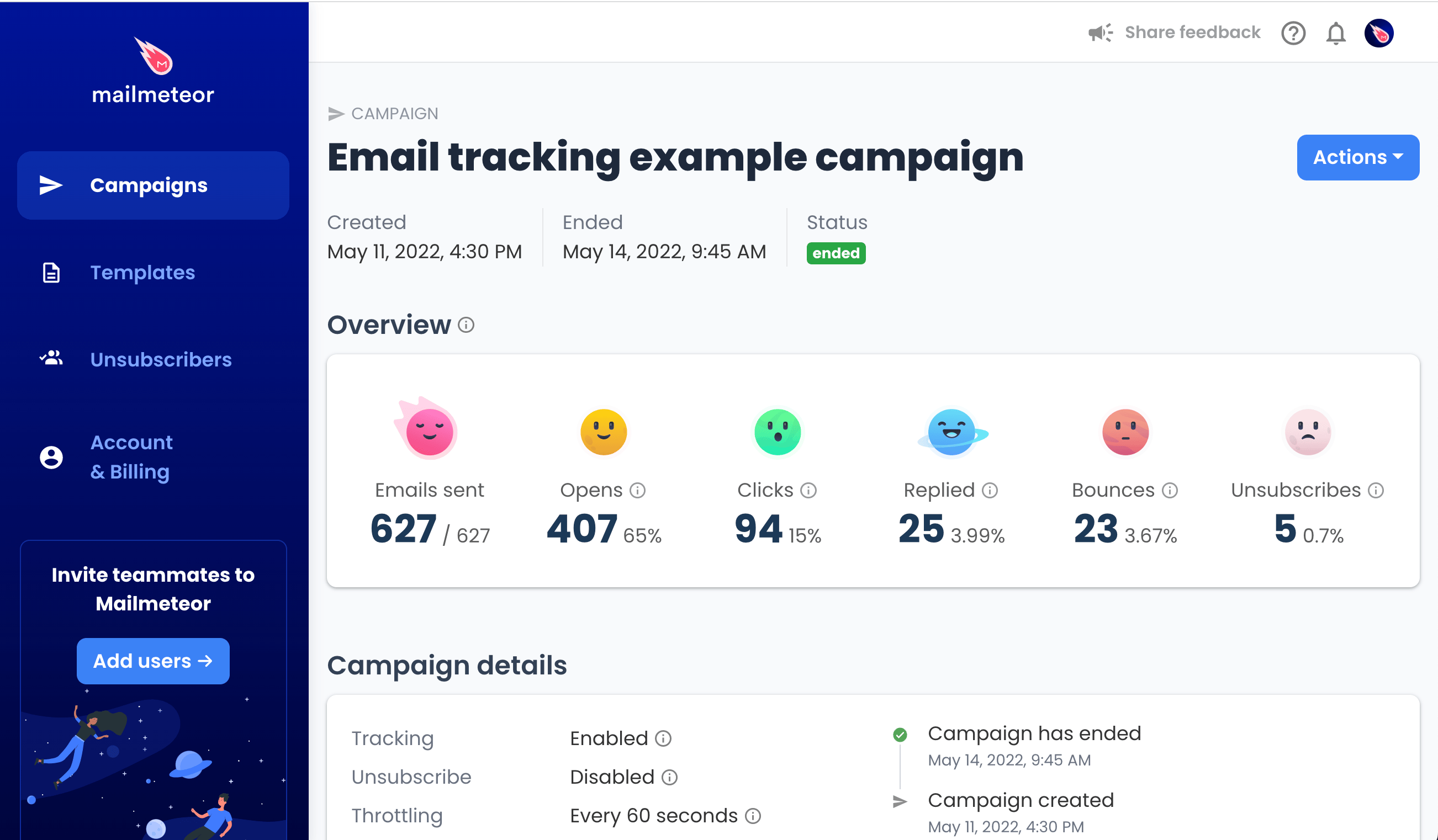 And if you see a decline in your engagement rates over time? Try to write more enticing email subject lines. Or explore new content ideas.
Just to give you an idea of what you should aim for, the average open rate of a newsletter is somewhere around 18%.
As for the click-through rate, it's usually around 3%. And the average unsubscribe rate is near 0.1%.
These figures can of course vary depending on your industry and target audience. So don't get too hung up on them.
As long as you focus on creating a newsletter that matches your target audience's expectations, you'll do just fine :)
Happy sending 💌
Published in: