It's 2023, you probably can't get by without email anymore. It's an absolute must-have, and picking your email service provider is a commitment. That's why we're here to give you the lowdown on the 2 dominating providers - Outlook and Gmail.
Outlook has been around forever and has a smooth interface, advanced search options, filtering features, and seamless integration with other Microsoft tools.
Meanwhile, Gmail boasts a user-friendly interface, loads of customization options, and impressive spam filters. Not to mention, it plays nice with other Google services like Google Drive, Calendar, and Meet.
Selecting the right email service can really help your workflow and productivity end-result, so it's worth exploring the differences between these two options.
Table of Contents:
So, buckle up and let's dive into this comparison to see which one fits your needs best!
Interface and Ease of Use
Regarding email service providers, understanding the user interface and ease of use should be at the top of the list. Let's compare Outlook and Gmail's user experience and determine which is better for you.
Outlook has a well-organized interface with a left-hand navigation panel that displays folders, categories, and some interfaces include other widgets like weather, calendar, etc. Business accounts get a rich top menu bar as well. It screams capability. However, it fees a tad outdated.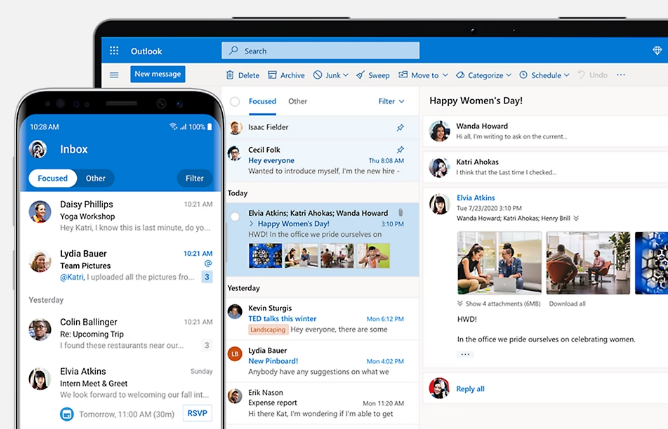 On the other hand, Gmail has a clean design that can be customized in and its user interface uses very recognizable icons instead of text, almost eliminating all unnecessary text. It's approachable and intuitive making it naturally easy to get onboarded.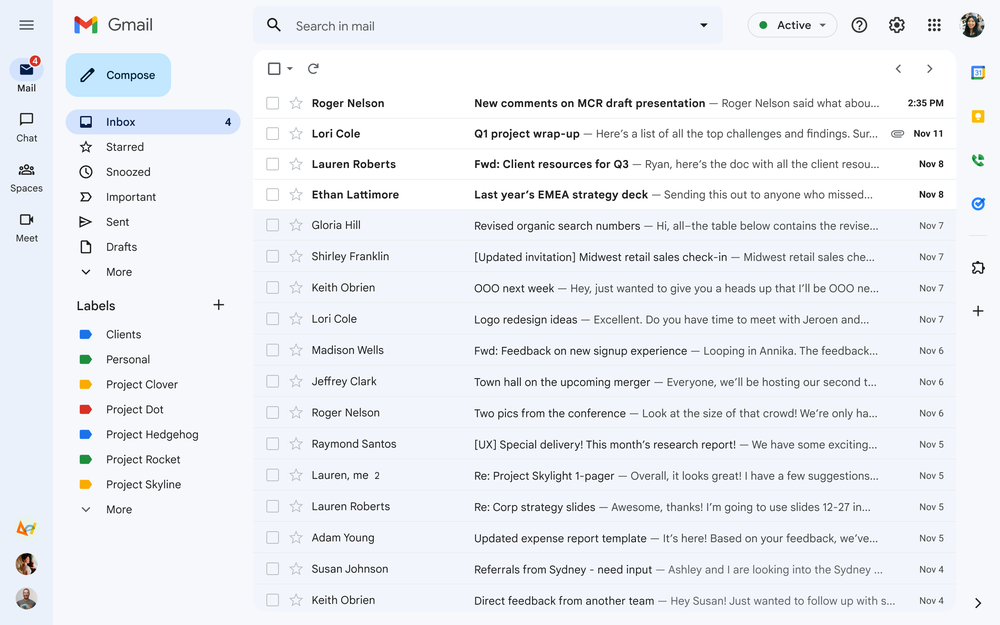 User Experience
Outlook's advanced features make it easier to manage emails in bulk while providing powerful filtering capabilities. Beginners might find its interface overwhelming due to too many options, especially for business users.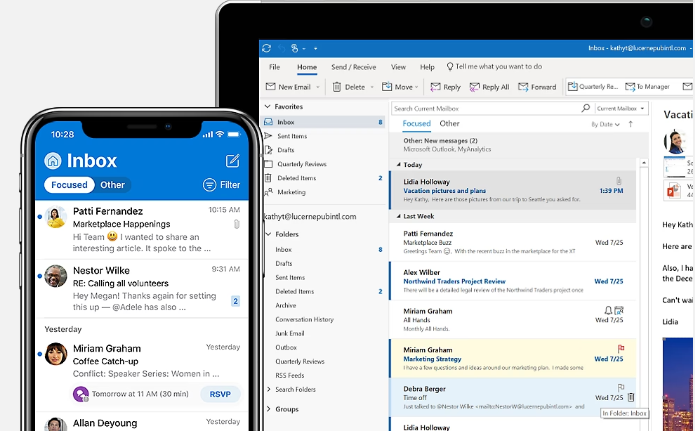 Meanwhile, Gmail has a more user-friendly design ideal for beginners - though the lack of complexity might not suit experienced users.
Ease of Use for Beginners and Advanced Users
Outlook has a steeper learning curve making it harder for beginners to navigate, whereas Gmail's intuitive design makes it easy for new users. However, experienced users might need more customization options available on Outlook.
Mobile Application Usability and Features
Both Outlook and Gmail have mobile apps with similar features as their desktop versions but differ in usability; At the same time, Gmail offers easier accessibility, and Outlook provides integration with Microsoft applications.
Customization Options
Outlook provides a wide range of customization options to make your inbox look the way you want. This includes customizing your home page theme, color scheme, font size, and more.
Gmail offers fewer customization options but is designed with a more straightforward approach that allows quick and easy navigation of their inboxes and you can also apply multiple preset themes to personalize look and feel.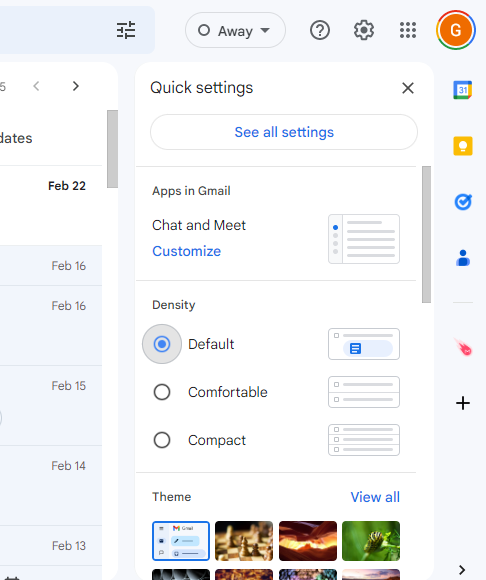 Search Functionality
Outook's more robust search functionality allows users to search for messages by keyword and date range. Gmail's search filters offer a more specific approach, though it is less versatile than Outlook's advanced search parameters.
As you select an email service provider, reflect on its user interface and simplicity. Both Outlook & Gmail have unique benefits & drawbacks about this; thus, you must settle for the one that best caters to your individual needs and preferences.
Features and Functionality of Outlook vs Gmail
Outlook and Gmail offer the essential functionalities such as email composition, sending and receiving emails, and folder organization. However, they differ in their advanced features, which can impact productivity, collaboration, security, email management, and more.
Productivity Features
Outlook is known for its productivity features, such as scheduling and managing appointments, tasks, and notes in the same interface. It also has an integrated calendar and contacts list, making organizing your schedule more manageable.
In contrast, Gmail offers integrated to-do list reminders, a snooze emails option, schedule send, and keyboard shortcuts that save time. You can also access your calendar, meet, and manage contacts from the Google apps menu. The good people at Google always find ways to make email and productivity management native. But best of all is the ability to integrate with productivity tools from the marketplace to help you manage and upskill your emailing.
Collaboration Features
Outlook has integration with Microsoft Teams allowing users to collaborate on projects, share files, and join meetings via video chat.
Gmail's powerful collaboration feature allows users to work on documents and files in real-time, making it ideal for remote work or team collaboration. Additionally, it integrates with Google Drive, Docs, Sheets, and Slides, allowing users to share and edit documents with others.
Security & Privacy Features
Outlook and Gmail offer robust security and privacy features, such as two-factor authentication, spam filtering, virus scanning, message encryption, data loss prevention, and advanced threat protection. When comparing privacy options, Gmail offers expiration dates to prevent emails from being forwarded, copied, or printed.
Outlook also offers enterprise-level secure tools available for businesses, but not all plans include them by default. Reviewing the plan thoroughly before signing up to ensure you have access to the features you need is essential.
Storage & Attachment Options
Gmail offers 15 GB of free storage for emails and attachments, while Outlook provides 50 GB of free storage, with the option to purchase additional storage. Both providers also integrate with cloud services like Google Drive or OneDrive, making it easier to share attachments.
Email Organization & Management Features
Outlook's email organization features are advanced, offering rules & filters for incoming emails organized into folders prioritized based on importance, among other features, plus advanced search capabilities to find specific emails quickly.
Using label categories could be enough when using Gmail. It's easy, straight to the point, and doesn't confuse the user.
Email Templates & Automation Features
Outlook's advanced templates allow saving pre-written messages for repetitive tasks, email scheduling, delayed delivery & more. While Gmail automated responses are good enough when wanting recipients to reply promptly or having standard answers prepared when away from the keyboard temporarily.
Ultimately the choice of email service provider depends on personal preferences and needs such as productivity collaboration, security email organization template automation, or storage space; thus, critically review each option carefully before deciding what best fits your particular scenario.
Pricing and Plans
Gmail is free for personal use, while Outlook offers a free version with limited features. Both email service providers offer premium plans for business and enterprise use.
Free and Premium Versions
Outlook's free version includes basic email features and 15 GB of free storage but doesn't include advanced features such as calendar integration, contact management, and email organization. Its premium version, Microsoft 365, offers access to these features, additional storage, advanced security features, and collaboration tools.
Gmail's free version is suitable for personal use and includes essential features such as email composition, sending and receiving emails, and 15 GB of free storage. Google Workspace offers more advanced features, such as custom email domains, increased storage, and advanced security features.
Pricing Options for Personal and Business Use
Gmail's pricing options for personal use are simple since its free version covers most personal needs. For business use, Google Workspace offers 3 plans starting at $6 monthly for the Business Starter plan.
Outlook's pricing options are more complex, with the free version and several paid plans. $99 per year for home, or starting $6 monthly for businesses with varying access to apps and features. Microsoft 365 offers flexible pricing options for business use depending on the organization's size and the required components.
Gmail's pricing is more cost-effective for personal use since its free version offers great features for most users. Google Workspace offers cost-effective pricing options with advanced features and flexible plans for business use.
Outlook's pricing is more expensive than Gmail's but offers more advanced features and is well-suited for enterprise-level organizations. Microsoft 365 provides advanced security feature collaboration tools and flexible plans for business use.
Integration and Compatibility
Both Outlook and Gmail offer integration options with other software, apps, and add-ons. Microsoft's Outlook integrates with Office, which includes Word, Excel, and PowerPoint, as well as other Microsoft products such as Teams, OneDrive, and SharePoint.
Gmail integrates with Google's suite of productivity tools, including Google Drive, Google Docs, Meet, and Google Calendar.
Third-Party App Integration
Gmail offers more third-party app integration options than Outlook does. The G Suite Marketplace provides many add-ons to support your emailing needs, as well as the added benefit of working email tracking, scheduling, or analytics platforms like Mailmeteor the #1 emailing platform for Gmail.
Meanwhile, although less extensive than Gmail's selection of add-ons, Outlook also provides useful features such as email management and productivity tools.
Compatibility with Different Operating Systems
Outlook is compatible with Windows & Mac computers plus mobile devices; however, its compatibility with Linux desktops is limited. Gmail is available on all operating systems (Windows, MacOSX & Linux). For instance, users can access their emails via the web interface in any browser or set it up directly into their mail application using protocols (IMAP & POP3).
Ease of Setup and Configuration
Compared to setting up Outlook accounts —which may be more complex if you're unfamiliar with Microsoft products—configuring a new Gmail account is relatively straightforward, particularly if you're familiarized with Google's suite of products like Drive or Docs. Once set up, however, both platforms offer an easy-to-use interface allowing users to access their emails without difficulty, quickly.
In conclusion both Outlook & Gmail offer integration options that allow users to connect with different tools. Still, Gmail wins with more third-party app integrations for added features such as email tracking, scheduling emails in advance, etc.
Regarding OS compatibility, both platforms cover Windows & Mac. Still, Outlook only offers full Linux support. Setting up a new Gmail account is far simpler than configuring an Outlook one —especially handy if you're already accustomed to working within Google's suite.
Customer Support
Outlook and Gmail offer customer support through various channels, including email support, phone support, and help center resources. Both help centers includes a comprehensive knowledge base, community forums, and a user support forum.
Customer Support Channels
Outlook provides phone support, while Gmail offers only email support. However, Gmail's comprehensive knowledge base and community forums provide users with ample information on how to troubleshoot their issues and avenues to seek assistance from other users or service providers.
Customer Support Response Times
Outlook has made its mark by offering prompt customer service with short wait times. On the other hand, Google may take longer to resolve complex inquiries due to the availability of technical staff at any given moment.
But overall, both companies have been known to respond within an acceptable timeframe for customers who reach out for assistance.
Customer Support Quality and Effectiveness
The quality and effectiveness of customer service are based on the complexity of the issue at hand and the expertise possessed by those providing it. Fortunately for both Outlook and Gmail users alike, both companies have solid reputations for providing adequate service levels when resolving queries raised by those using their services.
However, Outlook still gets high praise from its users due to its inclusion of phone-based tech support, which may be more convenient for some than simply typing out your inquiry via email.
To conclude this section on customer Support - while both providers offer varied methods in addressing users' concerns (email, phone &knowledge base) - certain factors make each stand out uniquely - shorter wait times tend to come with Outlook. In contrast, listed query resolutions with more detail can often be found in Gmail's Knowledge Base or Forums, making it advantageous if you are looking for initial evidence before engaging in direct contact with either company's call center reps or tech staff members, respectively.
Pros and Cons of Using Outlook vs Gmail
Comparing email providers can be overwhelming, but with a brief overview, it's possible to determine which platform is best for you. Below we'll look at the pros and cons of using Gmail or Outlook to help you decide.
✅ Pros of Gmail
❌ Cons of Gmail

Extensive third-party app integration options
User-friendly interface
Great collaboration features, including shared calendars and documents
It offers a free version that provides ample storage and features
Mailmeteor work flawlessly with Gmail 😉
Works on all operating systems

Customer support is limited to email and help center resources
Fewer customization options compared to Outlook
Fixed compatibility with Linux
✅ Pros of Outlook
❌ Cons of Outlook

Integration with Microsoft Office and other Microsoft products
Offers phone support in addition to email support
Extensive email organization, editing and management features
Good security and privacy features
Provides a variety of customization options.

More expensive than Gmail's paid plan when broken down
The interface can be cluttered and overwhelming
Limited third-party app integration options
Fixed compatibility with Linux
Key Differences
Outlook offers better integration with Microsoft products, while Gmail offers better third-party app integration.
Outlook provides phone and email support, while Gmail only offers email support.
Gmail is free to use with ample storage and features, while Outlook requires a subscription for the complete set of features.
Outlook offers more customization options, while Gmail has a more user-friendly interface.
Outlook is better suited for advanced users needing progressive email organization and management features, while Gmail is better for collaborative work and users prioritizing third-party app integration.
In conclusion, Outlook and Gmail have pros and cons, and the best email service provider for you depends on your individual needs and priorities.
Conclusion
In conclusion, Outlook and Gmail have unique strengths and weaknesses. Outlook offers a powerful interface with advanced search capabilities, integration with other Microsoft products, and plenty of customization options, making it ideal for experienced users who require flexibility.
Meanwhile, Gmail provides a more user-friendly interface with excellent spam filtering, 15 GB of free storage, and great third-party app integration, making it the better choice for newcomers. While both services offer good customer support platforms, Outlook provides quicker response times, while Gmail focuses more on delivering detailed query resolutions. Ultimately, the selection between these two email providers boils down to individual preferences and needs.
Published in: