If you're here chances are you need to send a friendly reminder email. Perhaps you've got an event coming up or are waiting on a response.
With the average person receiving over 100 emails a day and busy lives, sending friendly reminder emails are non-negotiable.
But like any reminder in life, you don't want to come across as nagging or impatient.
In this post, I'll walk you through when you can send friendly reminder emails — what to say — and how to cue them up and set reminders in Gmail so you don't have to think about it.
Let's jump in.
When should you send a friendly reminder email?
I don't know about you, but deciding when to send a friendly reminder email is a game in itself. I start to think, is it too soon?' 'Am I being impatient?' But people forget and friendly reminder emails are key to keeping things moving.
Before we jump into when to send friendly reminder emails, know that reminders fall into two categories:
Friendly reminder emails before an event (e.g. a meeting or agreed deadline.)
And friendly reminder emails after an event (e.g. post meeting to-dos, overdue invoices, etc)
Let's explore each one.
Friendly reminder email before an event
When sending reminders before an event, working out your timing is easy. You can send one the week, the day, and the hour before.
Not only will it help your recipient, but you'll also have a greater chance of 'the thing' going ahead.
I like to schedule emails like these in advance in Gmail so I don't have to think about emailing people the hour before, and focus on more important preparations.
If you'd like to schedule your friendly reminder email to go out for you. Did you know you can do it in Gmail? Stick around to step 5 in this article, I'll walk you through how to do it.
Friendly reminder email after an event
When chasing someone to come back to you, this is where things can feel icky. But remember, you're just trying to help someone make a decision or cross a lost job off their to-do, not pester them.
According to Forbes, 50% of people respond to emails within an hour. And there's a 90% chance that you'll get a response within 48 hours if they're going to reply.
So with that in mind, I like to schedule my friendly reminder emails to go out 2 - 3 days apart. And depending on what I'm doing 5 - 7 days from there.
But like anything in life, there are no set rules. So I'd urge you to think back to the conversation you had, but know that a friendly reminder email between 2 - 7 days is perfectly acceptable.
Don't know what to say? I've included some ideal excuses in the following section of this post.
What day is best to send a friendly reminder email?
CoSchedule analyzed 14 follow-up studies reporting Tuesday, Thursday, and Wednesday (yup, in that order) are the best days to send friendly reminder emails — avoiding Monday catchups and Friday blues.
How to send a friendly reminder email?
1. Choose your follow-up angle carefully
Before jumping straight to writing, you need to define your desired outcome and pick an angle.
This'll help you answer the question — What should you say in a friendly reminder email?
Often people think you need a reason to send a friendly reminder email and if they can find one they don't follow up. This is a mistake when saying 'Hey, just bumping this up in what I'm sure is a busy inbox' is fine too.
But here are some common angles to spark some ideas…
You could ask them if they have any further questions.
See if they need any extra questions to help come to a decision.
Simply remind them that you're waiting for them to action something.
Send a 'check in' to see if they got your email if no response.
Remind them of the upcoming event or deadline.
2. Reply with a gentle reminder email in the same thread
Rather than creating a whole separate email chain and making life harder for your recipient. If you keep things in the same thread, context will be easy for them to see, and for you to reference.
To do this all you need to do is find the email of the last communication and hit reply. Now your reply will have the relevant email quoted directly below it for you to reference: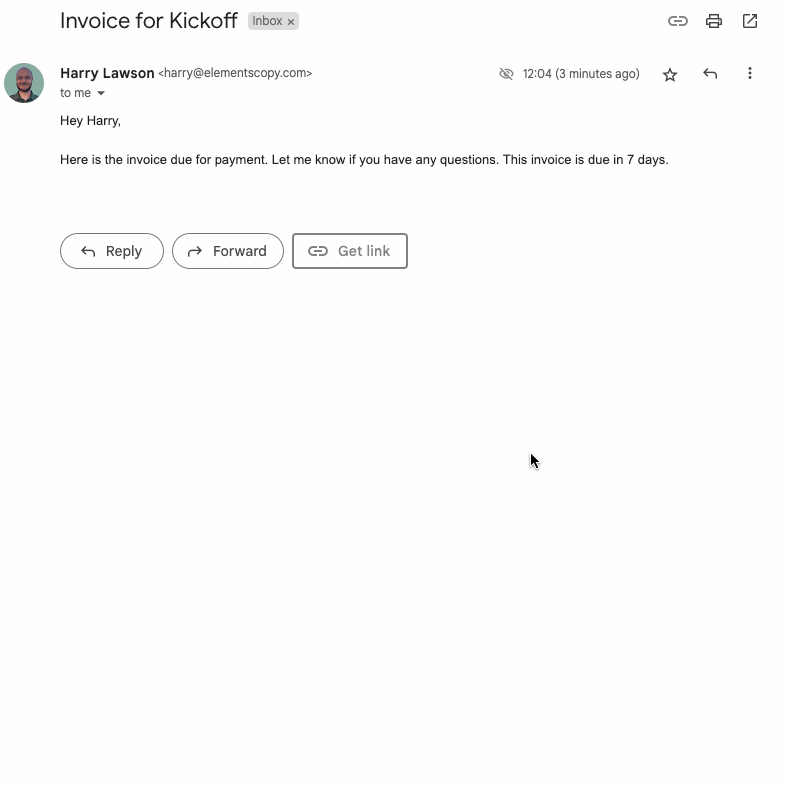 Of course, if you're sending a gentle email reminder before an event, this doesn't apply. In this case, keep your email subject lines relevant to your ask and highlight their importance. Here are some examples…
Friendly reminder email subject lines:
'Reminder: Event tomorrow'
'Action required: Invoice due'
'Could you provide details on this?'
3. Greet your recipient warmly
Open your message with a warm greeting and wish them well. You can get something like—
'I hope things are good with you, I just wanted to check in and see how you're getting on with [activity]'
'I saw you went to SaaS Stock last week. I hope you had a great time. I just wanted to check in and see how you're getting on with [activity]''
Then jump right into the meat of the email.
Often we feel the need to wish people well and ask how they are doing. But remember, the more you ask, the harder you make the reply so keep things simple.
4. Make a clear direct ask
It's important in your email to make a clear direct ask of what you need from the recipient, is it a reply, feedback, or confirmation?
Explicitly state what you need to move forward and the expectations so you both have a clear action item in mind to keep things moving forward.
Say for example you're sending a friendly reminder email for payment.
Instead of saying 'Hey, could you take a look at your outstanding payment.' Remind them of what the payment is for, how they pay, and when you need the payment.
Make actioning your friendly reminder email simple.
5. Hit send or schedule to send at a future time and date
If now's not the right time to hit send. Platforms like Gmail let you schedule gentle reminder emails in advance to send a at specific time and date.
I do this all the time, instead of jumping in and out of email all day, I schedule my weekly follow-ups in one big hit.
Let's say I wanted to check in with someone after knowing they'd returned from a trip. Instead of waiting until the day. I can use the Gmail schedule send feature.
How to schedule gentle reminder emails in Gmail:

Click reply or reply all on the email you want to follow up on.
Write out your email.
Click the arrow on the send button.
Click 'schedule send.'
Choose your desired date and time from the options.
You can view, edit, and cancel your scheduled emails anytime from the Scheduled tab in Gmail on all devices.
6. Track opens and send gentle reminder emails if no response
If you're wanting to see whether your recipient has opened your gentle reminder email and have auto-followups sent on your behalf if no response —you'll love Mailmeteor's email platform for Gmail.
Trusted by 4 million users worldwide. The platform lets you track emails in real-time, send personalized mass emails, and schedule follow-ups to get more replies.
I personally, love using Mailmeteor because it allows me to send emails with automatic follow-ups cued up so I don't even have to think about it: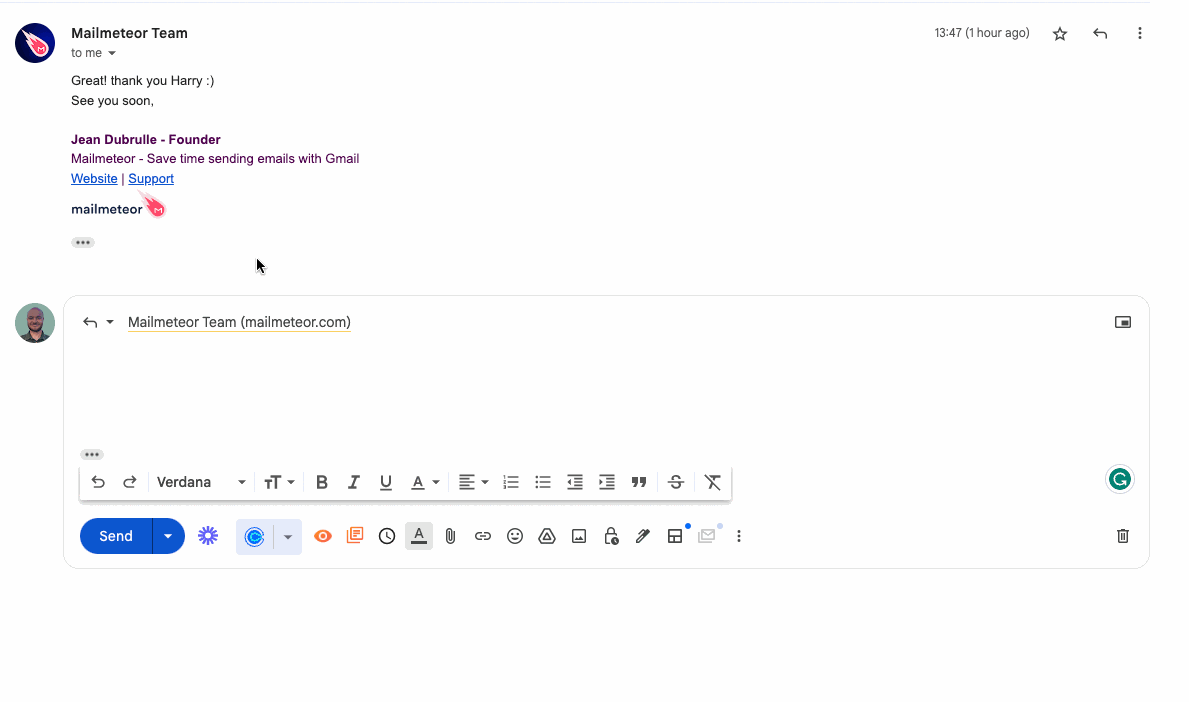 If you'd like to see how to send personalized follow-up email sequences from Gmail to multiple recipients, you'll love this video guide using Mailmeteor:
What you should do now
If you want to try out Mailmeteor, we're running 20% off the Mailmeteor Pro plan for a limited time.
Yes, it's a monthly subscription, but imagine how long it would take to write and send hundreds of gentle reminder emails manually. 4 million users find it a no-brainer, even before the ROI it can generate for you.
➤ Join 5 million people like you sending emails with Mailmeteor
Want more ways to improve your Gmail game?
Our blog is full of ways to skyrocket your Gmail efficiency, here are some favorites relevant to you:
The 5 mistakes to avoid when sending friendly reminder emails…
1. Being too vague
When sending a follow-up keep your ask direct and simple. Often people don't respond because responding feels like a task in itself. Instead of listing off a bunch of things you need, start with what you need first — you can always ask for the rest later.
2. Too many niceties
In certain cultures, we're taught to ask how people are, be nice, and greet people in certain ways. But when following up. Asking how they are and a bunch of other things takes away from your core message. Be polite, but stick to one ask to keep it simple.
3. Being too pushy
It's important to remind people they need to respond, but it's also important not to be pushy as this could hurt your follow-up endeavors entirely. No matter how slow someone is keep your cool, and keep the mindset of, 'I'm here to serve and be helpful.'
4. Leaving it too long or emailing too soon
Timing is everything when following up. And if you leave it too long you risk being thrown to the bottom of the pile and forgotten. That's why leaving it any longer than 7 days unless agreed otherwise could be leaving it too long.
5. Using templates without personalization
Often, to speed up our follow-ups, we may use templates and software to do it for us. This is great for saving time, but it's important to customize these templates to fit your context.
If you want to send a personalized and automated friendly reminder email if no response. You should check out Mailmeteor. It's the email marketing platform for Gmail. Used by 4 million people globally. Mailmeteor is the best email service to send personalized mass emails with Gmail. Track your results in real-time and follow up easily to get more replies.
Published in: