Tired of sending average-looking email campaigns? With HTML email builders, you can create email templates that display perfectly on any device. In just a few minutes. And without any code.
Design matters. Especially when it comes to email. A truncated image here or a misaligned paragraphed there can greatly reduce your overall engagement rates and even damage your brand image.
But here's the catch. Crafting visually appealing email templates can be a challenging (and incredibly time-consuming) task. Primarily because it requires proficiency in HTML and CSS coding.
Here's an example of HTML email code from Really Good Emails ⤵️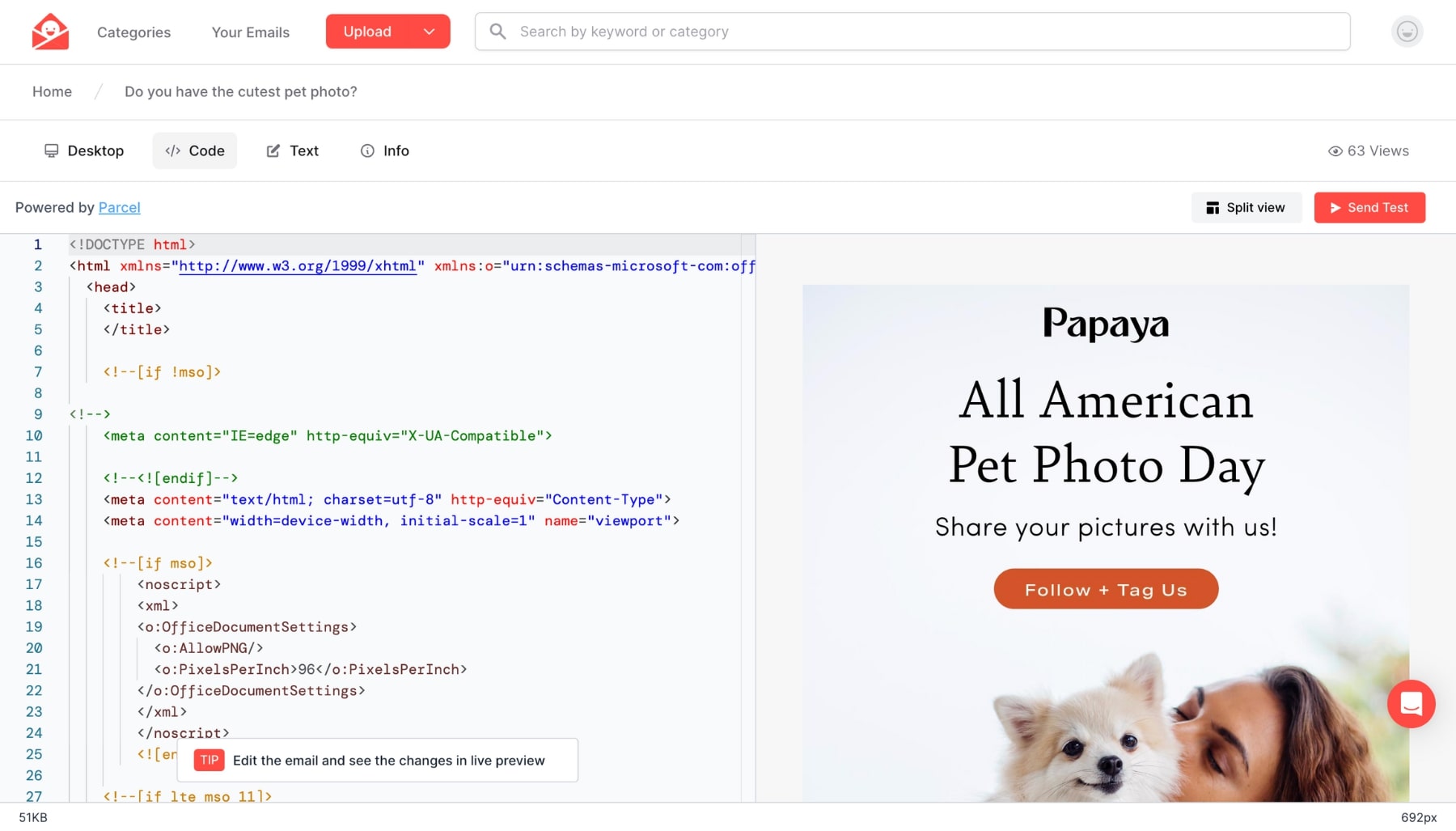 Or at least, that's how things used to be. But over the past few years, some tech companies came up with a new way to design emails. And you can now create beautiful email newsletters with zero code.
You no longer need to be a tech wizard or a seasoned marketer to send high-ROI emails. Instead, you can use a simple HTML email template builder.
But how does a drag & drop email editor work? And which HTML email generator should you choose among the dozens of platforms available on the market? In this quick guide, we've reviewed and tested 9 free HTML email builders ⤵️
But first, let's explore what is an HTML email builder and what features you should focus on when choosing your future email editing tool.
What is an HTML email builder?
Let's start with the basics. An HTML email builder is a software tool that lets you design email templates using Hypertext Markup Language (HTML) without having to code them yourself.
HTML email builders provide a user-friendly interface that enables you to effortlessly design professional-looking email campaigns. Instead of writing HTML code, you can simply drag & drop pre-built content blocks or customize existing templates.
Here are some of the advantages of using HTML email editors instead of coding the files yourself ⤵️
You'll save A LOT of time – Manually coding an HTML email template is a time-consuming task. Even if you're an expert. HTML email builders will help you streamline your email design process.
You'll get better results – Most HTML email editors grant you access to an extensive library of pre-coded HTML templates that are both UX-friendly and conversion-optimized.
Your email templates will be responsive – You won't have to worry about how your campaigns look on mobile, tablet or desktop. Most HTML email builders are designed to help you craft responsive email designs.
You can work from anywhere – HTML email builders are online platforms. Which means that your email templates are stored in the cloud and easily be accessed from any device.
You can collaborate with your team – A lot of HTML email generators offer collaborative features. You can edit, review and share your email templates with your team to create stunning campaigns.
Sounds pretty good, uh? But choosing the right HTML email template builder for your needs is no easy task.
Best Free HTML Email Builders
There are dozens of HTML email editors on the market. But they're not all on par. Each platform has its unique set of features, pricing and advantages. Here's a list of the best free HTML email builders (reviewed and compared) ⤵️
1. Mailmeteor - No-code Email Editor
Looking for a feature-rich HTML email builder? Mailmeteor built a free tool that allows you to create and customize email marketing templates up to modern standards.
This no-code email editor is a WYSIWYG email templates builder. It helps you focus on your message while using proof-tested email templates.
You can easily change the font color and the text alignment. But also add your brand's logo and edit the footer of your email.
All the emails you create with Mailmeteor's HTML email template generator are responsive. Which means that they'll look great on mobile, desktop or tablet.
What's more, the email editor uses HTML tables. So your email will look stunning on most email clients, including Gmail, Outlook and Yahoo.
But that's only the tip of the iceberg. Once your HTML email is ready, you can use the Mailmeteor app to supercharge your Gmail account.
Mailmeteor lets you send personalized mass emails, schedule emails in Gmail and track the performance of your campaigns in real-time.
This app is used by over 5 million users to create personalized email campaigns without any complicated setup or technical knowledge required.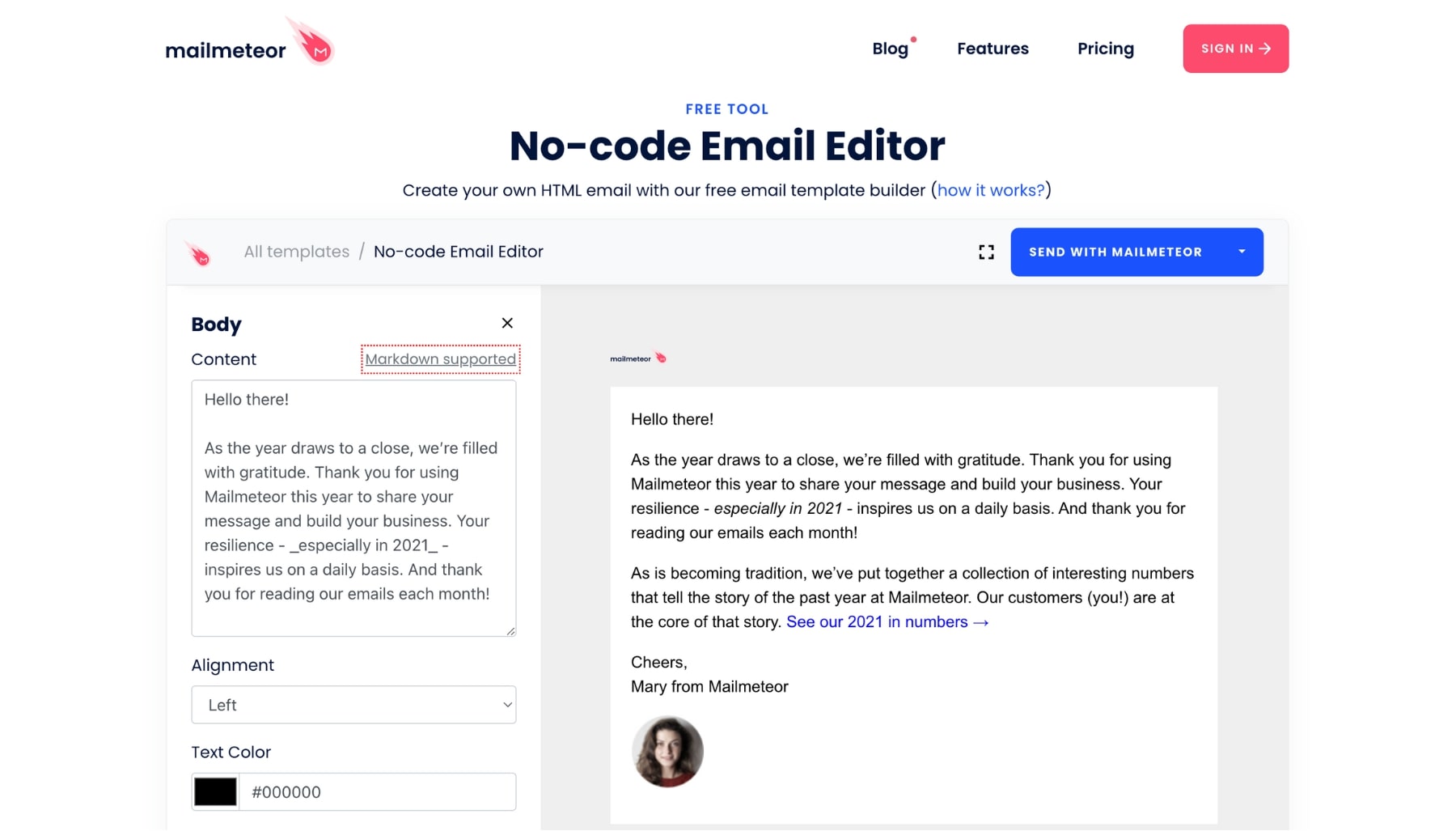 Mailmeteor Features
When we first started out, Mailmeteor was a simple mail merge, designed to send mass personalized emails directly from Gmail. But as the years went by, we turned it into a powerful email marketing solution ⤵️
Personalized emails subject and content
Email sequences and follow-ups
Email preview before sending
Custom unsubscribe link
Contact segmentation
Live email tracking
Email scheduling
Autopilot
Alias
To get a full tour of the Mailmeteor app, check out our Features page or take a look at the product tour video just below ⤵️
Mailmeteor Pricing
Mailmeteor is one of the most affordable email marketing platforms out there. We've built a lot of free tools, such as our no-code email editor. And our free plan lets you send up to 50 emails per day directly from your Gmail address.
But if you want to make the most out of our all-in-one emailing suite, we strongly recommend you [try our Premium or Pro plan. The value you'll get for a mere $9.99 a month is out of this world.
But don't just take our word for it. Mailmeteor is the best-rated Google Workspace application with a 4.9 score out of 10,000+ reviews. Check out our wall of love and see what our 5+ million users have to say.
2. Stripo - Drag & Drop Email Template Builder
Stripo has 900k users. Which is a lot less than popular marketing platforms such as Mailchimp. But we love how intuitive this HTML email builder is.
With Stripo's drag & drop email editor, you can choose from a library of 1,350+ pre-designed email templates.
Or start from scratch and create a custom campaign in minutes. Add images, buttons, text blocks and social media icons to your mails. All with a few simple clicks.
You can also build interactive email elements, such as countdown timer thanks to Stripo's built-in AMP functionality.
On top of that, this HTML email builder comes with an embedded photo editor. Which is a great way to build stunning email banners.
You can save your favorite custom HTML blocks and reuse them to create other email campaigns.
Last but not least, Stripo lets you share templates with the members of your team and preview your emails before sending them.
Keep in mind, however, that most of Stripo's key features and premium templates are locked for paid users.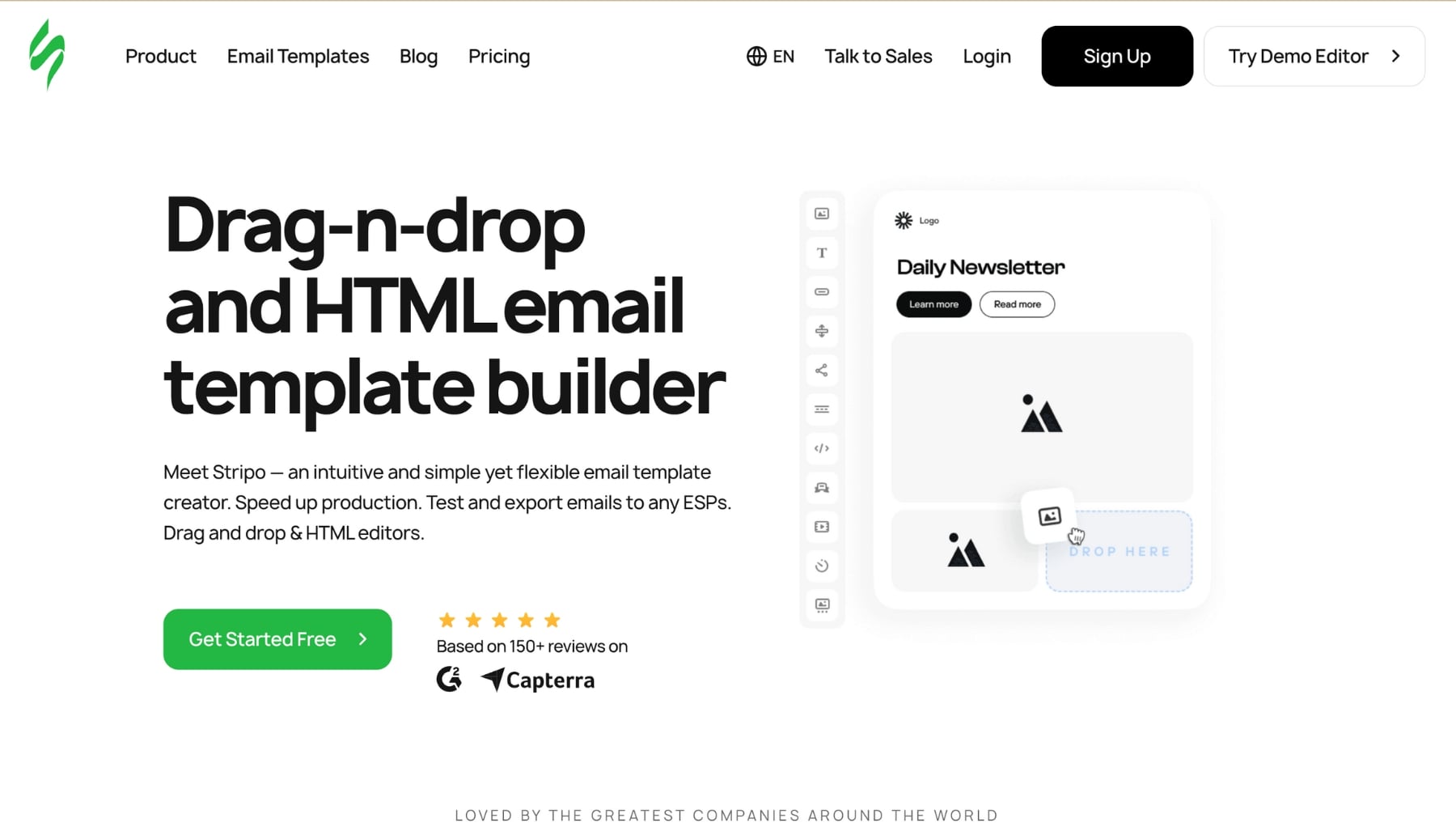 Stripo Features
Stripo offers many time-saving features that will help you create remarkable email templates and improve your engagement rates. Even if you're not a tech wizard with a deep knowledge of HTML code and UX design ⤵️
1,350+ free HTML email templates
AI-powered writing assistant
Drag & drop email builder
HTML & CSS code editor
AMP-powered emails
User access levels
Email preview
Stripo Pricing
Stripo has a free plan. You can store 10 email templates, test 5 emails per day and export 4 emails. Which is not that much. But it's a good way to check if this HTML email builder is the right one for you.
Their premium plan costs $15 per month and lets you export up to 50 emails. You can also share email previews and unlock other handy features allowing you to design stellar email marketing campaigns and newsletters.
3. Mailchimp - Popular HTML Email Builder
Mailchimp is one of the most popular HTML email builders out there. With over two decades of experience, this company has cemented its reputation as a trusted all-in-one email marketing platform.
Their HTML email editor comes with a user-friendly interface. You can easily customize your templates with your brand's colors, fonts and images to make sure that each email you send is unique.
You can also utilize dynamic content blocks and merge tags to deliver targeted content to specific segments of your email list. Which is a great way to improve your engagement rates.
Lastly, Mailchimp lets you manage your contact list, track your campaigns performance, automate your emails and conduct A/B testing. You can use this platform to streamline your entire email marketing process.
But all this comes at a price. Mailchimp is one of the most expensive HTML email builders listed in this article. They do have a free plan. But it is no longer possible to import your own HTML code in the free version of Mailchimp.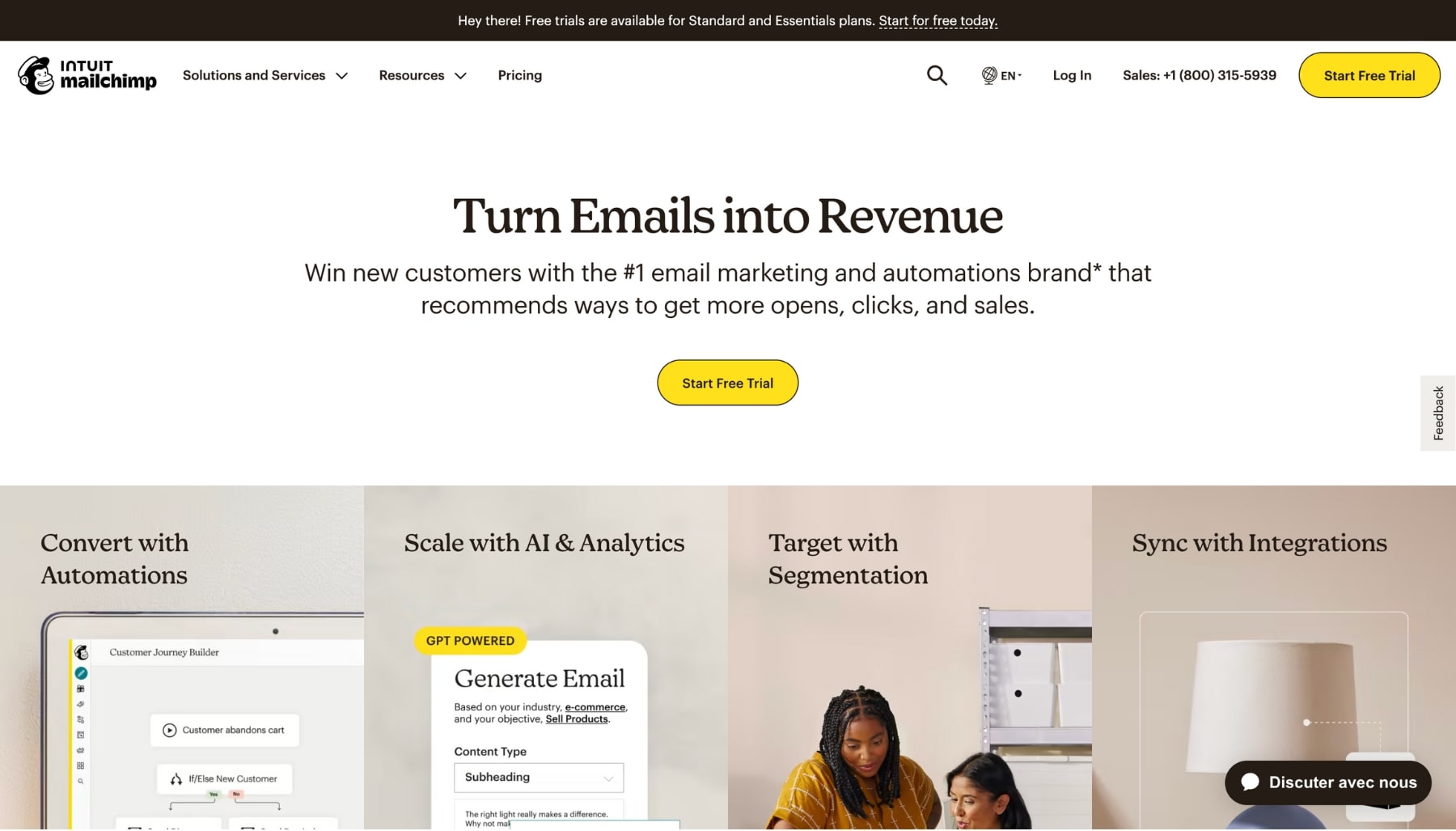 Mailchimp Features
Mailchimp lets you customize pre-designed layouts and craft beautiful email campaigns in the blink of an eye. But there's more to this email automation platform than meets the eye ⤵️
300+ integrations with third-party apps
Custom-coded email templates
Send time optimization tool
Predictive segmentation
Pre-built email designs
Role-based access
Email scheduling
Email analytics
A/B testing
Mailchimp Pricing
Mailchimp is not the most wallet-friendly HTML email editor. They do have a free plan that lets you send up to 1,000 emails per month. But you'll most likely need to subscribe to a paid plan at some point.
Their "Essential" formula starts from $13. But the more contacts you have, the pricier it gets. If you have 10,000 email contacts, you'll need to pay $100 a month. Which is way more expensive than other email marketing softwares.
4. BEE - Free HTML Email Editor
BEE is a game-changing HTML email builder. It was originally created by MailUp, a popular Italian Email Service Provider (ESP).
Whether you're a seasoned marketer or a complete beginner, BEE lets you create visually captivating emails in minutes.
Their intuitive drag & drop editor allows you to effortlessly create stunning layouts for your upcoming email campaigns.
You can also choose from an extensive library of professional email templates. Each design is optimized for responsiveness across various email clients.
This HTML email builder lets you customize every element of your email. From fonts and colors to images, buttons and column widths.
BEE also includes a free landing page editor. Which allows you to build responsive landing pages without having to code.
However, BEE's navigation system can be (a bit) confusing and you can't create complex layouts with this drag & drop email builder.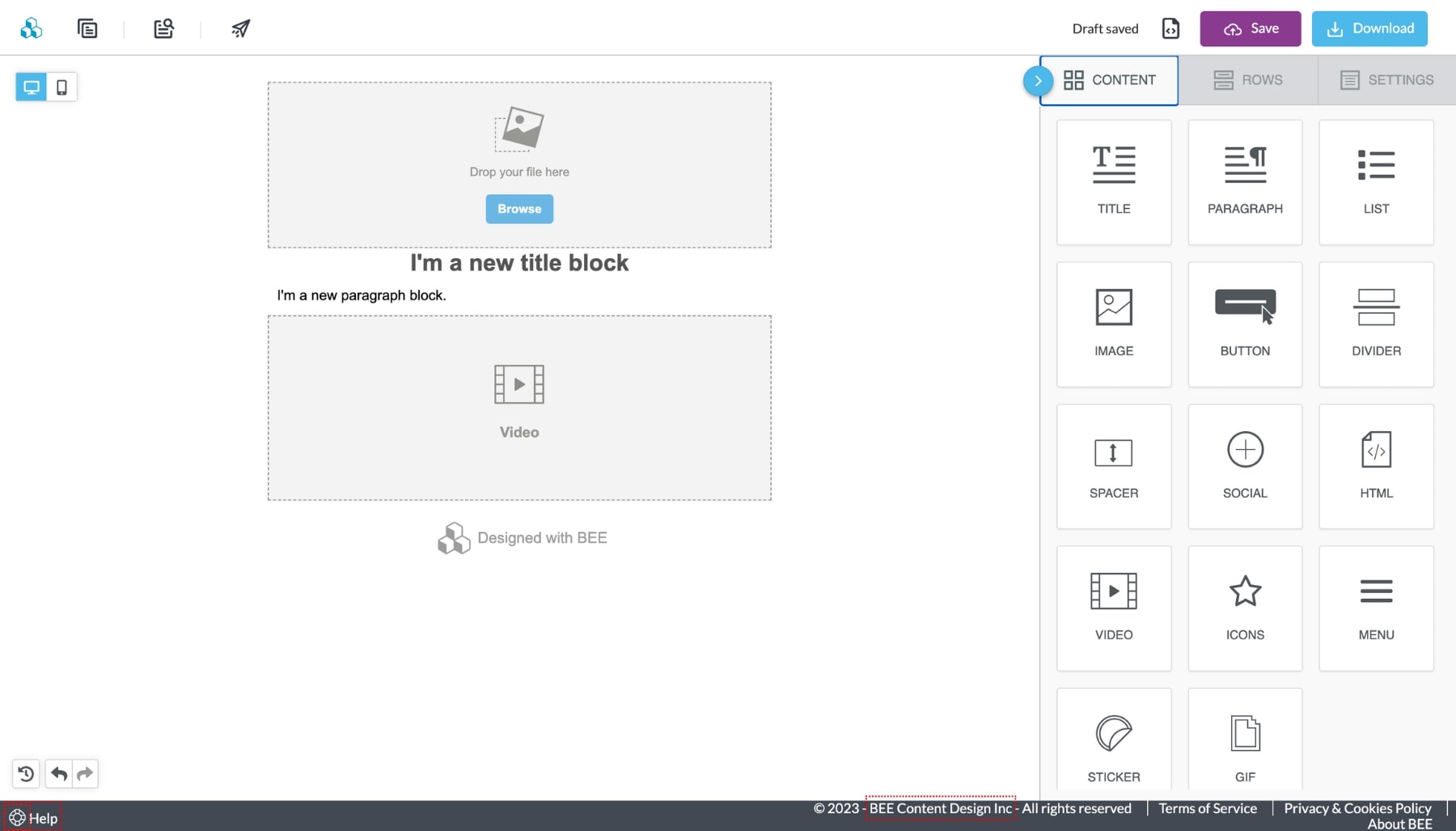 BEE Features
BEE is often considered as one of the very best email template builders & editors. This simple tool lets you create HTML messages from scratch. With zero code. You can also select a pre-built email in BEE's extensive template library ⤵️
Catalog of 1500+ email templates
Responsive HTML email builder
Advanced user permissions
Real-time co-editing
Project folders
PDF exports
BEE Pricing
BEE is a free HTML email builder that lets you create up to 10 email templates. You can set up your free account and start working on your first HTML templates in less than 5 minutes.
But if you want to use BEE on a regular basis, you may want to sign up for their premium plan. It costs $30 per month and allows you to design unlimited HTML email templates to promote your brand.
5. Brevo - Online Email Template Builder
Brevo is an HTML email builder that will help you create visually captivating emails. Even if you don't know how to code.
Formerly known as Sendinblue, Brevo comes with a user-friendly interface. Its drag & drop editor and template library will help you design stunning messages in minutes.
But Brevo is more than an HTML email builder. This emailing platform lets you manage your contact list and segment your audience.
But also automate your email marketing. You can nurture your leads by creating personalized email sequences with time-based or event-based triggers.
Lastly, Brevo helps you better understand your audience and fine tune your email marketing strategy, thanks to a heat map reporting.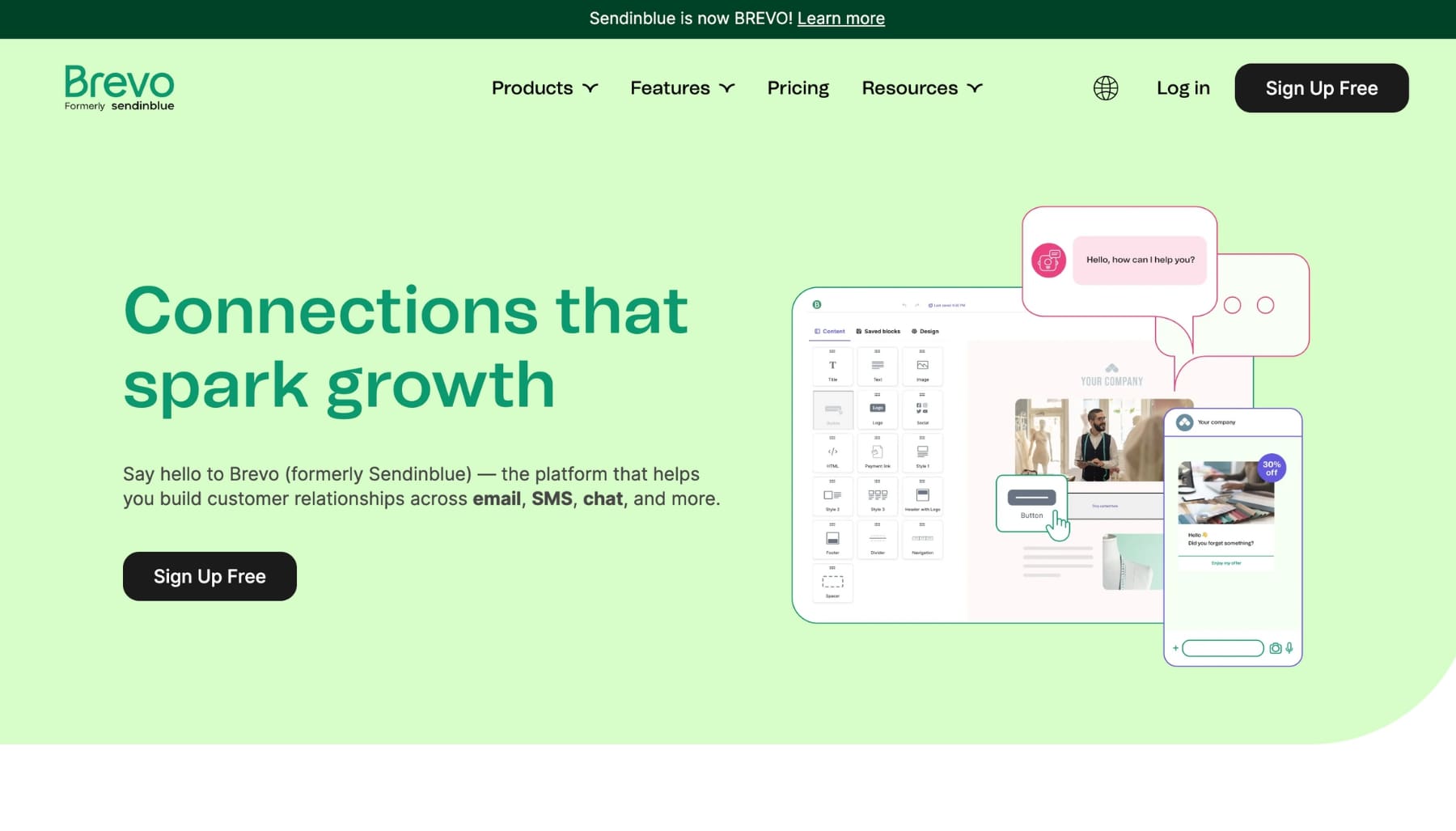 Brevo Features
Brevo is an affordable email marketing platform with a simple drag & drop email editor that lets you create outstanding email campaigns in minutes. This platform also has a bunch of other features worth taking a look at ⤵️
Transactional email platform
HTML email template gallery
Customizable signup forms
Real-time email analytics
Drag & drop email editor
Marketing automation
Heat map reporting
Custom webhooks
Workflow editor
A/B Testing
Brevo Pricing
Want to give Brevo a shot? Make sure to check out their free plan. Once your account is up and running, you'll be able to design HTML email templates with zero-code and send up to 300 emails per day.
To unlock more advanced features, such as sending time optimization and a custom landing page builder, however, you'll need to subscribe to Brevo's Business plan, which costs $49 a month.
6. Campaign Monitor - Responsive Email Template Builder
Campaign monitor is a popular HTML email builder that lets you create powerful email marketing campaigns with ease.
This platform offers a wide array of responsive email templates and a free built-in image gallery powered by Unsplash.
The drag & drop email editor lets you add text, images and buttons in just a few clicks, making it a breeze to design remarkable email campaigns.
You can also personalize your emails with dynamic content and set up automated email journeys based on subscriber behavior.
Just like Mailmeteor, Campaign Monitor also offers multiple features to improve the deliverability of your email campaigns.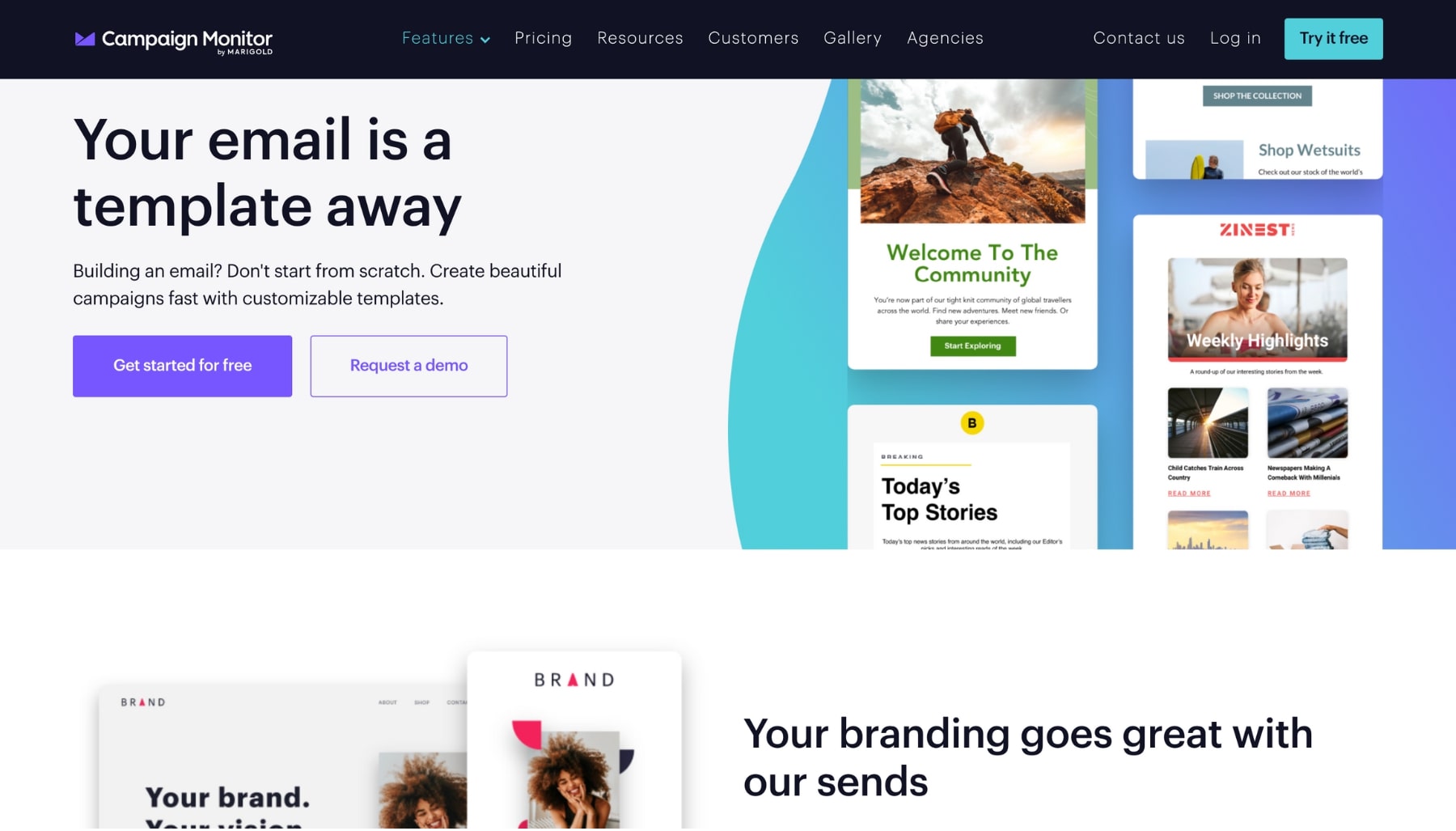 Campaign Monitor Features
Campaign monitor is a simple yet powerful HTML email generator that lets you craft, schedule and send stunning email campaigns. Some of the best features available on this emailing platform include ⤵️
Responsive HTML email templates
Customizable signup forms
Drag & drop email builder
Contact segmentation
Email analytics suite
CRM integrations
Link review tool
Campaign Monitor Pricing
Campaign Monitor has a free plan. But it's very limited. Once you've created a free account, this responsive HTML email builder lets you send email campaigns to 5 subscribers. Not one more.
So if you're serious about growing your business through email marketing, you'll need to look for another free HTML email editor. Or you can subscribe to one of Campaign Monitor's premium plans. Prices start at $9 per month for 500 subscribers.
7. Chamaileon - Simple HTML Email Template Builder
Chamaileon is different from the other HTML email builders & editors we've reviewed so far in this article.
With Chamaileon, you can build HTML email templates together with your colleagues and see the changes being made in real-time.
You can also assign different roles (viewer, editor or admin) to each member of your team and limit their access to specific folders.
This collaborative platform offers hundreds of pre-designed responsive email templates. You can also import your HTML code or build a new email from scratch.
All in all, Chamaileon will help you streamline your email creation process and communicate more effectively with your team.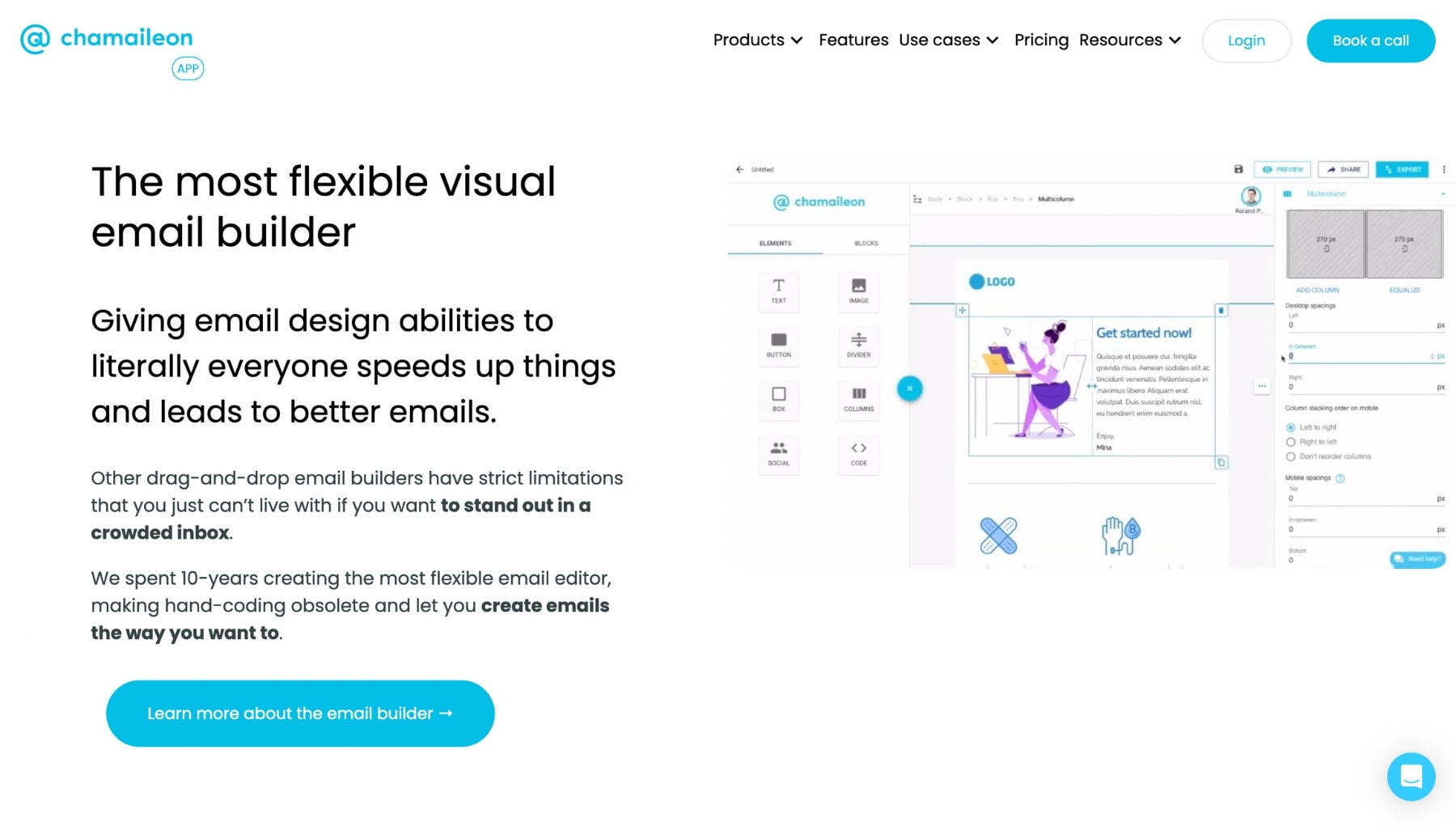 Chamaileon Features
Chamaileon is not the most affordable HTML email editor. But there is so much to love about this collaborative email template builder ⤵️
Team-oriented email design editor
Import your HTML email code
Shareable email preview
Organized asset library
Unlimited test emails
Free stock images
Chamaileon Pricing
Chamaileon is a bit more expensive than the majority of HTML email template makers reviewed in this article. Their standard plan starts from $250 a month. It includes 3 users and unlimited projects.
This is quite costly. But if you're working for an email marketing agency or a company that relies heavily on email campaigns, this solution is definitely worth its price. It will save you a lot of time.
8. ActiveCampaign - HTML Email Template Creator
ActiveCampaign is a popular email builder. Just like with Camaileon, you can edit HTML templates with your team and view changes in real-time.
But there's more. ActiveCampaign has a great drag & drop email designer which lets you craft eye-catching emails effortlessly.
You can create custom HTML blocks and reuse them in other templates to save time. However, the block settings are a bit limited compared to other HTML email editors.
You can also use ActiveCampaign's advanced segmentation and dynamic content features to send highly-personalized emails to your subscribers.
But ActiveCampaign doesn't just stop at just email creation. This all-in-one email marketing platform also lets you automate your email campaigns.
You can for example send a welcome series. Or set up abandoned cart reminders. Or even schedule a re-engagement campaign.
You can also track opens, clicks and unsubscribes to better understand how your audience engages with your emails.
Active Campaign Features
Active Campaign goes above and beyond what you would expect of a regular HTML email builder. Their email automation suite is packed with helpful features that will make your life as a marketer much easier ⤵️
Integrations with Paypal, Shopify and 870+ apps
250+ expertly-crafted email templates
Drag-and-drop email designer
Contact list segmentation
Dynamic email content
Transactional emails
Multi-user editing
Split testing
Reporting
Active Campaign Pricing
You can give Active Campaign's HTML email editor a run without spending anything, thanks to their 14-day free trial. But ultimately, if you want to keep designing email messages with this tool, you'll need to pay. Their cheapest plan starts at $49 a month for 1,000 contacts. The more contacts you have, the more expensive it gets.
9. Hubspot - All-in-one Email Marketing Platform
Last but not least, HubSpot is a well-known email marketing platform that offers, among other services, an intuitive HTML email builder.
HubSpot's email editor lets you drag and drop texts, images, videos and more to create stunning email templates in just a few clicks.
With this tool, you have full control over your email's layout and appearance. You can choose from a wide selection of customizable templates. Or create your own.
But Hubspot offers numerous other tools to help businesses thrive in the digital landscape. Starting with a full-fledged email automation suite.
You can automate your entire customer journey, ensuring that each of your contacts receives the right message at the right time.
In addition to its HTML email template builder, HubSpot also provides in-depth analytics and reporting to measure how well your campaigns performed.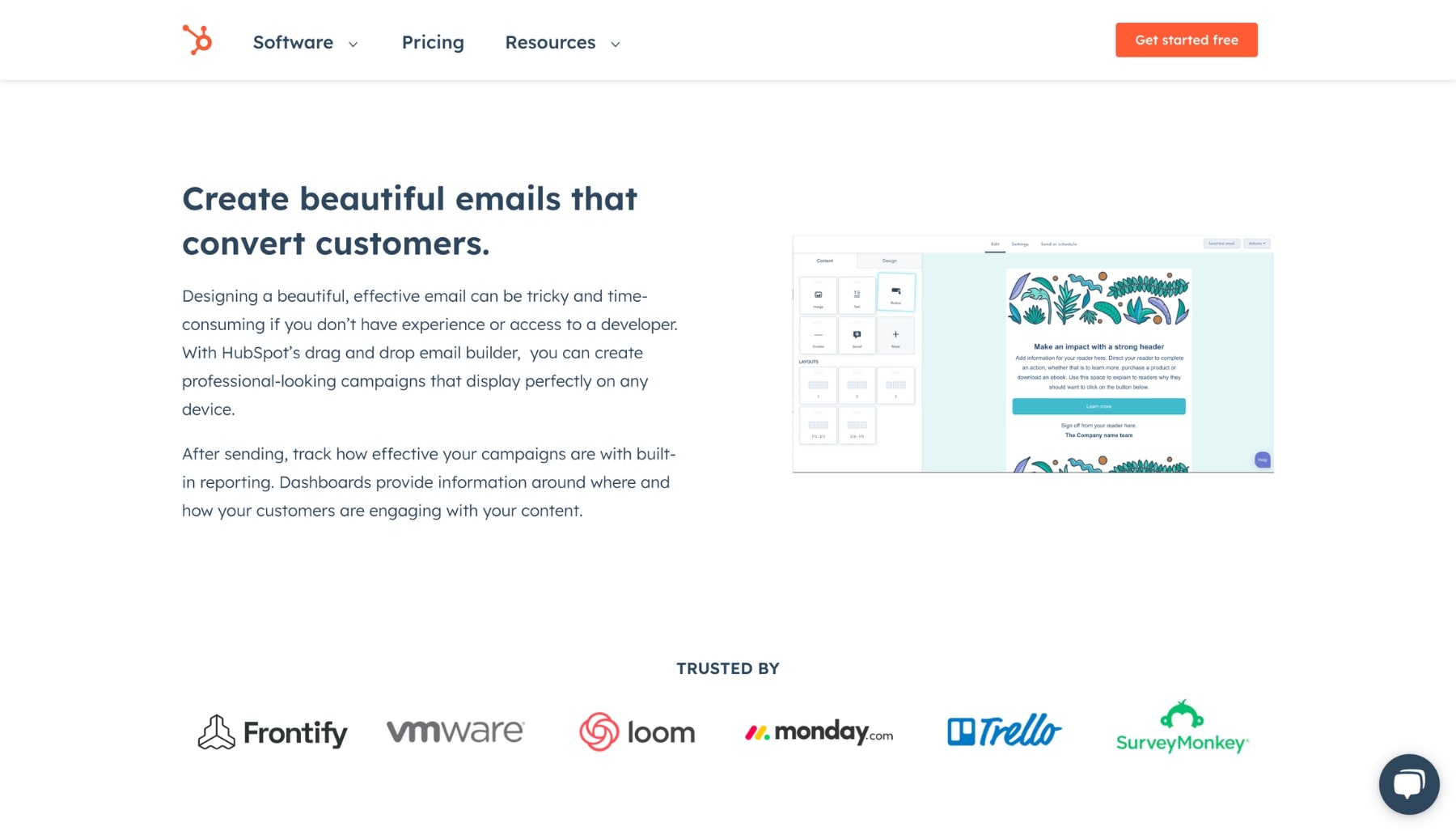 Hubspot Features
Hubspot's free drag and drop email builder is packed with powerful email marketing features such as ⤵️
A/B testing
Template library
Custom templates
No CSS or HTML required
Integration with Hubspot CRM
Built-in email marketing analytics
Customer segmentation based on past actions
Dynamic and personalized content
Email marketing automation
Custom landing pages
Unsubscribes links
Hubspot Pricing
Hubspot's HTML email template builder is free. But to discover this tool's full potential, you'll need to subscribe to Hubspot's "Starter" plan, which costs $45 per month. This will grant you access to a full-fledged CRM platform, designed to help you drive revenue, save time and optimize your email marketing efforts.