In less than 5 years, Lemlist has grown from 0 to 10k monthly users. But how much does a Lemlist account cost? And is this emailing platform worth its price?
Today we'll review Lemlist's pricing, security and ease of use. And of course, we'll talk about possible alternatives, such as Mailmeteor and Constant Contact.
By the end of this article, you'll be able to make an informed decision as to which emailing platform is best suited for your needs. And you'll know if Lemlist is worth your time and money.
What is Lemlist?
Let's start with the basics. Lemlist is a cold email outreach platform that's designed to get more responses from your audience.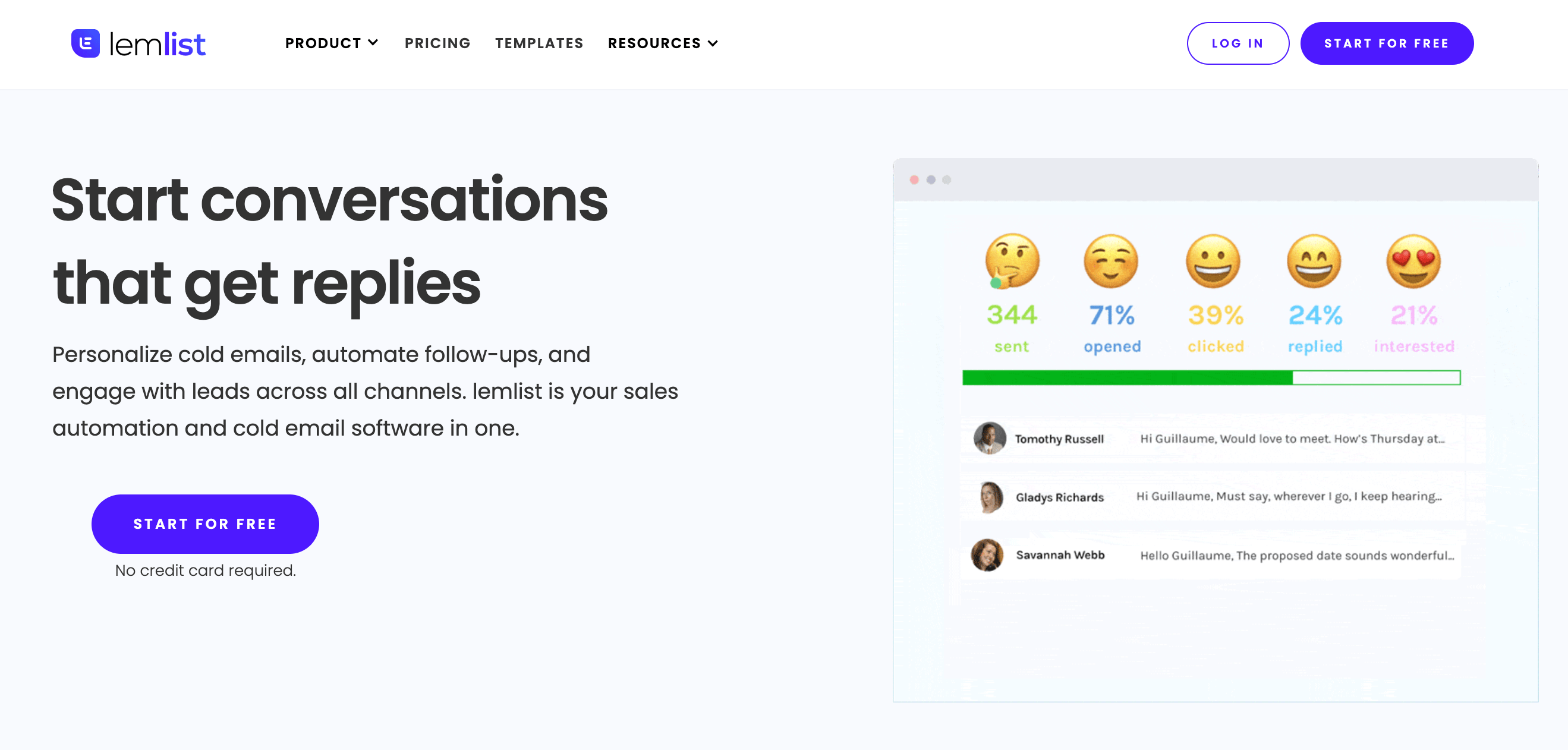 You can use carefully-curated images, videos and templates to start generating warm leads right away with highly-personalized content.
Lemlist also boasts a unique email warm-up tool called lemwarm. This tool improves your deliverability so that your emails don't end up in a spam folder.
Lemlist was founded by Guillaume Moubeche back in 2018. Fast-forward to 2023 and the company now has over 10k monthly users.
Here's a list of Lemlist's features:
Auto email warm-up
Deliverability booster
Cold email campaigns
Follow-ups
Personalized images
CRM integration with all of your favorite platforms (Salesforce, HubSpot, Zapier and Gmail)
Reporting
Cold calling
Dynamic landing pages
Multichannel campaigns
Video, Calendar and Chat integrations
Lemlist Family (a community support network)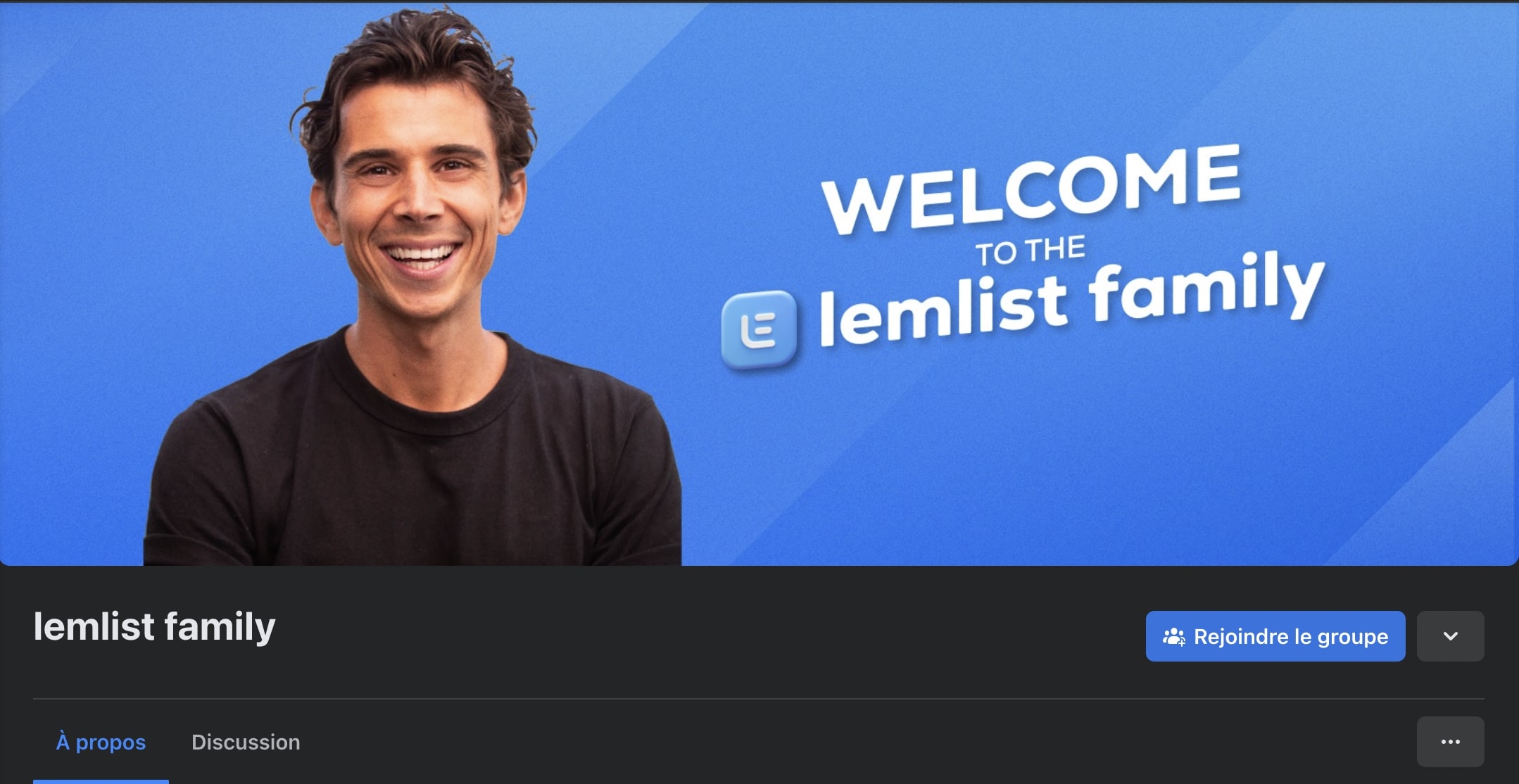 How to mail merge with Lemlist
Step 1: Create a lemlist account.
Step 2: Add your email provider and connect your GSuite account for optimal deliverability.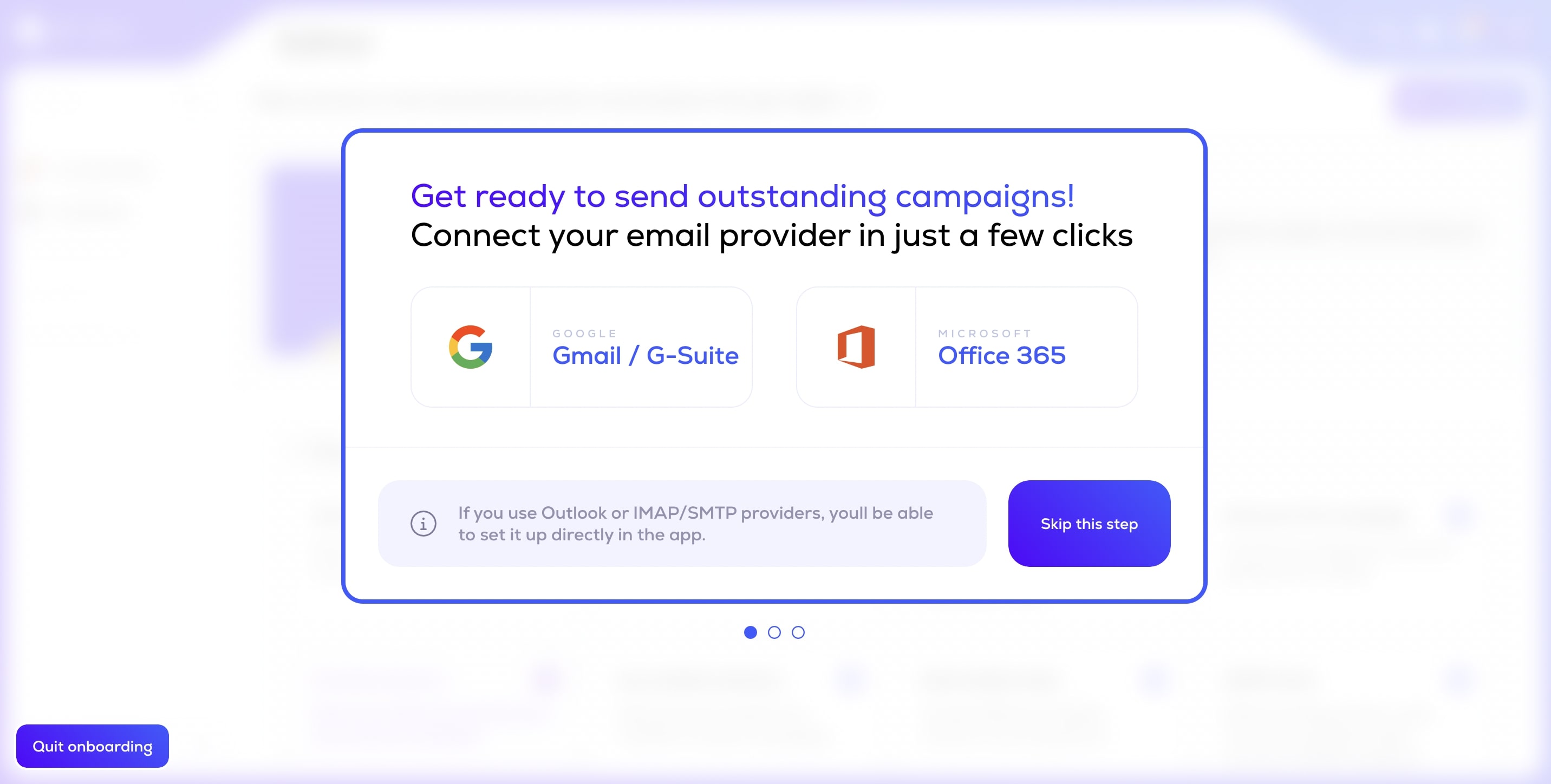 Step 3: Sync your CRM to Lemlist (if you have one).
Step 4: Create a new campaign. And give it a name.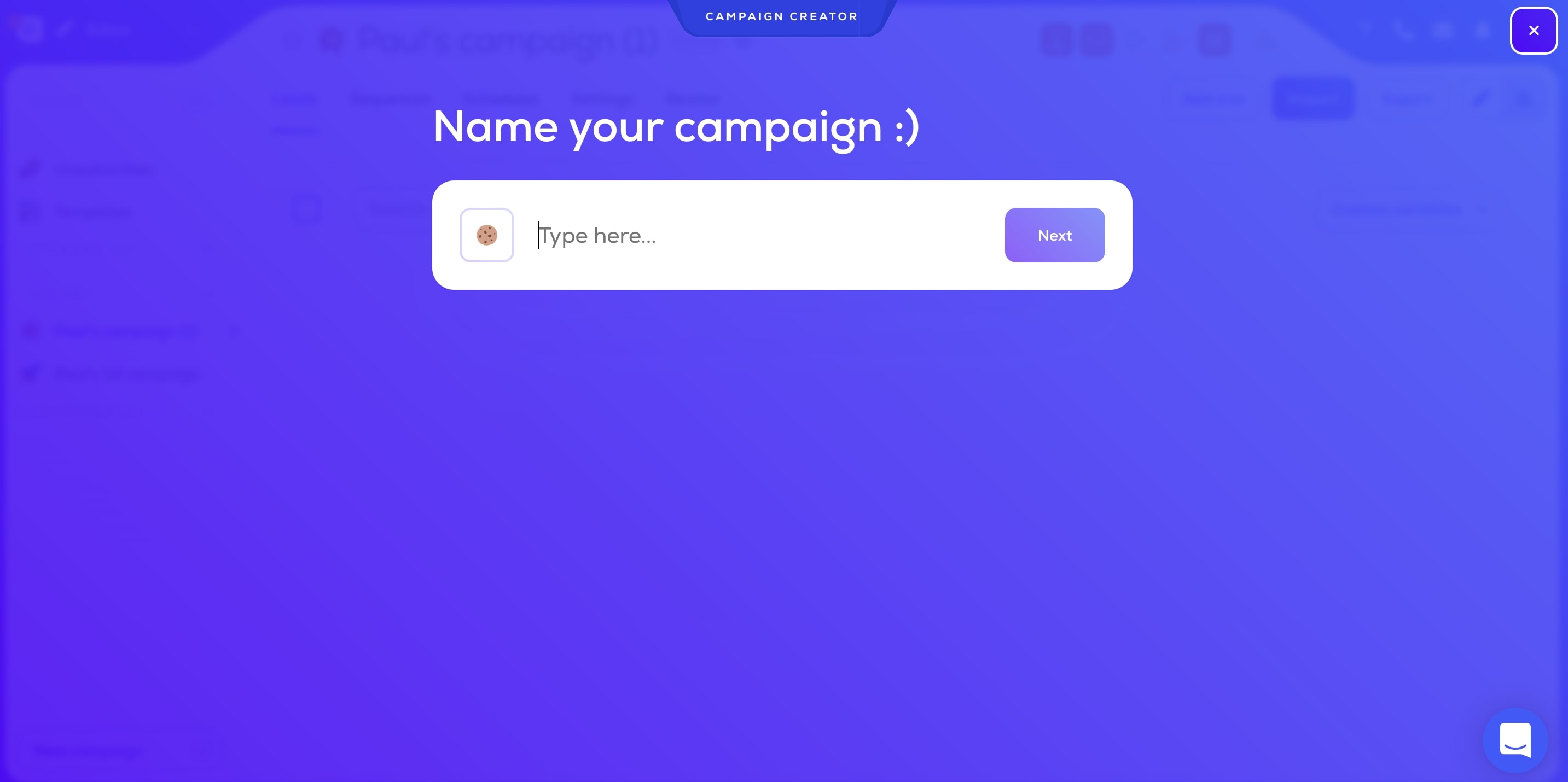 Step 5: Import your leads from a CSV file, LinkedIn or your CRM.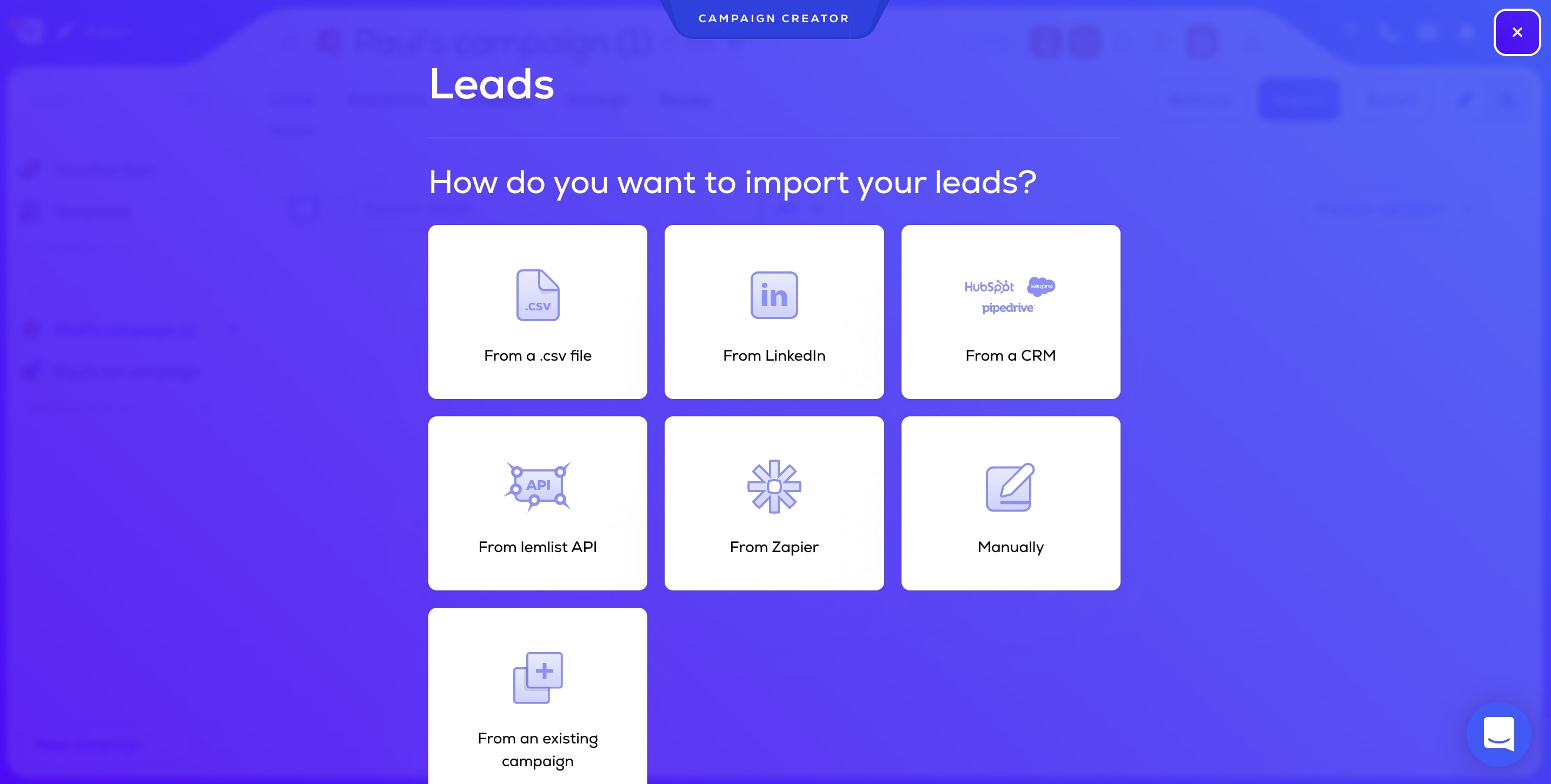 Step 6: Setup your schedule. Pick a day, a timezone and a time period for your campaign.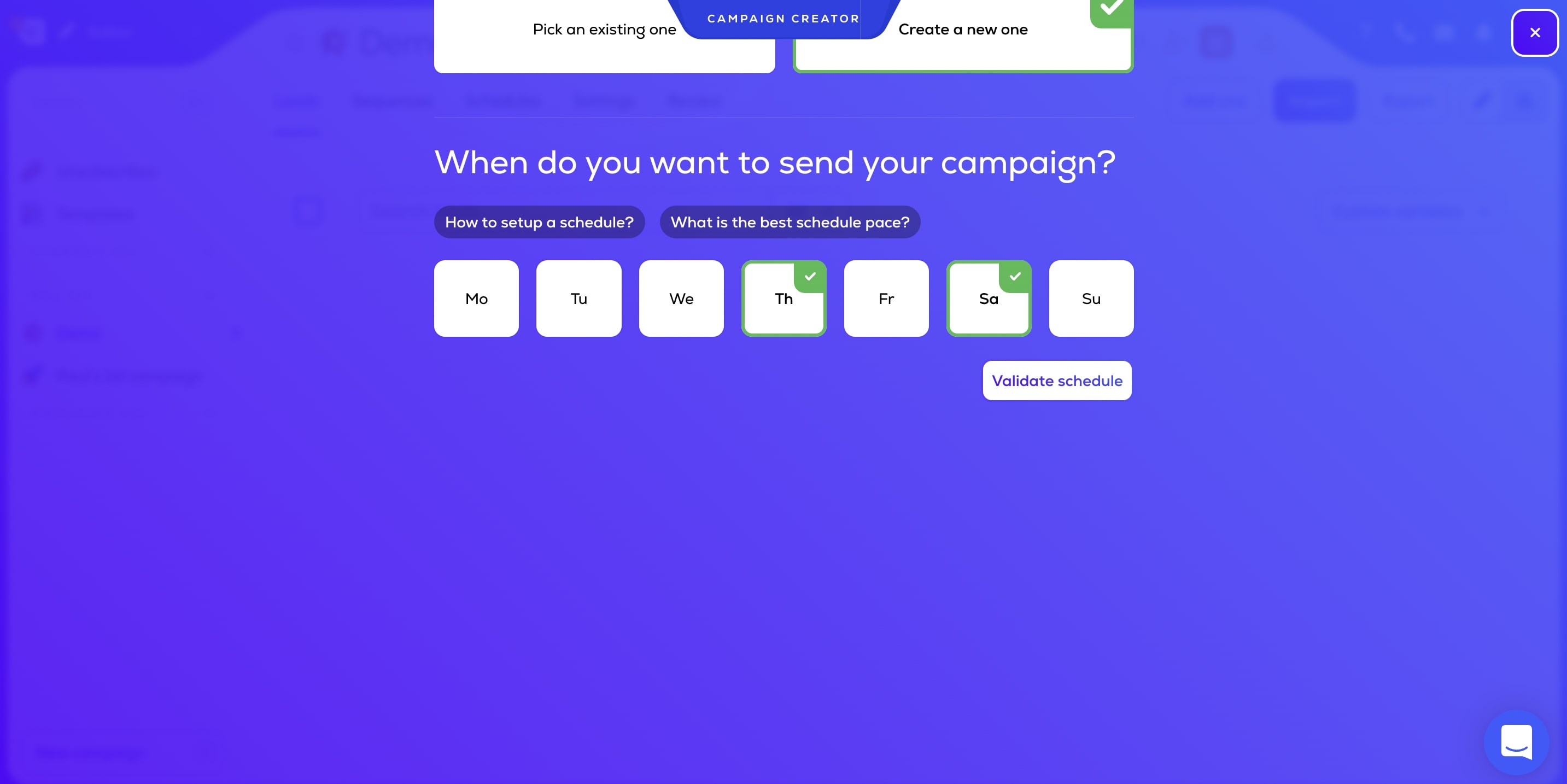 Step 7: Click Blank email and write the copy of your first email. Or use an existing template.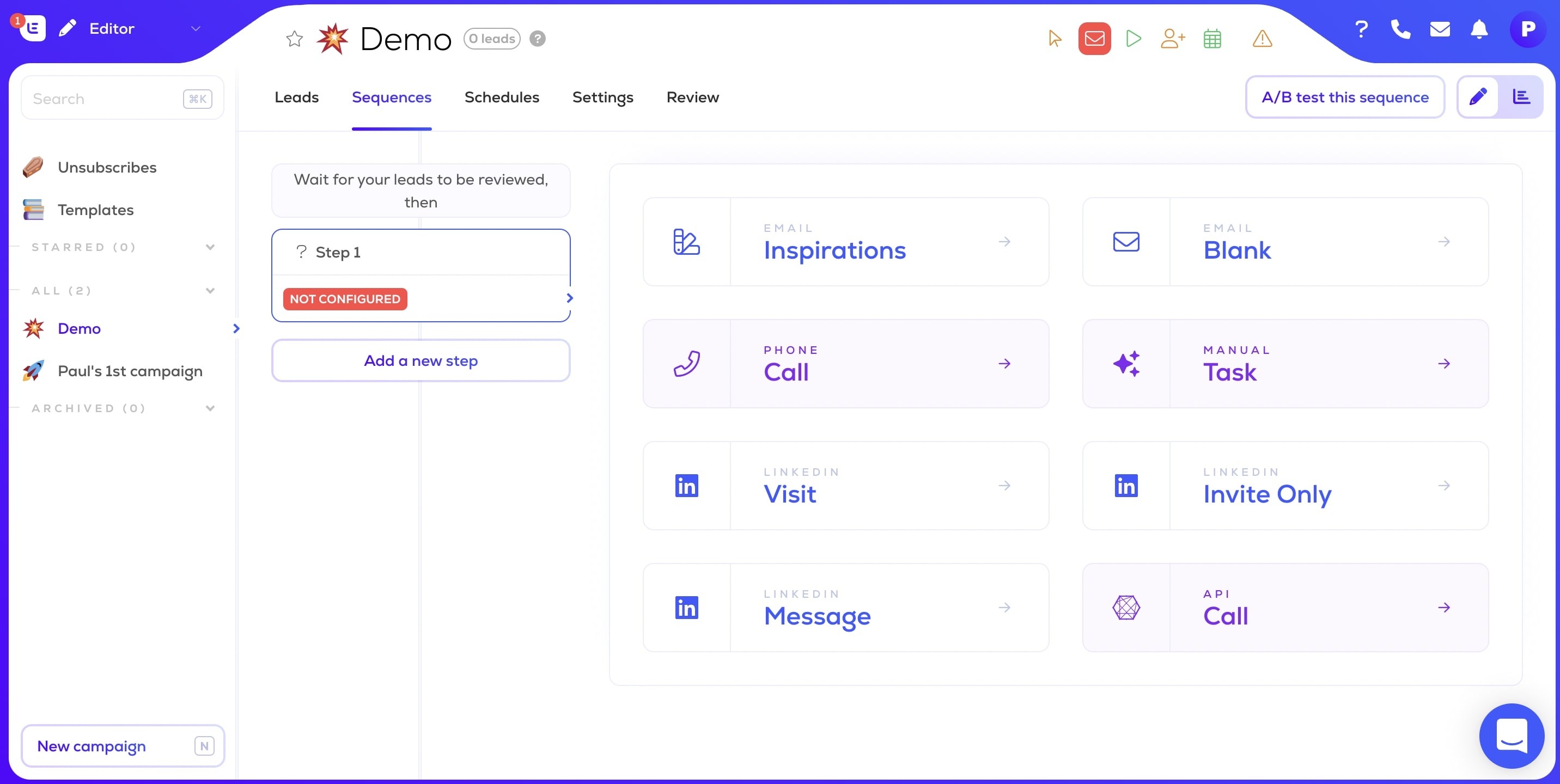 Step 8: Add variables, an email signature and images (if you want to). And click Save.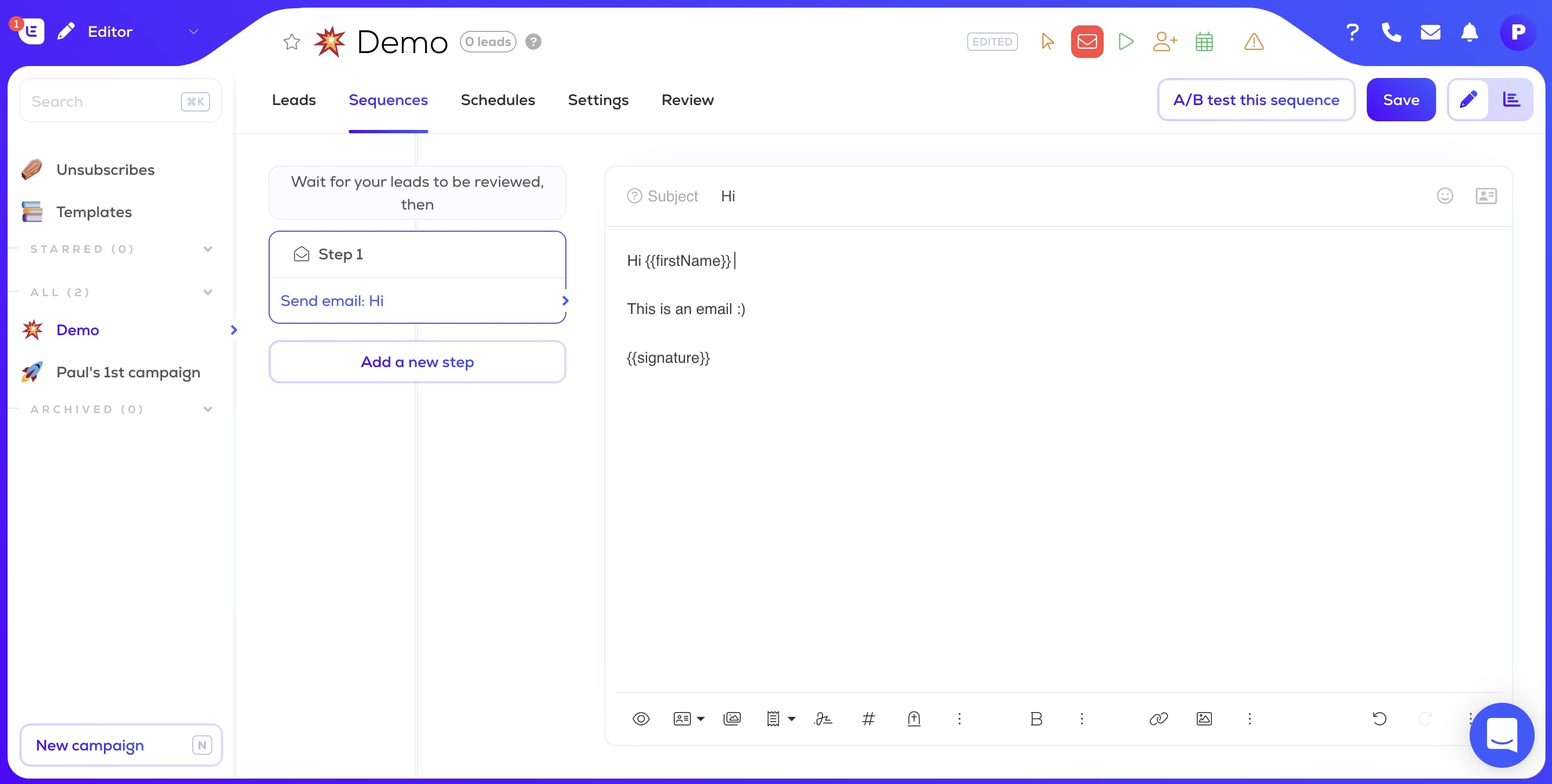 Step 9: Review your email campaign. And when you're happy with how it looks, click Send to all.
In the end, you need to set up quite a few things in Lemlist to start sending your emails. If you need to send your campaigns straight away, you'll have to go through a set up phase to be able to start using Lemlist.
Is Lemlist free?
You can try Lemlist for free. At first. But once your 14 days free trial is over, you'll need to subscribe to one of Lemlist premium plans. And they're not cheap!
Lemlist offers three different plans to help you find a formula that really fits your business needs:
Email warmup
Email outreach
And Sales engagement.
Lemlist cheapest plan - Email warmup - starts at $29 per month. But users are encouraged to pick one of the pricier options: Email outreach ($59 per month) or Sales engagement ($99 per month). The $29 option is actually hidden further down the pricing page.
If you're an agency with a bigger vision, you'll need to request a custom quote. And if you buy a Lemlist product, you'll get a $29 discount on your lemwarm monthly plan.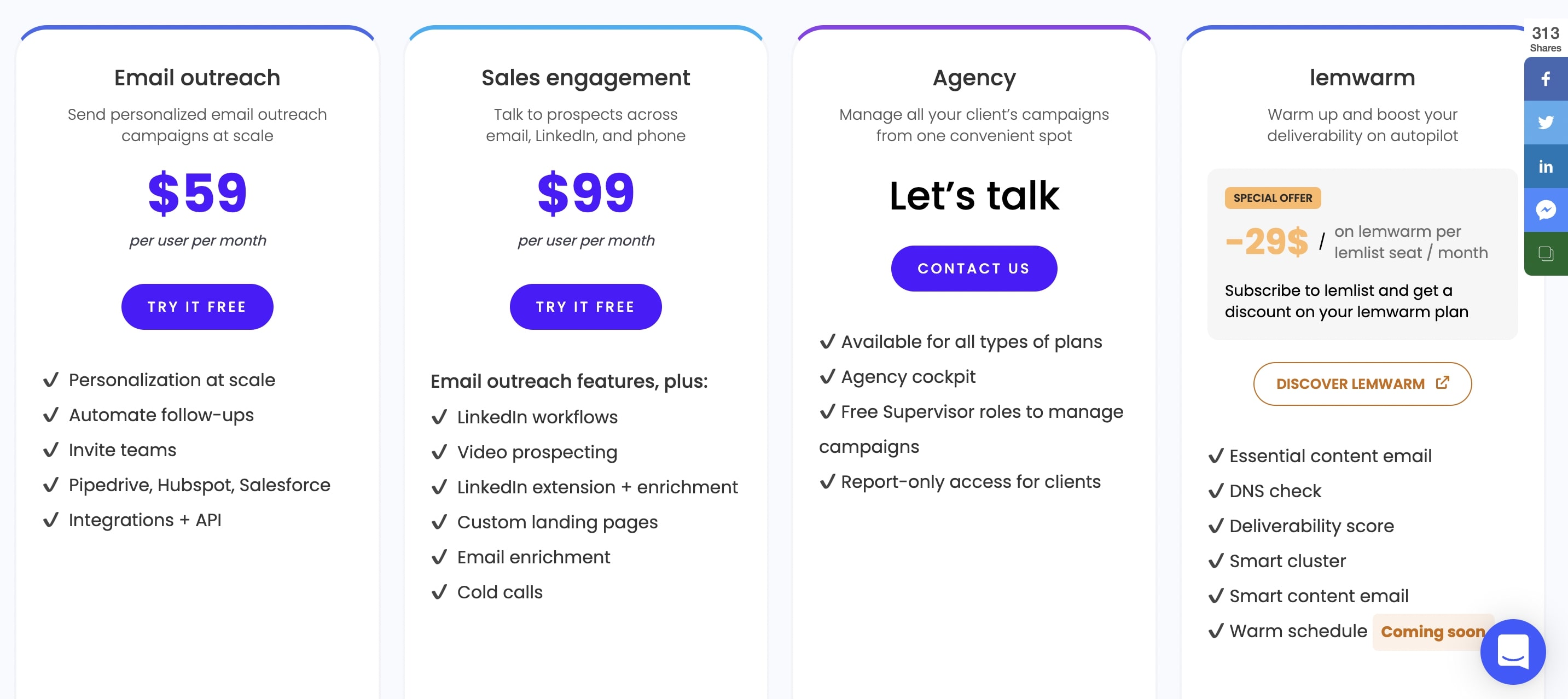 With all of these pricing options it's easy to feel a bit overwhelmed. Let's see how that compares to MailMeteor, one of the most popular mail merges.
Mailmeteor's most expensive plan - Pro - is cheaper than Lemlist's most affordable plan. It only costs $24.99 per month. And it comes with a range of useful features, such as real-time email tracking and auto follow-ups.
Just getting started on your email marketing journey? Then you might want to check out Mailmeteor's
free plan
. With this formula, you can send up to
50 personalized emails per day
. For free.
But let's get back to Lemlist.
How many emails can I send at a time with Lemlist?
Lemlist recommends to send no more than 200 emails per day to avoid getting your account banned or ending up in the spam folder. This number, however, may vary according to factors such as your open rate, domain age, tracking domain quality and your bounce rate.
Email platforms are designed to send more emails than you normally could. This can be achieved - among other things - by warming up your inbox. Which is why you should always start small.
Lemlist advises sending 30 emails per day at the beginning and gradually increasing that number over several weeks.
This will be easier if you spend a few dollars a month on GSuite. Mostly because you're way less likely to get banned if you're doing cold email outreach with a GSuite account (vs a Gmail account).
Is Lemlist safe?
Lemlist is GDPR-compliant. Which means that the company meets the legal requirements regarding personal data.
Additionally, Lemlist currently has a community of over 42,000 people (and 10K monthly users) with a 4.6 Capterra review score.
This social proof is a good way to ensure that the platform is safe. Lemlist does, however, require access to your Gmail inbox and Google Drive. Which means that they have access to your emails, contacts and private documents. For more information about this, you can read Lemlist's privacy policy.
Mailmeteor, on the other hand, is a privacy-focused add-on that does not need access to your Gmail inbox to help you send mass emails.
How do I install the Lemlist extension for Gmail?
This one's easy. There isn't one, so you can't. Lemlist has a LinkedIn extension. But no Gmail extension. Unlike Mailmeteor, which was designed to integrate seamlessly with your Gmail account.
Lemlist vs Constant Contact
Alright. Now let's compare Lemlist to one of the most well-known digital and email marketing platforms: Constant Contact.
With almost 30 years of experience, Constant Contact has over 600k customers. Which is 60 times more than Lemlist. But is it actually better than Lemlist? Short answer: meh.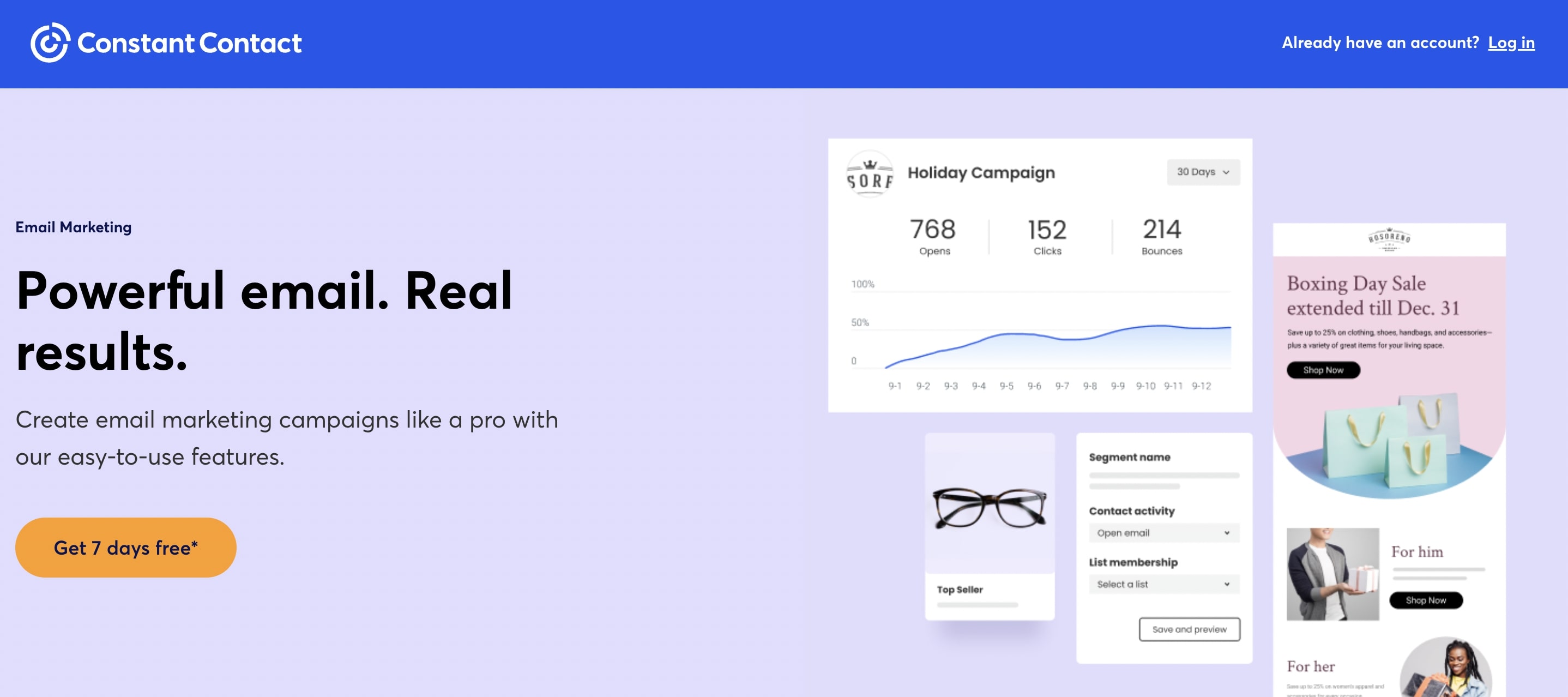 The main issue here is that, with Constant Contact, your emails are not sent directly from your Gmail account (as they would with a mail merge service like Lemlist or Mailmeteor). This can hurt your deliverability, since you'll have no control over your email reputation. Which in turn, means less email opens. Less clicks. And less sales.
Lemlist and Constant Contact are very different. And depending on your goal you might want to choose one or the other. Lemlist is more suited for drip campaigns and cold email outreach up to 200 emails per day. Whereas Constant Contact has the capacity to deliver a large number of emails at once.
As for the pricing… Constant Contact charges as little as $9.99 for 500 subscribers. But this number quickly goes up. Especially if you want to move up to the next price tier ($45), which has a lot more features.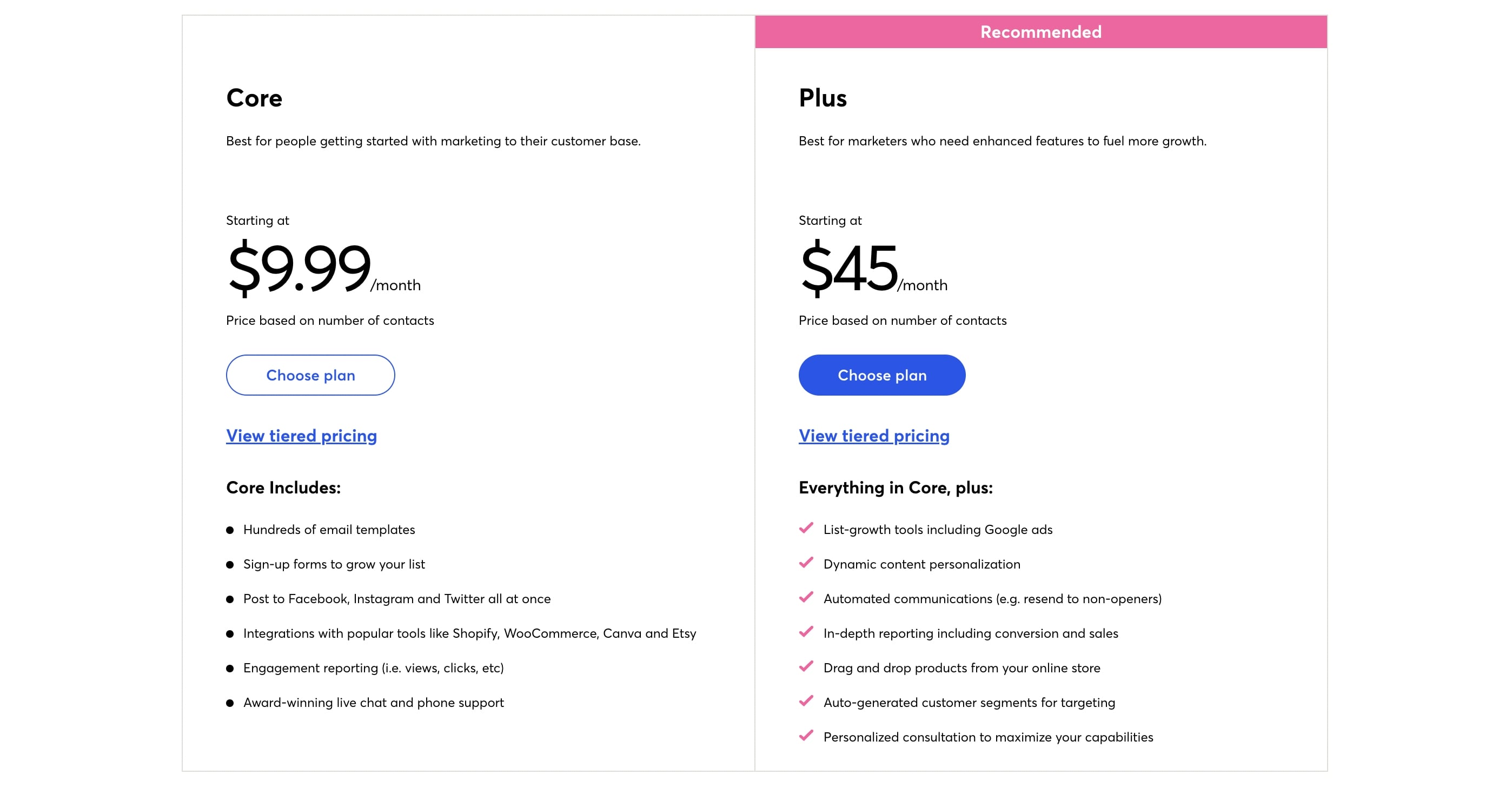 Constant Contact might be interesting if you're new to email marketing and you have a small contacts list.
But in most cases, Lemlist will be the most wallet-friendly alternative. Because there are no restrictions on the number of subscribers.
What's more, Lemlist offers a 18% discount if you pay annually. Whereas Constant Contact doesn't provide an annual payment plan.
But still $29 per month is quite expensive. So if you want to send mass personalized email at a lower cost, you might want to check out other emailing platforms, such as Mailmeteor.
The best alternative to LemList: Mailmeteor
Mailmeteor is the best-rated add-on in the Google marketplace. And it has been selected to be part of the Recommended for Google Workspace program, a Google-curated list of secure, reliable, and well-integrated Google Workspace apps that help you get more done. In less time.
This add-on is the best alternative to Lemlist. Mostly because it's easier to use than Lemlist. With Mailmeteor, you can create complete and personalized email campaigns in minutes without having to be a tech-wiz.
Mailmeteor is also more affordable than Lemlist. Download the app and give it a try. There is no time-limited free trial. Which means you can keep using Mailmeteor for free. For as long as you want.
Our free plan lets you send up to 50 personalized emails per day. And if you want to take your marketing efforts to the next level, you can subscribe to our Premium ($9.99) or Pro ($24.99) pricing plans to unlock extra features without breaking the bank.
Last but not least, Mailmeteor has been designed to respect your privacy. The app only asks for the minimal, absolutely necessary permissions to create email campaigns, keeping your personal data safe.
Published in: