If you're here, chances are you are wondering which is better between Yahoo vs Gmail. Both Yahoo and Gmail are long-standing giants in the email world. But each one has its pros and cons, depending on what you want from your email.
In this article, I'll walk you through 5 categories from an average user and business perspective so you can see what's right for you.
But for those in a hurry here's the Yahoo vs Gmail quick summary:
Yahoo
Gmail
Interfaces and usability
Yahoo's inbox feels familiar with everything you would expect.

⭐️⭐️

Gmail's clean user interface, labeling, and productivity features win here.

⭐️⭐️⭐️

Safety and security
Yahoo lacks 2FA, modern prompts for strong passwords, and recovery methods.

⭐️

Gmail has recovery methods, 2FA, and password prompts to maximize security.

⭐️⭐️⭐️

Storage limits
Yahoo gives you a whopping 1 TB of storage free.

⭐️⭐️⭐️

Gmail gives you 15 GB of storage shared across Google Drive and Photos.

⭐️

Sending limits
Yahoo doesn't state daily sending limits which could leave you in a pinch.

⭐️

Gmail lets you send 2000 emails in a day.

⭐️⭐️⭐️

Apps and integrations
Yahoo's apps are limited with less development in this space.

⭐️

Gmail works seamlessly with Google products like Calendar, Docs, and Drive – and other 3rd party integrations.

⭐️⭐️⭐️

Productivity and extensions
Yahoo seem to be built for basic email function.

⭐️

Gmail is built with productivity in mind with various follow-up features and a marketplace full of extensions.

⭐️⭐️⭐️

Now let's jump into the detailed Yahoo vs Gmail comparison and see how things stack up.
Yahoo vs Gmail: Interfaces and useability
If you've used Gmail, Yahoo Mail, or any modern email client before, both Yahoo and Gmail will feel familiar.
You've got an inbox, spam filtering, and your typical tabs like inbox, outbox, spam, drafts, etc down the left-hand side — and how you compose the emails is virtually the same.
But what Gmail does differently is let you filter your inbox into 3 tabs: Your Primary inbox, Promotions, and Social.
This filtering in Gmail lets you keep your primary inbox clean of promotional and social media emails so you can see what matters most.

While Yahoo does support Smart views down the left-hand side, everything goes to one main inbox, which feels messy. The other thing I noticed with Yahoo Mail is the overall user interface and experience feel smoother and cleaner with Gmail.
And then we come on to ads…
While you might not mind a little advertising inside your inbox. Yahoo Mail has a whopping great banner ad taking over the right-hand side, which personally puts me off.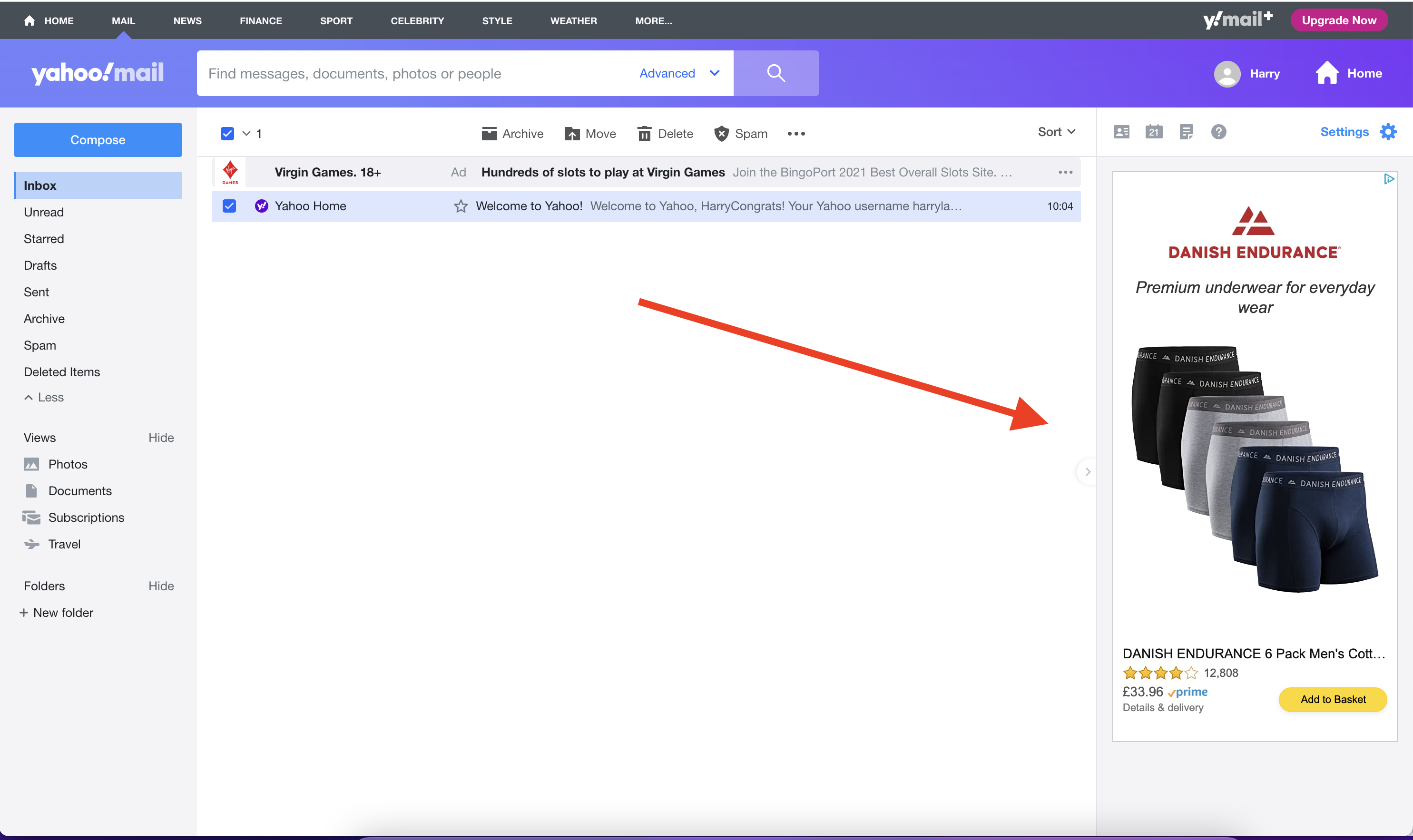 In terms of usability, although it might seem small, Gmail offers a few features to keep you more efficient:
You can enable follow-up reminders so you never forget to chase important emails.
You can schedule emails to send in advance (say on a Monday morning.)
And you can snooze emails you want to get back to later on a specific date.
If you're interested, I wrote about these power features here: 3 Easy ways to schedule follow-ups in Gmail to skyrocket replies with minimal effort.
To sum up, both are similar, but if you want to stay organized and maximize your productivity, Gmail wins.
🏆 The winner: Gmail
Yahoo vs Gmail: Safety and security
When it comes to your inbox security is a critical factor, especially with hackers getting smarter and smarter. But security comes in two forms:
The security of the platform itself and what they do to safeguard you.
And how you–the user–are guided by the platform to protect your security.
So which email is safer Gmail or Yahoo?
Google has a better track record of security with Yahoo having one of the largest data breaches back in 2016 on 500 million accounts.
Plus, Gmail does a better job of forcing you into using stronger passwords, setting up two-step authentication, and has a session expiry to prevent you from getting hacked.
🏆 The winner: Gmail
Yahoo vs Gmail: Storage limits
Your email is something that grows and grows over time, so free storage is important to consider.
Yahoo Mail trumps Gmail for storage. Yahoo gives you a whopping 1TB of cloud storage free. While Gmail has 15GB of free cloud storage shared between Gmail, Google Drive, and Google Photos.
If you want to increase the storage of Gmail you can select a Google One membership or consider a Google Workspace plan for business.
Running a business myself, I have a Google Workspace plan because it also acts as my cloud storage.
And for my personal life, I have a Google One plan because I use it to back up all my photos as well as Gmail for less than $2 per month for 100 GB (at the time of writing).
If you want to upgrade Yahoo mail from 1TB (which is huge already by the way) you can get 5 TB and an ad-free inbox for around $6 per month at the time of writing.
🏆 The winner: Yahoo
Yahoo vs Gmail: Sending limits
If you're looking to send a lot of emails each day you may want to consider sending limits. Gmail has a limit of 2000 emails per day – which I wrote a how to send 10,000 emails with Gmail
Yahoo Mail on the other hand doesn't disclose its limits and simply says at the time of writing 'Yahoo does not disclose the number of recipients or emails that can be sent at one time.'
So if you want to send a lot of emails, not knowing its limits could be extremely frustrating.
🏆 The winner: Gmail
Yahoo vs Gmail: Apps and integrations
Integrating your email with things like your calendar, tasks, files, and contacts is critical to staying organized and keeping your life just that little bit smoother.
Gmail is one of the leading platforms in the world. Their products like tasks, Calendar, Google Meet (Zoom alternative), Google Drive, and Docs work seamlessly with Gmail.
While Yahoo has its own calendar and several other products… As you can imagine Google's ecosystem wins out in this category from a user experience perspective.
To give you a bit of content, with Gmail you can easily send meeting invites to your contacts and automatically create a meeting with them in Google meet (or Zoom.) Or you can send large email attachments thanks to Google Drive.
But with Yahoo, all these things require extra manual steps.
🏆 The winner: Gmail
Yahoo vs Gmail: Productivity and extensions
If you're using email for business or work, you might want to extend the functionality of your email with external platforms to make you more efficient.
With Yahoo, there's no way to extend its functionality beyond what you're given. This is fine if you're looking for a standard email function, but limiting if email drives your life and business.
Gmail on the other hand gives you access to the Google Workspace app marketplace offering a number of tools you can use to extend the functionality of Gmail.
One, for example, is Mailmeteor the #1 email marketing platform for Gmail, used by 5 million Gmail users globally.
Mailmeteor lets you send personalized mass emails with Gmail, track your results, and let you automatically follow up over a defined number of days to get more replies — all without you lifting a finger.
So if you're hiring candidates, applying to gigs, organizing events, or doing sales outreach — all of this becomes easier with Gmail platforms like Mailmeteor.
Login with Gmail to try Mailmeteor.
🏆 The winner: Gmail
Which one is better: Yahoo or Gmail?
Unless 1TB of free storage interests you with Yahoo. Gmail trumps Yahoo thanks to the Gmail app ecosystem, superior security, and overall experience — especially if you're looking to use your email for anything other than light personal use.
What you should do now
Hopefully, by now you know exactly whether Yahoo or Gmail is for you.
While Gmail is great out of the box, pairing it with an email marketing platform for Gmail makes it even better.
If you want to join the 5 million Gmail users using Mailmeteor to get the most out of Gmail. All you have to do is open a Gmail account and log in here.
We're currently running 20% off the Mailmeteor Pro plan for a limited time 🤩
Yes, it's a monthly subscription, but imagine how long it would take to write and send in hundreds of emails manually & sequentially? 5 million users find it a no-brainer, even before the ROI it can generate for you.
➤ Send 10,000 emails with Gmail using Mailmeteor
Want more ways to improve your Gmail game?
Our blog is full of ways to skyrocket your Gmail efficiency, here are some favorites relevant to you:
Yahoo vs Gmail: FAQs
Does anyone still use Yahoo email?
Yahoo Mail has 227.8 Million users in 2023 compared to Gmail with 1.8 billion users. So while Yahoo is used by far fewer people, it's safe to say that it's still a key email player.
Is Gmail faster than Yahoo?
From a non-technical standpoint, yes. Gmail has power features like schedule send, follow-up reminders, snooze, and advanced labeling to speed up your workflow.
Which is better Yahoo or Gmail for business?
Gmail. With superior security, productivity features, and a vast library of integrated apps and extensions. Gmail is better for business.
Which email service offers more free storage: Yahoo or Gmail?
If you require ample storage capacity, Yahoo is a great option, providing 66 times more free storage than Gmail (1TB compared to Gmail's 15GB). However, Gmail outshines Yahoo in many other aspects, and it's worth considering these factors before making your decision
Is Yahoo email as good as Gmail?
Unless you're looking for very large free storage, Gmail is better than Yahoo on many points (sending limits, safety, ads, etc.). Also, thanks to the Gmail app ecosystem, and the overall experience, Gmail seems like a more logical choice.
Is Yahoo the safest email?
With one of the largest data breaches back in 2016 (500 million accounts hacked), Yahoo can't be considered the safest email provider. Gmail, by Google, has very high security records in comparison (learn more).
Published in: