As Gmail rolls out the multi-send and layouts features, we list out the benefits and limitations of their first native mail merge tool.
In the past, the simplest way to reach your mass recipients on Gmail was by adding all those addresses in your BCC. This allowed you to reach your contacts in bulk, without sharing their details (hence BCC, not CC). Your other alternatives had to be expensive email marketing software or a handy Gmail add-on.
But If you're considering Gmail multi-send as a mail merge tool to personalize your mass emails, you might need to reconsider. And for 5 very valid reasons.
At the end of July 2022, Google announced that they'll be bringing Gmail multi-send, and Layouts to more of their Workspace users. Come November, and these integrated email marketing tools are being released for some – but not all – Workspace accounts
Naturally, we went ahead and tried these features to find their limitations, so you don't have to. With +4M downloads and a 4.9/5 rating on the Google Workspace Marketplace, we know a thing or two about features.
Let's go over these 5 points below to answer the big question: is Gmail multi-send worth it?
Let's dive right in.
Who can use Gmail multi-send?
If the new multi-send and layouts features are available on your account, you should see 2 new icons in the bottom right side of your Gmail compose window:
Once you toggle the multi-send icon

, the "Send" button switches to "Continue" and the color scheme switches to purple. You also get an automatic "Unsubscribe" link added at the bottom of your email.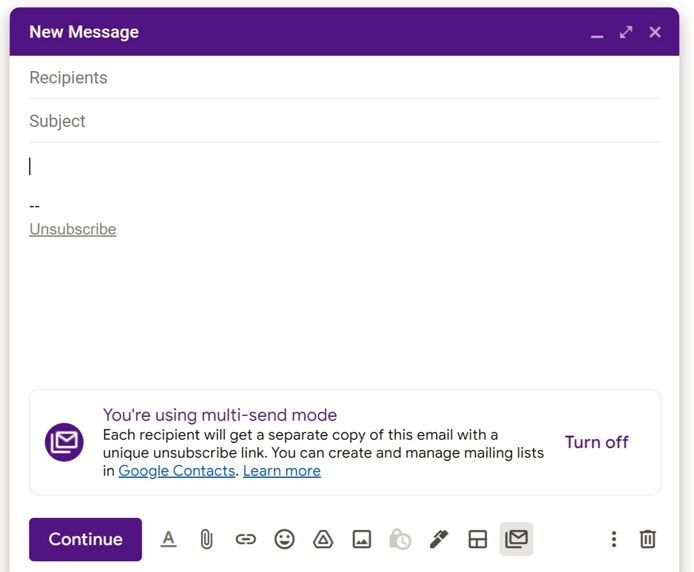 Eligible Google Accounts:
If you have a Google Workspace Individual account, then you probably (maybe) came across Gmail multi-send before, as it was originally only available to those users.
In addition to layouts and multi-send, the Workspace Individual features include: appointment scheduling, premium video calling features, live support, and a higher send limit to 2,000 emails.
Available for @gmail.com email users, Workspace Individual comes at a price though: $9.99/Month. (That's equal to our Mailmeteor premium plan!)
The multi-send feature is also available in more Workspace plans. Here's the full list as of writing: Business Standard, Business Plus, Enterprise Starter, Enterprise Standard, Enterprise Plus, Education Plus.
If you are on one of these plans, you should have the little "Multi-send icon" when you compose a new message in your Gmail inbox.
Not Eligible Google Accounts:
You're out of luck if you use a personal Google account (free @gmail.com account) or one of the following paid plans: Google Workspace Essentials, Business Starter, Enterprise Essentials, Education Fundamentals, Education Standard, Education Teaching and Learning Upgrade, Frontline, as well as legacy G Suite Basic and Business customers.
The new multi-send feature won't be available to you if you are in one of these situations. But, before you sign up for an eligible Workspace account, you NEED to read our breakdown of the multi-send features.
How to use the Gmail multi-send feature?
The multi-send feature lets you add contacts to your email and send one email to each of them. Here's how it works:
Add contacts to your email
Add cc or bcc (optional)
Send emails (quota applies)
Adding contacts to multi-send
There are 2 ways you can add recipients:
Typing/pasting emails in the "To:" field – of course, this sounds tedious and time-consuming. or
Create a label in your Google contacts, then assign email addresses (contacts) under that label. When you add that label in your "To:" field, all the addresses will load.
However, your contacts label panel will start looking something like this: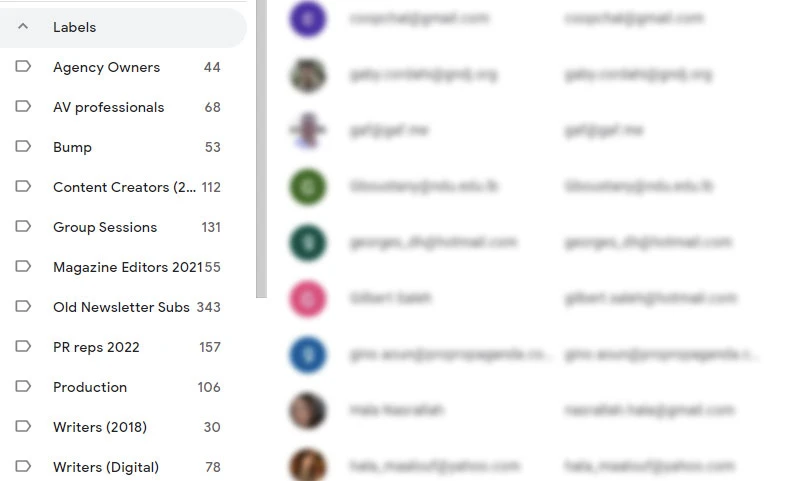 Unfortunately, Gmail has not made it possible to email contacts from spreadsheets yet. It's apparently on their roadmap. Until then, you can still import a CSV or vCard file into Google Contacts, and then label them.
Some mail merge and multi send tools, like Mailmeteor, allow you to create emails and compose within the spreadsheet, and filter data to send emails to only some recipients. Making your life easier (what tools are supposed to help with).
CC and BCC
Google limited the CC and BCC to 1 email address only. You will get a notification if you try to send out your email with more than 1 address in your CC or BCC fields.
Given the lack of filtering, audience segmentation in spreadsheets, or content customization (more on that in the mail merge tags section below), maybe 1 BCC or CC is enough? Enough room to add one BCC address provided by your CRM, if you want to log your conversations.
In contrast, having more control over your email campaign audience would allow you to add multiple CCs and BCCs, and they can even be assigned to different recipients.
Send Limit
With a Workspace plan, Google increases your outgoing email limit to 2,000 emails per day. But while using multi-send, the maximum number of contacts you can send to in one campaign is limited to 1,500.
(Mailmeteor on the other hand gives you 10,000 contacts per campaign. That limits the number of contacts you can add x6 times more.)
So, you added your contacts, one way or another, but how can you address them personally? Here come mail merge tags…
Using Mail merge tags in Gmail multi-send mode
You can now personalize your emails with merge tags while composing your text on Gmail.
Typing @ pulls up a list of available merge tags you can use. But…
They are limited to: @firstname, @lastname, @fullname, and @email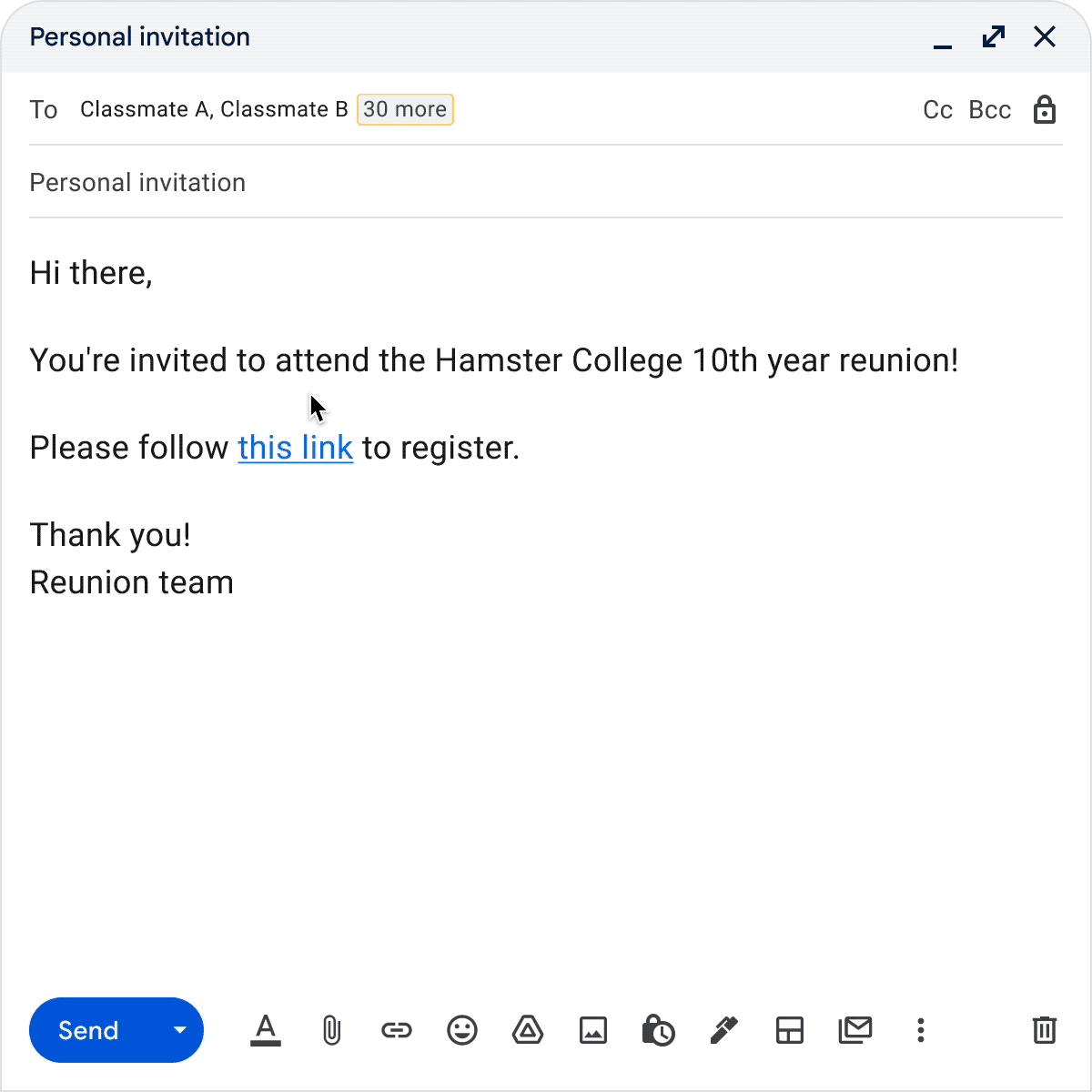 Another limitation: merge tags can't be used in the subject field.
In terms of personalization through merge tags, that's quite a hefty drawback.
Businesses and entrepreneurs spend time cleaning and labeling data, like contact/client lists, for practicality and useability. In mail merge terms, you can personalize your emails to include their company names, specific products or services you've sold, and a class or program they're enrolled in.
For comparison: Mailmeteor lets you use multiple merge tags, create your tags from spreadsheet columns, use them in the subject line, and even create Post Scriptum to send different content to different recipients! Read about it here: Personalize mail with Mailmeteor
Can you break through the personalization barrier without a customized subject line?
Using layouts with Gmail multi-send
Layouts templates
Combine multi-send and layouts and you've got a quick email marketing tool to create brandable templates and use them as newsletters or announcements.
Click the Layouts button in the lower right corner (next to multi-send) to open the layouts prompt, go into styling to customize your templates, and stay on brand with your content by customizing your styling, colors, logo, links, etc.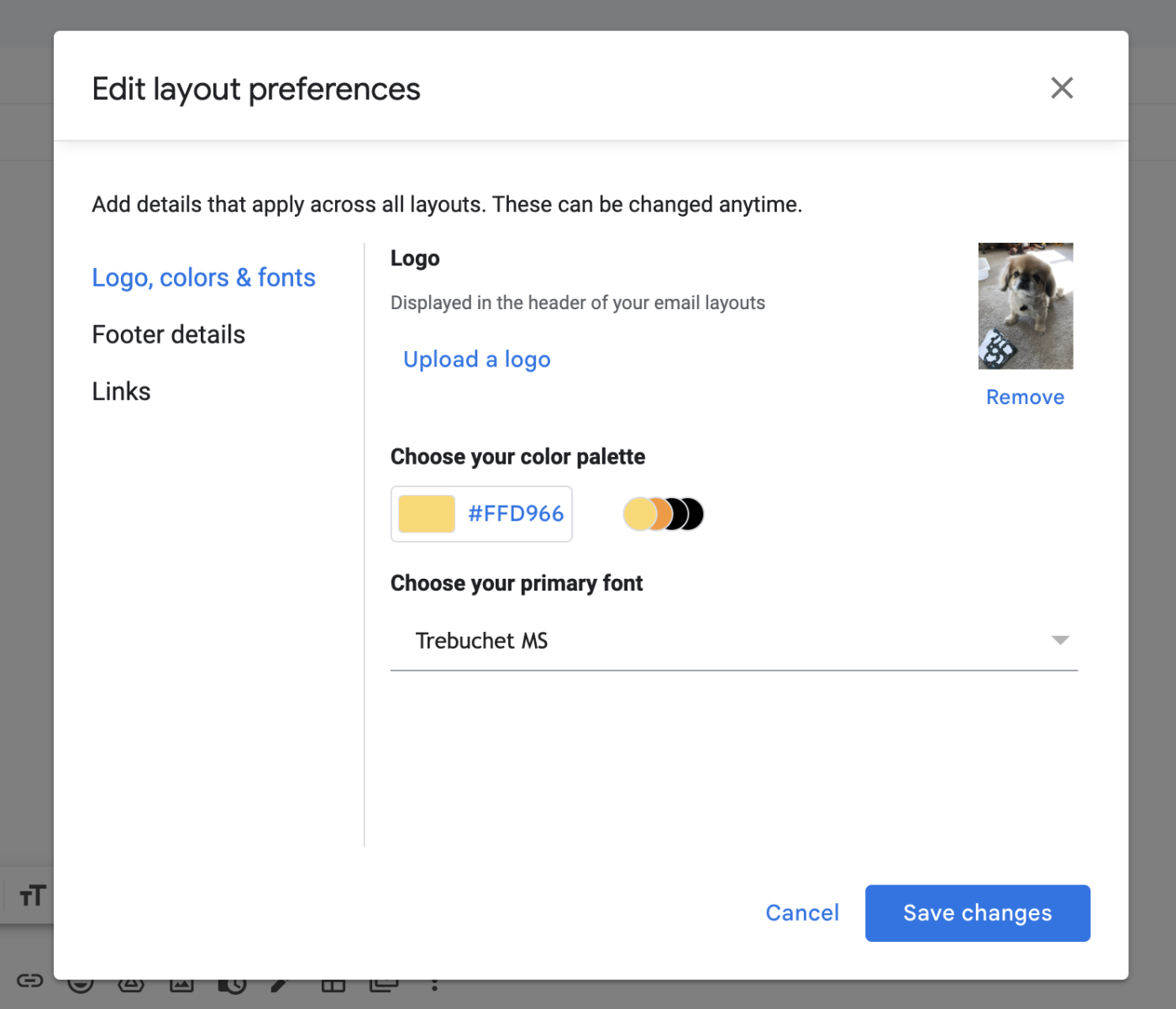 Gmail also allows you to add an attachment to your email when sending to the masses – but no personalized control there. Everyone or no one.
Zapier's blog on how to send newsletters in Gmail does a great job of showcasing how you can use this feature to customize and send a makeshift newsletter.
Custom HTML upload
Unfortunately, you can't upload any customized HTML that you've designed for your brand's marketing communications. You'll have to stick with just a dozen templates provided by Gmail.
That becomes quite limiting when your organization or business uses different customized templates for emails or other marketing channels. For example:
Schools and universities need to deliver mixed content to different segments of their audiences: students, parents, faculty members, or the press.

Companies communicate with suppliers, partners, employees, and more. They need to remain on brand and adhere consistently to their look & feel.

Real estate consultants and lawyers may have announcements, press releases, and documentation to send out that just doesn't fit the handful of templates provided by Gmail's layouts.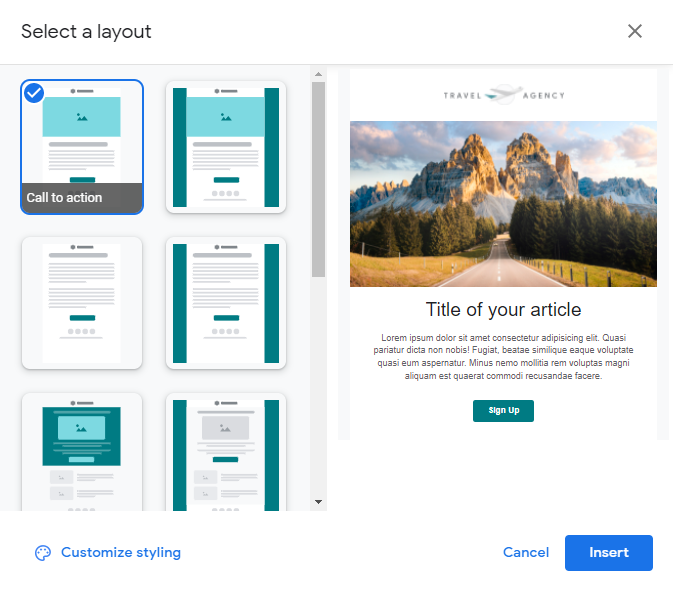 This is where importing custom HTML becomes a crucial feature of your multi-send tool. You're looking for a utility that benefits your work instead of limiting it. As of now, Gmail is trailing far behind on customization when compared to Mailmeteor (and most mail merge add-ons).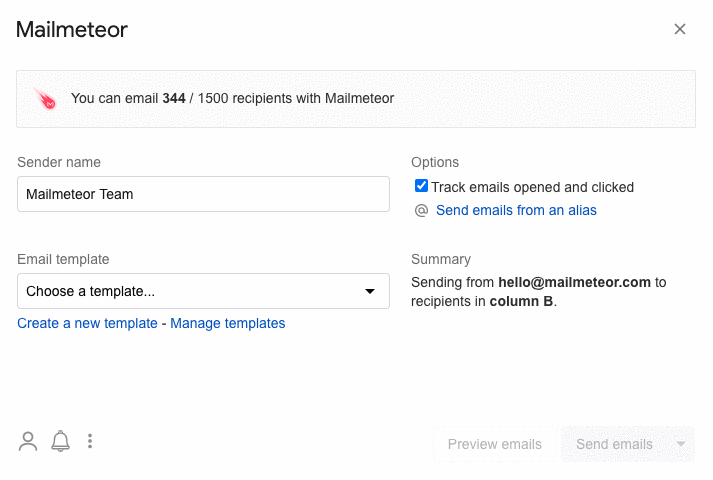 What's missing from Gmail multi-send
So now you've got all the above steps in check: you wrote a winning email, meticulously segmented your audience, wrote a catchy subject line, and your email is one click away…
But what happens next?
Scheduling emails
No scheduling with Gmail either. You will have to send your email manually once you're ready. So, make sure to set timely notifications…?
On the other hand, you can schedule your email with Mailmeteor, or even send it on autopilot. Autopilot lets you throttle your outgoing emails, select days or times to send, and even set daily caps and/or delays.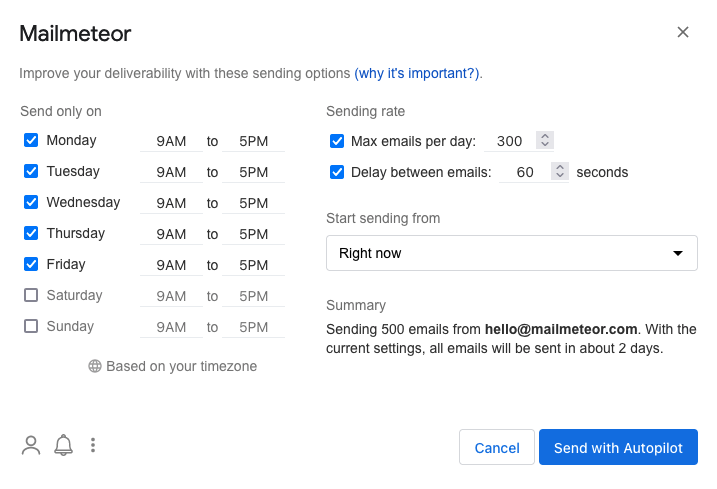 Tracking & Reporting
There's no email tracking with Gmail multi-send. That means you won't get any tracking reports on who received your email, who opened it, if they clicked, replied, etc.
Mailmeteor shows you real-time tracking data and campaign reports in your dashboard: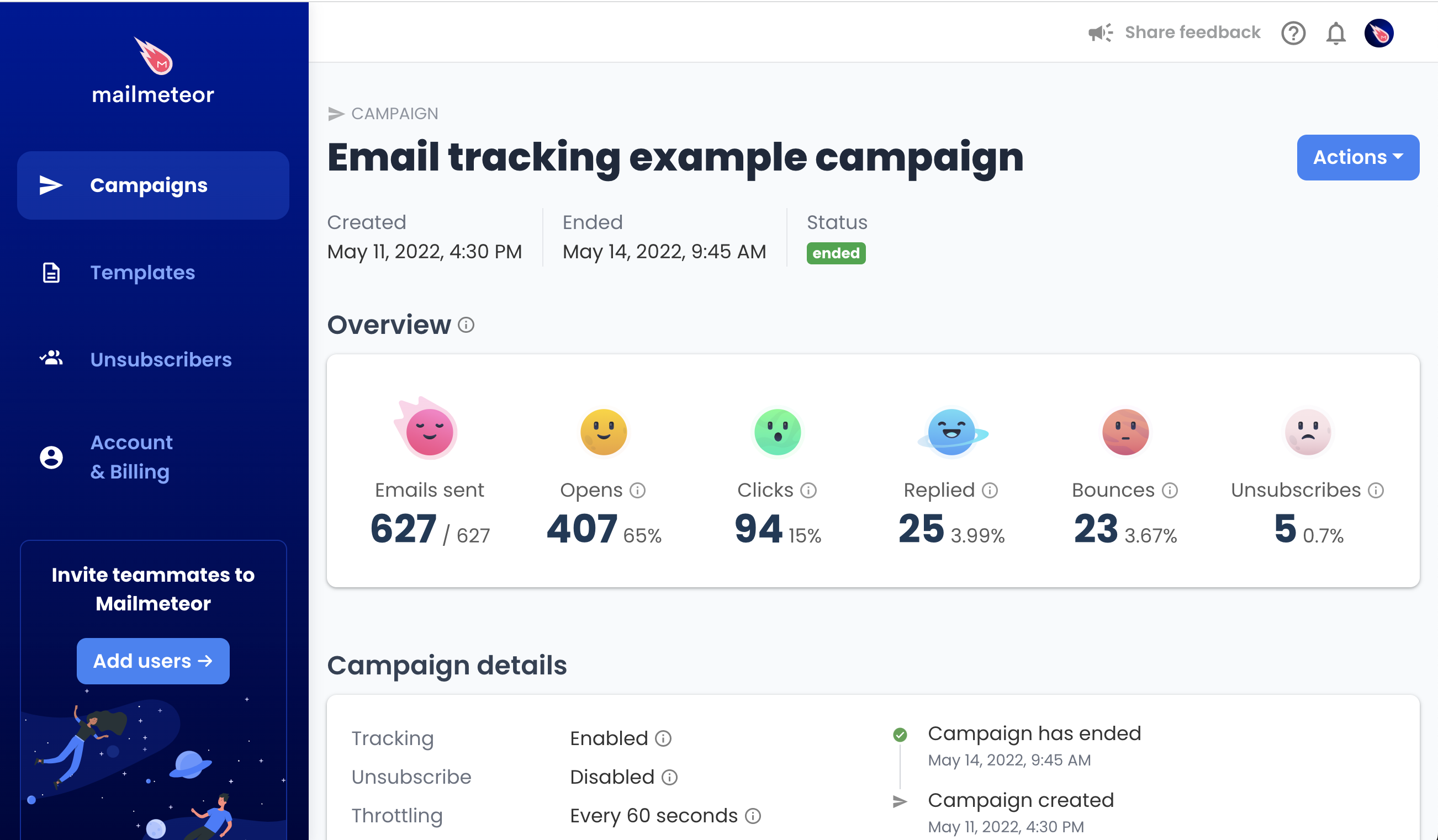 To learn even more about email tracking, we have a nifty video:
Conclusion & Alternative
Tools are meant to be useful, and practical, and make our lives easier. They are developed for these specific reasons. Even though there is some practicality in having a multi-send icon in that compose box, the benefits dwindle from there on.
There's so much more to expect from a multi-send or mail merge tool. Sure, it's Google's first multi-send release, but it's also a multi-send feature in its most basic and primitive capabilities.
Especially, it's lacking some basic features such as:
track opens & clicks.
personalize your email the way you want.
send more than 1,500 emails per day.
schedule your emails to be sent at the right time.
At an entry price of $9.99/month (for Workspace Individual), and upwards of $12 for other workspace business accounts, is it worth upgrading?
Not when you have far more firepower with Gmail add-ons like Mailmeteor, designed to make your email marketing seamlessly easy, useful, insightful, and loaded with value.
Want to know more about Mailmeteor? Check out our Premium plan starting at $4/month!