Looking for a solution to improve your cold email outreach strategy? Then you may already have heard of a tool called Woodpecker. But did you know that there are plenty of other alternatives out there?
Woodpecker is an email marketing platform trusted by over 15,000 professionals and rated 4.6 on Capterra.
This mail merge was created in 2015 to help companies connect with their ideal customers and it quickly became quite popular.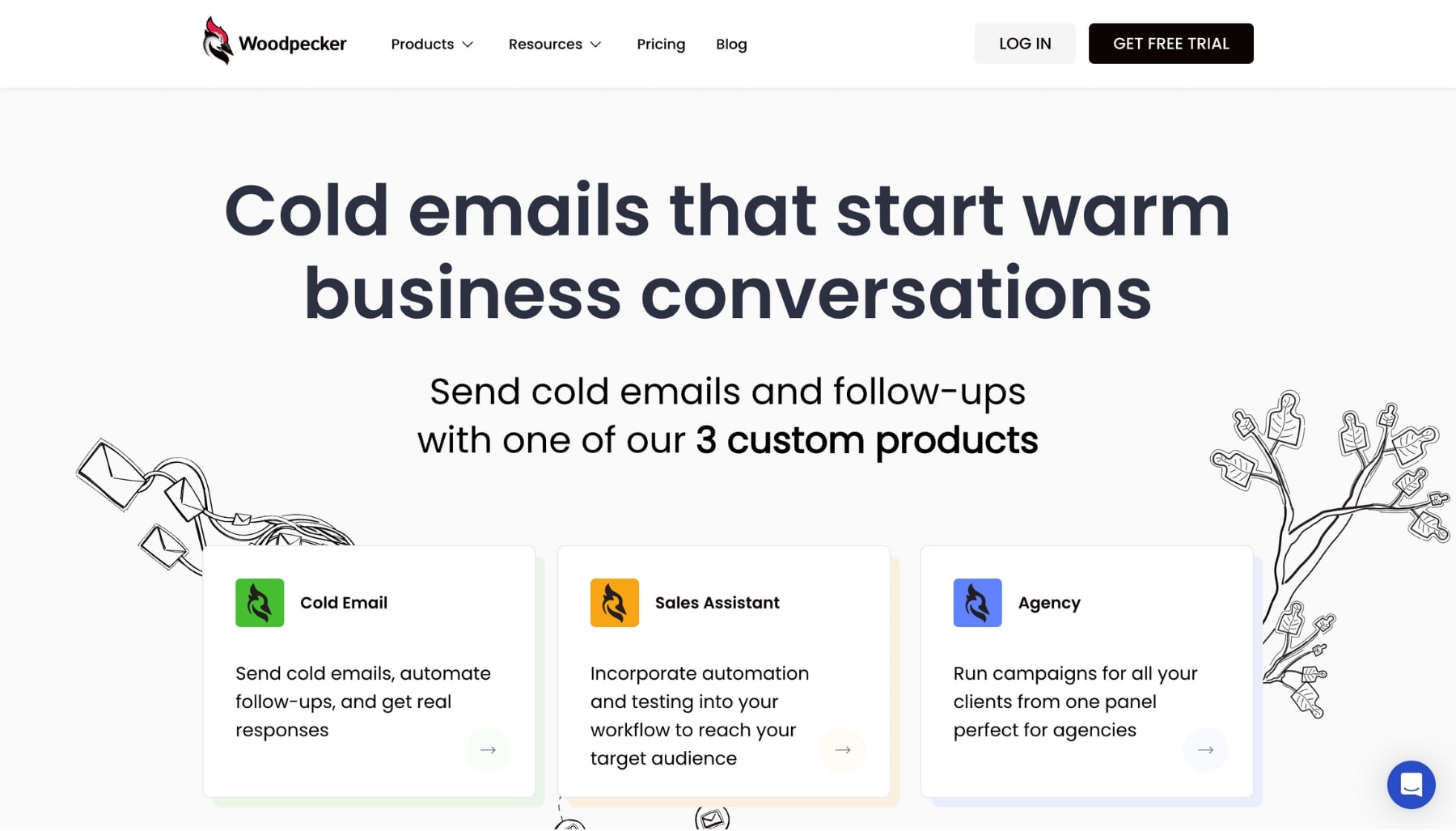 But this tool is far from perfect…
For starters, Woodpecker is expensive. Their cheapest plan starts from $54 a month. This is 5 times more expensive than other mail merges, such as Mailmeteor.
There's more. Woodpecker created an email warm up tool to improve your deliverability. But it no longer works with Gmail.
Last but no least, this add-on requires access to your Gmail inbox and Google Drive files. Which goes against your privacy.
Fortunately, Woodpecker isn't the only cold outreach platform available on the market. In this article, we'll review the 4 best Woodpecker alternatives in 2023 ⤵️
Sounds good? Then let's jump right in.
1. Mailmeteor
Mailmeteor is a trusted email marketing solution that lets you send personalized mass emails directly from your Gmail account.
This simple mail merge is rated 4,9/5 on the Google Workspace Marketplace out of 10,000+ reviews and trusted by over 5 million professionals.
While Mailmeteor was not specifically designed for cold outreach, this platform is a great alternative to Woodpecker.
In 2023, it was listed as one of the 16 Recommended for Google Workspace apps. Here's why you may want to give it a try.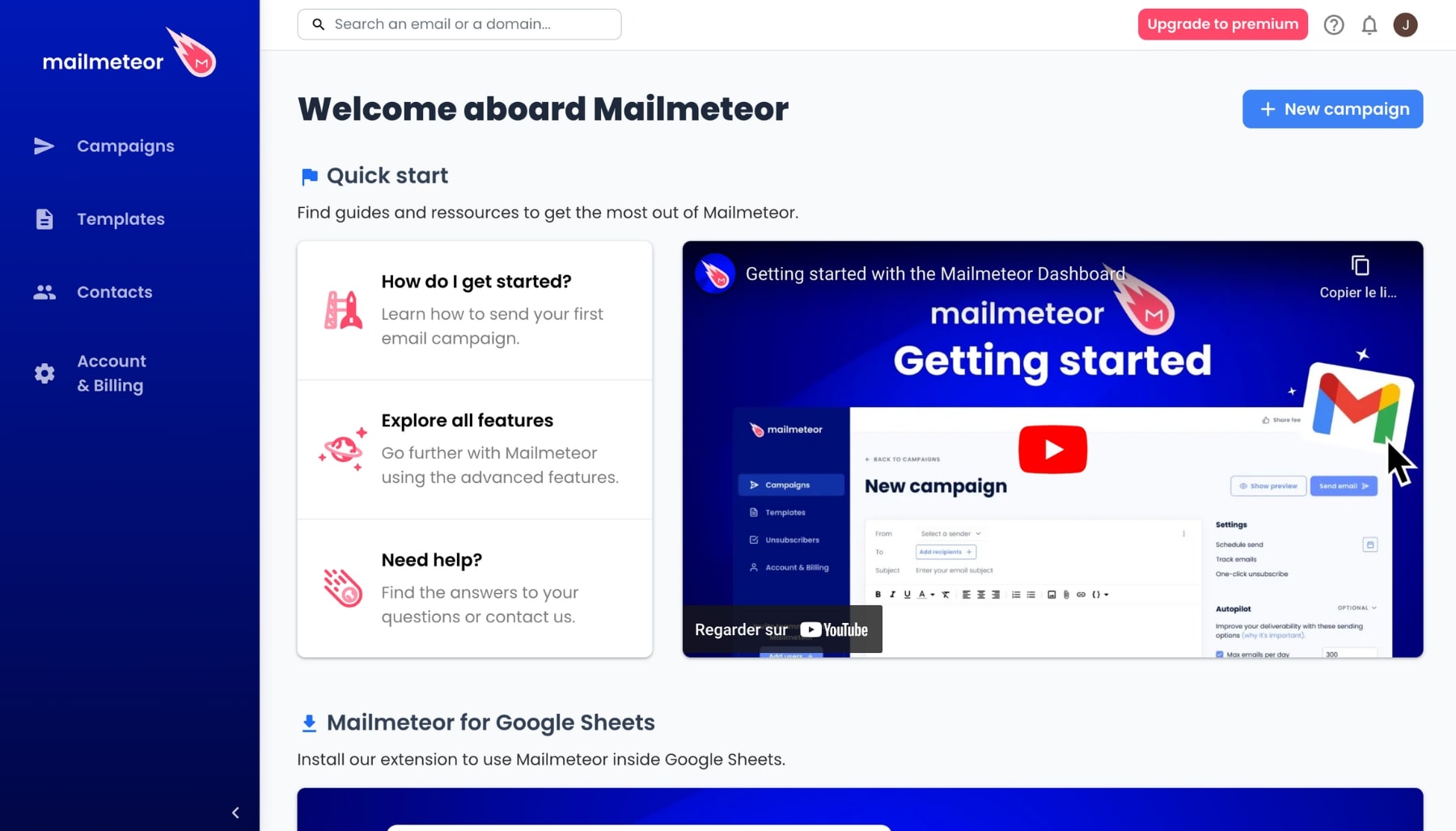 Pros of Mailmeteor
In most cases, when you link your email address to third-party add-ons, you give them permission to access your emails. Which is a serious invasion of your privacy.
Mailmeteor is different. We only ask permission to send emails from your account. This means that we can't read, edit or delete your messages.
One of the best things about Mailmeteor is that it's super intuitive. With this Woodpecker alternative, you can set up your first email campaign in minutes.
This email marketing suite has everything you need to send stellar cold emails, level up your lead generation game and bring in more revenue.
You can for example insert dynamic fields into your emails to add a human touch. Or schedule sequences and follow ups to give your leads a timely response.
Mailmeteor also has some great tools to improve your Gmail deliverability. The platform recently launched a new feature called BounceShield.
This automated service systematically verifies all the email addresses you added to your cold outreach campaigns and detects potential bounces before sending any emails.
To our knowledge, Mailmeteor is the first mail merge app to include an unlimited email verification service at no extra cost. This can save you a lot of money.
Lastly, Mailmeteor lets you track your emails in real time. So you can always know how many emails were opened, clicked, replied or bounced.
Cons of Mailmeteor
Mailmeteor does not have an email warm up tool. Which could be a problem if you plan to send a lot of cold emails.
But with this app, your messages are sent directly from your Gmail account. Which is a great way to improve your deliverability.
So if you've been using your email address frequently for the past few months, there is no real need to use an email warm up tool.
Another Mailmeteor limitation is that you can't send more than 2,000 emails per day because this app abides by the Gmail send limits.
In most cases, this should be more than enough. But if you want to exceed this limit, this might not be the best Woodpecker alternative for you.
Last but not least, Mailmeteor doesn't have a built-in drag & drop email builder. The good news is that you can still import your custom HTML code.
Mailmeteor pricing
Mailmeteor offers a free plan. With no time limit. You can use it to send up to 50 emails per day. No credit card required.
This is a good start for most businesses. But if you're serious about growing your company, you may want to look at our Premium plan.
For $9.99 a month, you'll be able to send as many as 2,000 messages per day. Which should be more than enough to fill your pipe with high quality leads and make your business thrive.
To unlock the full potential of this popular alternative to Woodpecker, you can also subscribe to our Pro plan and get access to powerful automation features.
2. Yesware
Yesware is another popular alternative to Woodpecker. This app is rated 4.4 on G2 and 4.3 on Capterra out of 800+ reviews.
It was created in 2010 by 3 sales professionals. And 6,000+ sales teams are now using this tool to streamline their email outreach process.
On average, users have increased their connection rates by 48% and they bring in 20% more revenue, according to Yesware.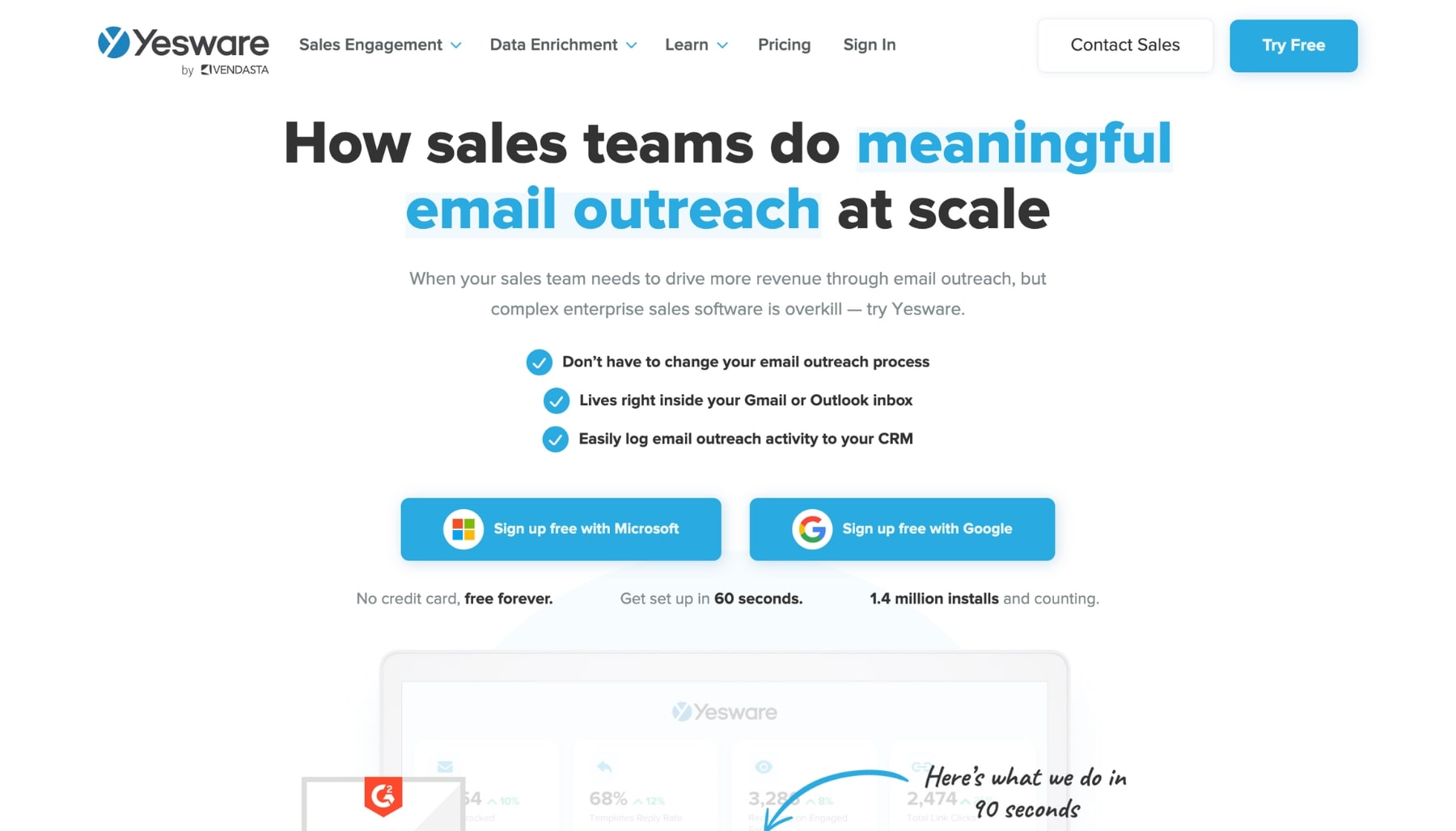 Pros of Yesware
Yesware is one of the market's best sales software suites. And it's definitely a good alternative to Woodpecker.
The platform focuses heavily on sales. It includes a multitude of handy tools for salespeople. Such as a meeting scheduler.
Yesware also lets you see who your most interested prospects are and schedule follow ups to contact them at the right time.
You can track all your emails. The app shows you exactly when a prospect opens an email, clicks on a link or views an attachment.
Lastly, you can access Yesware's library of proven templates and pull from a collection of ready-to-go messages during the entire sales cycle.
Cons of Yesware
However, Yesware falls short of Woodpecker in a number of areas. For starters, you can't A/B test your campaign with this tool.
What's more, Yesware does not have an email warm up tool. Which can be a drawback if you plan to send a lot of cold emails.
Yesware integrates with Salesforce. But it doesn't work with other popular CRMs such as Hubspot, Pipedrive and Close.
Last but not least, Woodpecker has an empty custom fields detection tool. While Yesware doesn't offer this type of feature.
Yesware pricing
You can try Yesware for free. For as long as you want. Their free plan includes basic email open tracking and lets you email 10 recipients per month.
This is one of the most affordable Woodpecker alternatives. Their paid plans start from $15 a month.
This price includes most of Yesware's features. Such as a meeting scheduler and recipient engagement reports.
But you'll only be able to send 10 campaigns each month. To exceed this limit, you'll need to subscribe to their Premium plan. Which costs $35 per month.
3. Lemlist
Lemlist was created in 2018 and since then, this cold outreach platform has gone from 0 to 10,000 monthly users.
This Woodpecker alternative is rated 4.1 on G2 and 4.6 on Capterra. It includes some interesting features such as ⤵️
Linkedin profile extraction
Email warm up tool
Email verification
Scheduling
AI writing
So if you plan to send cold emails at scale, Lemlist seems like a decent substitute for Woodpecker.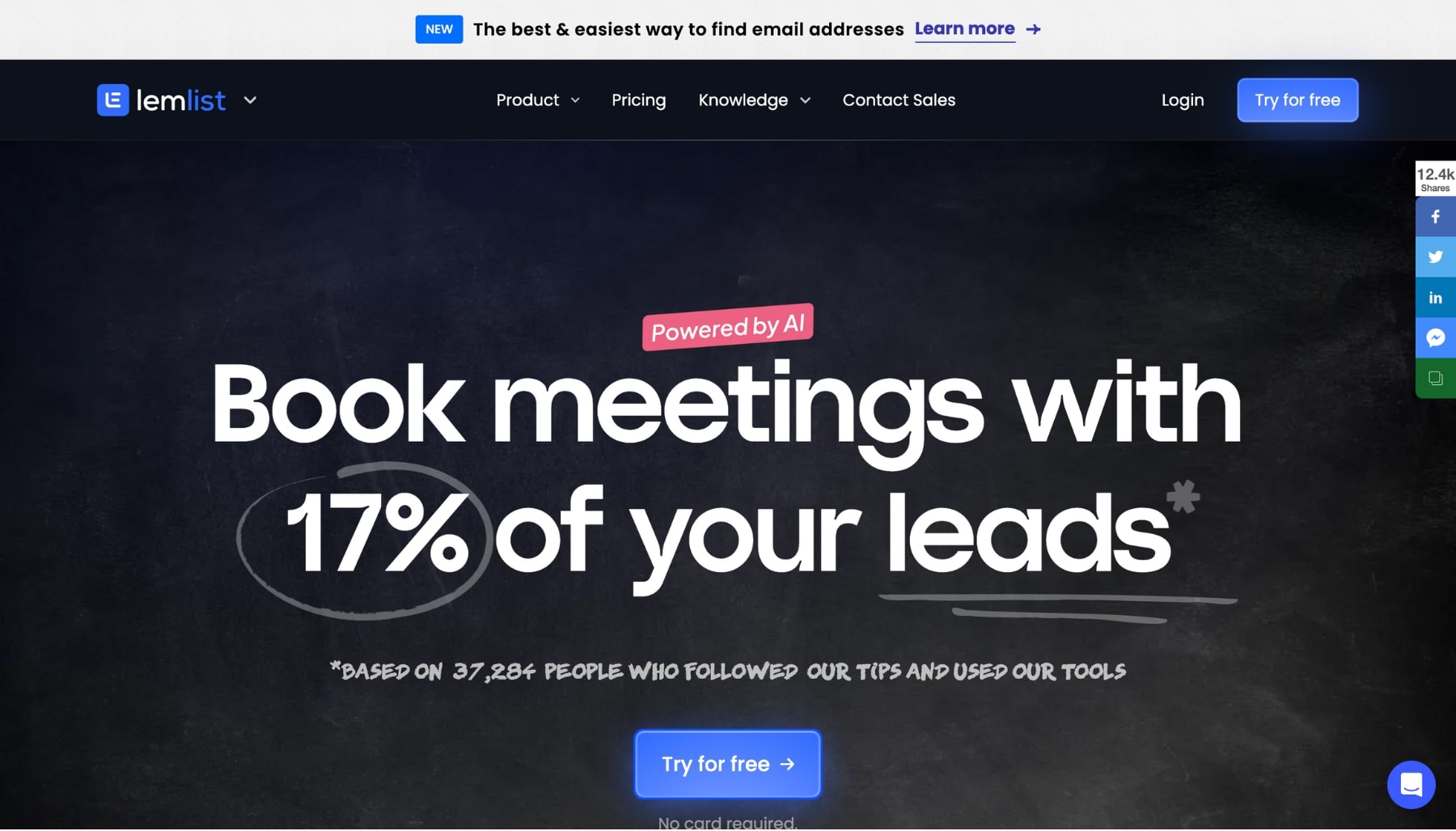 Pros of Lemlist
Lemlist is famous for its email warm up tool – Lemward. This tool can help you improve your sender score.
You can also use this alternative to Woodpecker to scrape some data on LinkedIn and enrich your leads in minutes.
Lemlist allows you to verify email addresses. This will prevent your emails from bouncing and improve your deliverability.
You can use this platform to set up drip campaigns, Schedule your emails and automate your entire email marketing strategy.
Lemlist also lets you add dynamic text, images and videos to your emails to craft highly-personalized messages.
Finally, you can generate fully personalized icebreakers and campaigns in a few seconds with their AI assistant.
Cons of Lemlist
Lemlist is one of the best Woodpecker alternatives. But this email marketing platform has some flaws as well.
For starters, you can't send emails with attachments. This means that you won't be able to attach PDF files or slide shows to your messages.
What's more, Lemlist recommends sending less than 200 emails per day. Any more than that and your deliverability will go down.
So this tool won't make the cut if you need to reach out to thousands of leads per day while maintaining a high delivery rate.
Lastly, Lemlist is pricey. Their cheapest plan starts from $29 per month and it doesn't include that many features.
Lemlist pricing
Lemlist doesn't have a free plan. But you can try their service at no cost for 14 days. After that your account will be paused.
Unless you subscribe to one of their paid plans. Lemlist offers 3 options. Their cheapest plan – Email warmup – starts at $29 per month.
You can also subscribe to their Email outreach plan ($59 per month) or their Sales engagement plan ($99 a month) to get access to extra features.
Lemlist's top-tier plans include handy lead generation tools, such as cold calls, video prospecting and custom landing pages. But they're expensive.
4. Mixmax
Mixmax was created in 2014 by Olof Mathé and Brad Vogel. It has a 4.6/5 rating on Capterra and G2, with 1,200+ reviews.
This sales engagement platform can be used to create and track your cold outreach campaigns and close more deals.
It's a great substitute for Woodpecker if you want to up your lead generation game and schedule meetings directly from Gmail.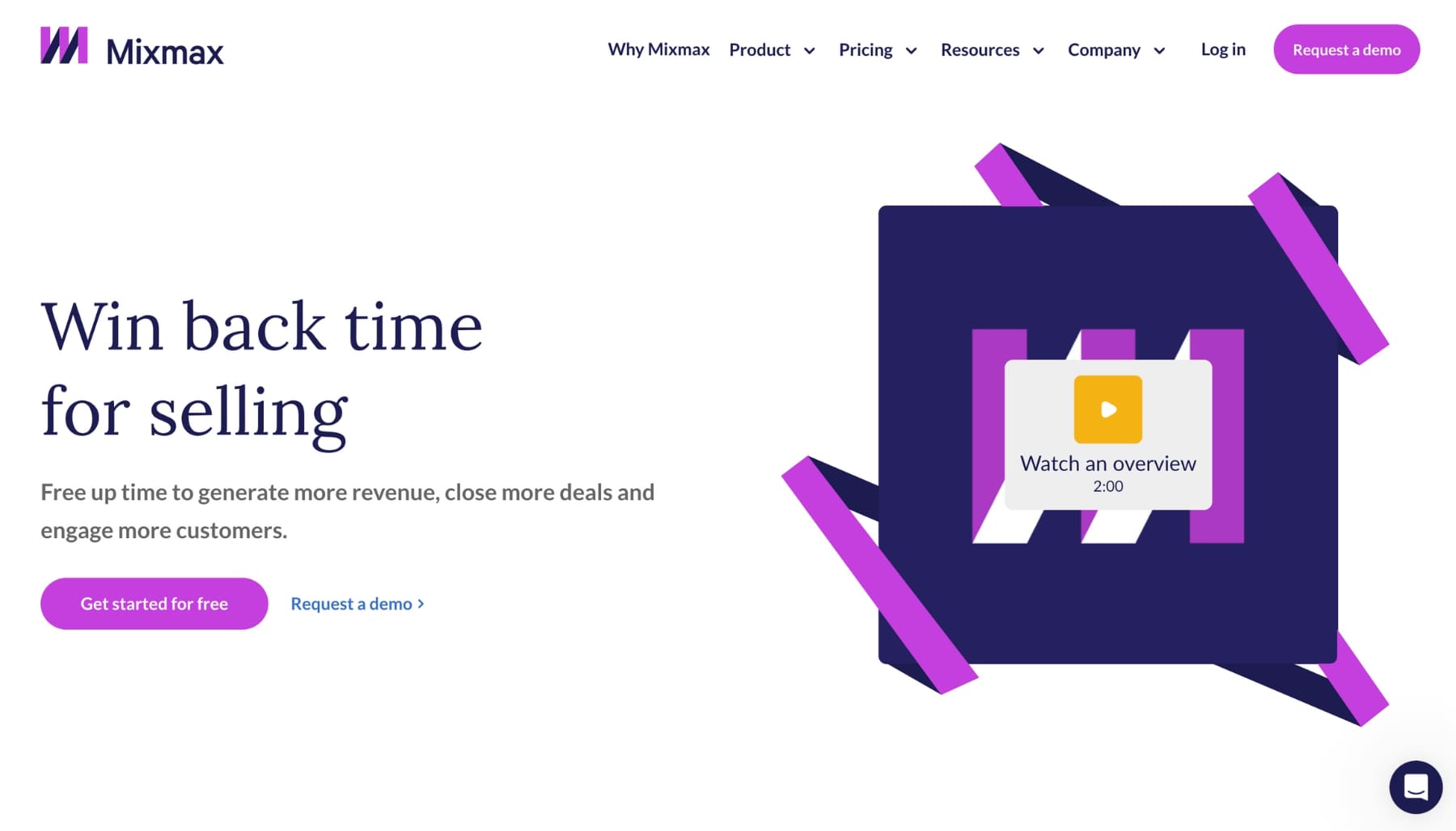 Pros of Mixmax
Mixmax is packed with cool features that will help you save time and get more out of your email marketing efforts.
This platform lets you send mass personalized messages in minutes. You can also design custom email templates and save them for later.
What's more, this alternative to Woodpecker lets you embed surveys directly inside your emails. Which is a great way to learn more about your leads.
Other interesting Mixmax features include email tracking in real time, email sequences and auto follow ups.
Mixmax also created a sidechat that lets you easily communicate and collaborate on your email campaigns with your sales team.
Cons of Mixmax
On the downside, Mixmax lacks some key features. For example, this platform doesn't have an email warm-up tool.
Worse. This Woodpecker alternative doesn't allow you to A/B test your email campaigns. So you probably won't get as many clicks and opens as you could.
Also, you can't send more than 1,000 emails a day using this platform. So if you want to scale your cold outreach above that, look somewhere else.
Mixmax pricing
Mixmax offers a free plan. With no credit card required and no time limit. It's a great way to check out what this tool has to offer.
Their paid plans start from $34 if you have a team of less than 10 people and only need access to some basic features.
If you want to automate your cold outreach strategy, you can subscribe to Mixmax's "Growth" plan. But it's quite costly ($65 per user and per month).
The bottom line
Over the past few years, Woodpecker has become one of the most popular email marketing platforms for cold outreach. But this tool is far from perfect. Fortunately, there are plenty of alternatives to Woodpecker out there.
If you want to send bulk emails with a personal touch, automate your follow ups and improve your deliverability then you may want to try Mailmeteor. Our free plan lets you send up to 50 emails per day. Why not give it a run?
Happy sending :)
Published in: