Sometimes, it can be handy to send an email to multiple recipients without those recipients knowing who else it was sent to.
An example would be if you wanted to reach a number of sales targets without them feeling like part of a mailing list. Or perhaps you want to loop a family member into a delicate conversation with another loved one.
Whatever your reasons, there are a number of ways you can do it safely and securely - but some ways are better than others. In this blog, we're going to take a look at how to send emails to, with a few options for you to choose from.
How to email multiple recipients individually in Gmail (3 methods):
1. Send an email to undisclosed recipients in Gmail with BCC
The ability to copy someone into an email with other recipients knowing has been around for a long time. We often call it BCC or 'blind carbon copy'.
The process of sending a BCC with Gmail is very simple. Here's how it works:
Open Gmail in your browser

Click the Compose button in the top left of your screen

On the new message screen, click BCC.

Enter the address of the recipient who you want to stay undisclosed into the BCC field that appears.

Fill in the other recipients' addresses into the To and CC boxes
Complete your message and hit Send.
The email will then send and everyone in the email chain will be able to see the other recipients, apart from those entered in the BCC field.
It's simple and quick – but it may not be the safest and most secure way of doing things, especially if you're sending to a bigger list. Additionally, it can be easy for your recipients to find out that they are part of a larger mailing list which can be a turn-off for readers. Fortunately, there are other and better options.
2. Use Multi-send in Gmail
A recent addition from Gmail is the Gmail multi-send function.
Featuring a few options to reach multiple recipients, multi-send used to only be available to select Workspace accounts. However in November 2022, the full service was rolled out for all Workspace users, including those on the Workspace Individual plan.
Multi-send works in a similar way to BCC, just with a small number of extra features for those looking for a more tailored multi-email option.
However there are some issues that might hold it many users back from taking advantage of the feature:
Cost Workspace Individual accounts come at a monthly cost of $9.99 which includes fewer features than Mailmeteor, Google Workspace's leading mail merge extension.

Email limit If you have a large list of recipients you want to reach, you may struggle with multi-send which has a maximum recipient limit of 1,500 – as opposed to Mailmeteor which gives you up to 10,000 across a campaign.

Personalisation Multi-send will not allow merge tags in the subject line which means you can't personalise. Personalised subject lines are key for improving the open rates of emails.
So that brings us on to our last solution: Mailmeteor.
3. Email multiple recipients individually with Mailmeteor
The next option we're going to explore is using Mailmeteor, the most popular emailing platform on the Google Workspace Marketplace.
Trusted by over 5 million professionals for its range of handy features, its ease-of-use and its focus on privacy, Mailmeteor helps you email multiple recipients individually with just one click.
Creating mailing lists and email chains with multiple undisclosed recipients is also a simple process with Mailmeteor. Here's how it works:
Install Mailmeteor Your first step is to install Mailmeteor. Head to this link and click install

Create your contact list Once Mailmeteor is installed, open up Google Sheets and create your contacts list. You can either do this manually or by using an existing contacts sheet which you can import in. Find out how to do this with our handy guide.

None of these recipients will know that they were part of a multiple contact list, achieving the same result as if you had used a BCC or Google Multisend.

Open up Mailmeteor Now you have your contact list written, it's time to open up Mailmeteor. On Sheets, head to the add-ons tab between Help and Tools.

Choose Mailmeteor from the options there and a screen will appear.

Create a template You'll need to either write an email template or use an existing one. Either choose a template from the drop down menu or click create new template.

While writing your email, you can include a range of variables to personalize each email – using things like a First Name variable or a Company name, as detailed in the columns of your contact list.

Give your email one last look

Use the preview option to see exactly what your emails will look like in the inbox of the recipient. This is a useful feature to ensure that you don't include any information in the email that suggests the recipient is part of a mailing list.

Hit send!

Once you're done, simply hit send and your emails will shoot off on their way to your recipients - just like that!
That's how easy it is to send an email to multiple undisclosed emails with Mailmeteor. It's quick, simple and happens with every mail merge so you never have to remember to enter names into the BCC field.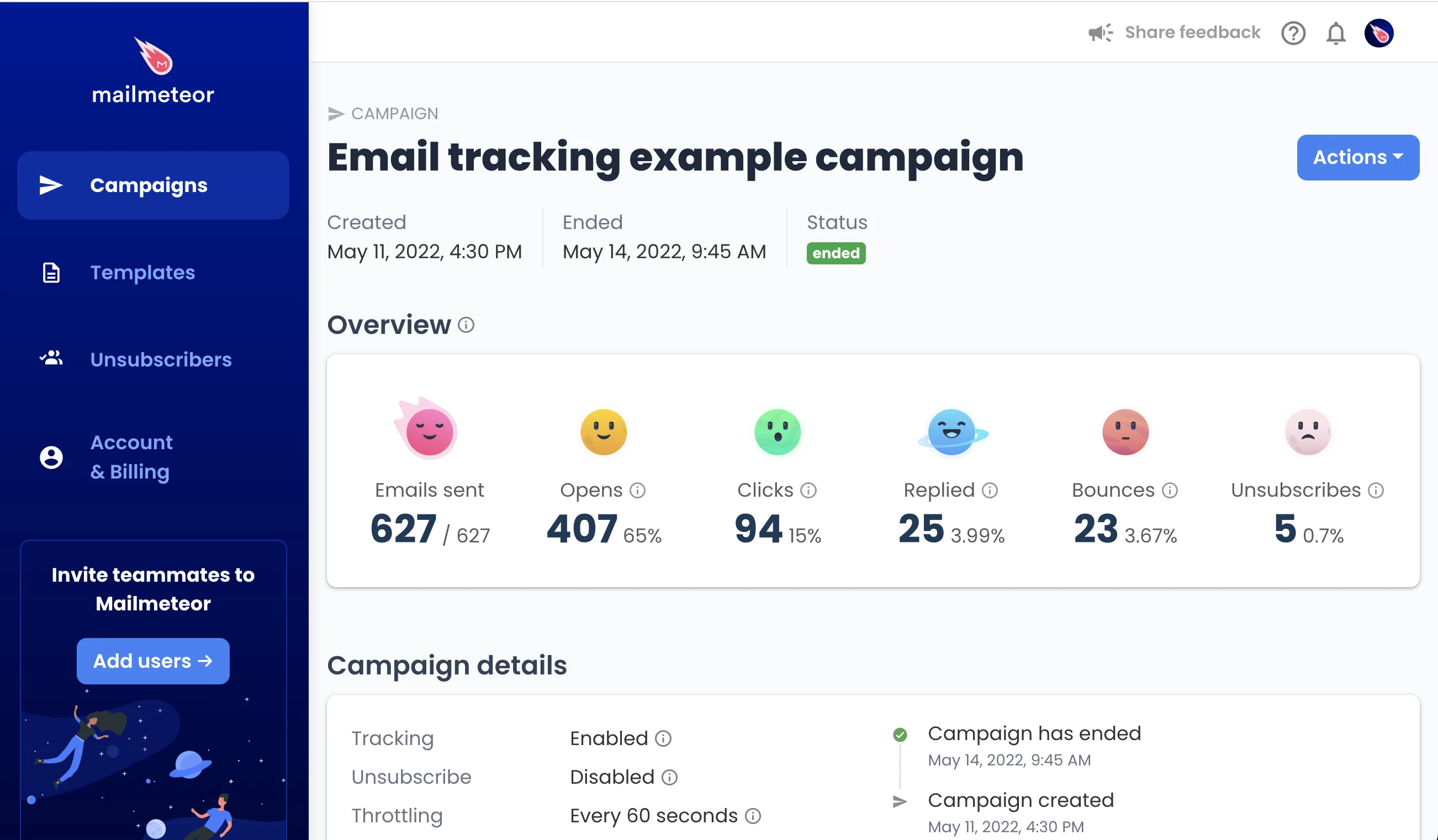 Besides that, Mailmeteor comes with a bunch of handy features for individuals, businesses and professionals including extensive personalization options, real-time email tracking, segment contacts, scheduled mail merges and more. Better yet, it requires minimum permissions to operate too – so you can send as many emails as you want, privately and securely.