If you're here chances are you want to download Gmail emails.
Perhaps you want to download a single email or thread as a PDF, or you want to download Gmail emails in bulk.
In this article, I'll walk you through all the ways you can download Gmail emails. How to download Gmail emails offline. And how to recover deleted Gmail emails.
Let's jump in.
How to Download Gmail or Threads as PDF
If you want to download a single email or download Gmail emails as a PDF, here's how to do it.
Open up Gmail on your desktop.
Open the email or thread you want to download.
Click the three dots "⋮" on the right of the email.
Click "Print" if you want a PDF, or "Download message" for .eml output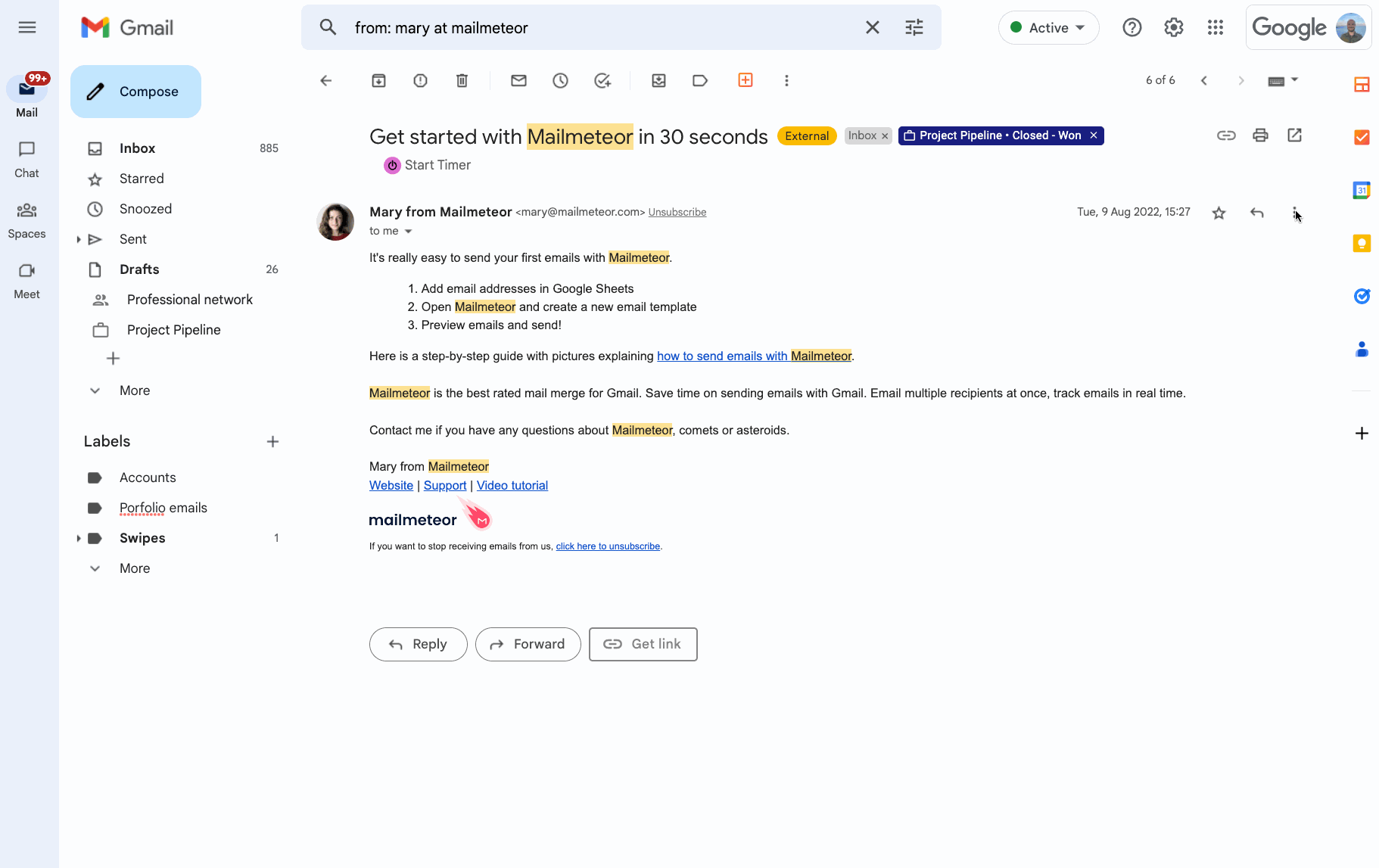 If you're wondering if you can save multiple Gmail emails as a PDF, this isn't possible. This only works for emails in the same thread.
How to Download Gmail Attachments
If you want to download Gmail attachments, here's how to do it.
Open Gmail.
Open the email you want to download the attachment from.
Hover over the attachment thumbnail, and click Download.
You'll find your attachment in your designated download folder.
Sometimes Gmail photo attachments appear as an image instead of a file in Gmail depending on their size. If this is the case for you. Right-click on the image and click Save Photo.
If you use Google Drive, next to the download icon you'll notice an Add to Drive option.
How to Download All Emails From Gmail (And Routine Backups)
If you want to download all your entire Gmail export data to keep a full record of your Gmail account so you can leave Google's ecosystem or transfer emails from one Gmail account to another.
Here's how to do it using Google Takeout.
This will only let you download all Gmail data or a specific Gmail export label — in MBOX or JSON file format, not as a Gmail CSV download. To download Gmail emails to CSV or Excel, skip to the next method.
STEP 1: Choosing what you want to download from Gmail
Log in to Gmail.
Head over to Google Takeout.
Click "Deselect all" to prevent downloading all your Google data.
Select "Mail" from the list of Google products.
To choose what you want to download click "All mail data included".
Then move on by clicking "Next step".
STEP 2: Select your destination for your Gmail export
From this page, you can select how you want to receive your Gmail export.
Gmail export offers you five options:
Send download link via email
Add to Drive
Add to Dropbox
Add to OneDrive
Add to Box
If you choose "Download link via email" you will have 7 days to download your Gmail export.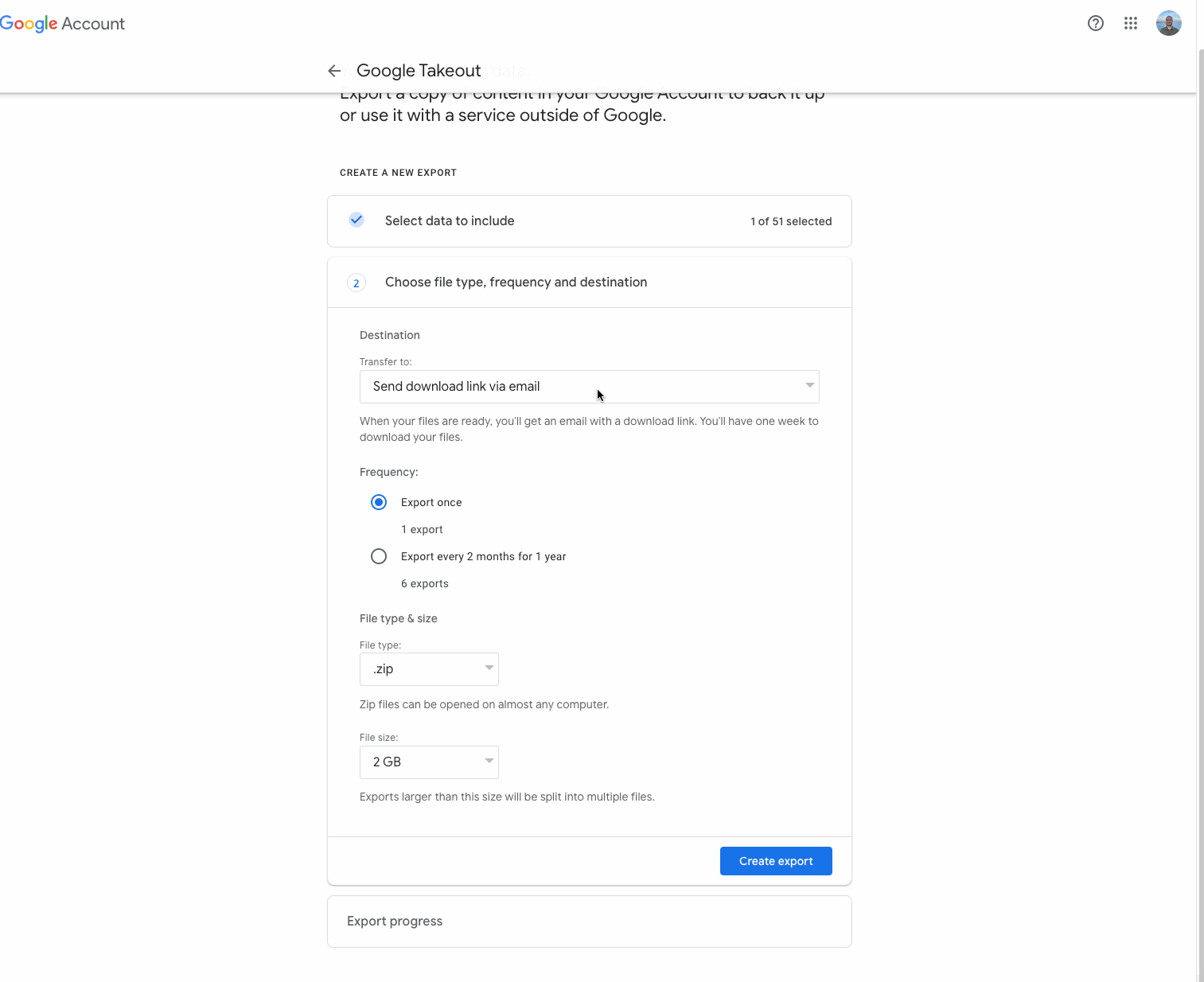 STEP 3: Choose if you want the Gmail export to repeat automatically
You can choose between one-time export and recurring export to keep things backed up for you. (You can have Gmail export your emails every 2 months for 1 year.)
STEP 4: Choose the file format and the maximum file size
Here you can choose between .zip and .tgz output, and a maximum file size between 1 GB and 50 GB.
Once done, you can hit "Create export" and you're good to go.
How to Export Gmail Emails to CSV or Excel Spreadsheet
With this method, you'll be able to download a selection of emails to a nicely formatted CSV, with columns like…
Email, From, Subject, Thread, To, Cc, Bcc, replies, and more.
This is perfect when you want to use your downloaded Gmail emails for further email activities over a "bog standard" backup.
You might want to use the downloaded Gmail CSV output for:
Exporting a group of emails from a specific company.
Exporting a list of Gmail contacts to send a follow-up mail merge.
Gmail export contacts to input into your CRM.
Or just look for patterns in pre-formatted data.
With this method, you export up to 50,000 emails at a time. (For more, just export again).
STEP 1: Install the free Gmail export plugin
Install the free Mailmeteor Gmail export plugin that adds the export functionality to Gmail which you can download right here.

Once you've installed the Gmail export plugin. You'll notice an export button under your inbox's search bar.
This allows you to search for a group of emails using the search bar and export what comes up as a CSV.
Let's export all emails from "Mary at Mailmeteor" to show you how it works…
STEP 2: Use Gmail search to choose the emails for export
To choose what to Gmail export, we'll use Gmail search. I'll enter "from: Mary at Mailmeteor", but you can go as specific and as broad as you like.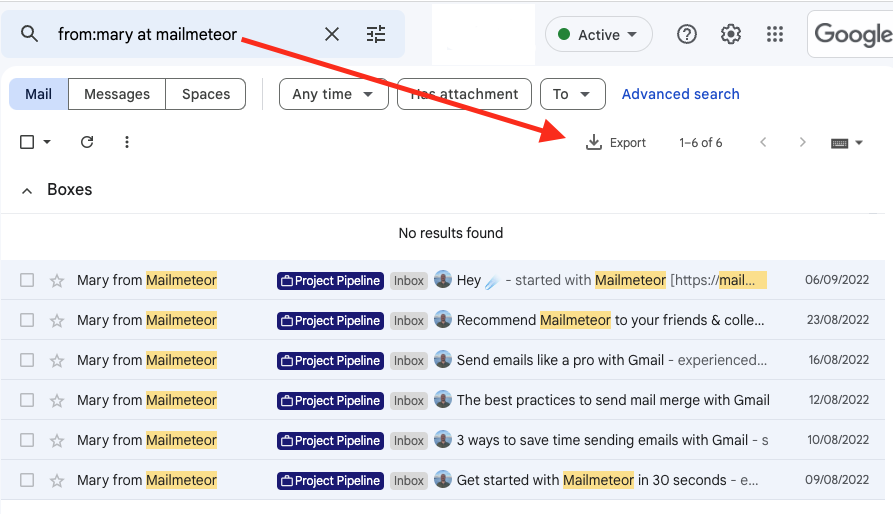 STEP 3: Click "Export" under the Gmail search
Click the "Export" button under the search. From the popup window you can define:
The date range (All, Today, Last 7, and 30 days).
Information you want to download in your CSV.
The information you choose here will form the CSV columns.
The default here is 9 data points, but you can choose from:
ID, Thread, Subject, Snippet, From, To, Cc, Bcc, Reply to, Date, Labels, Link.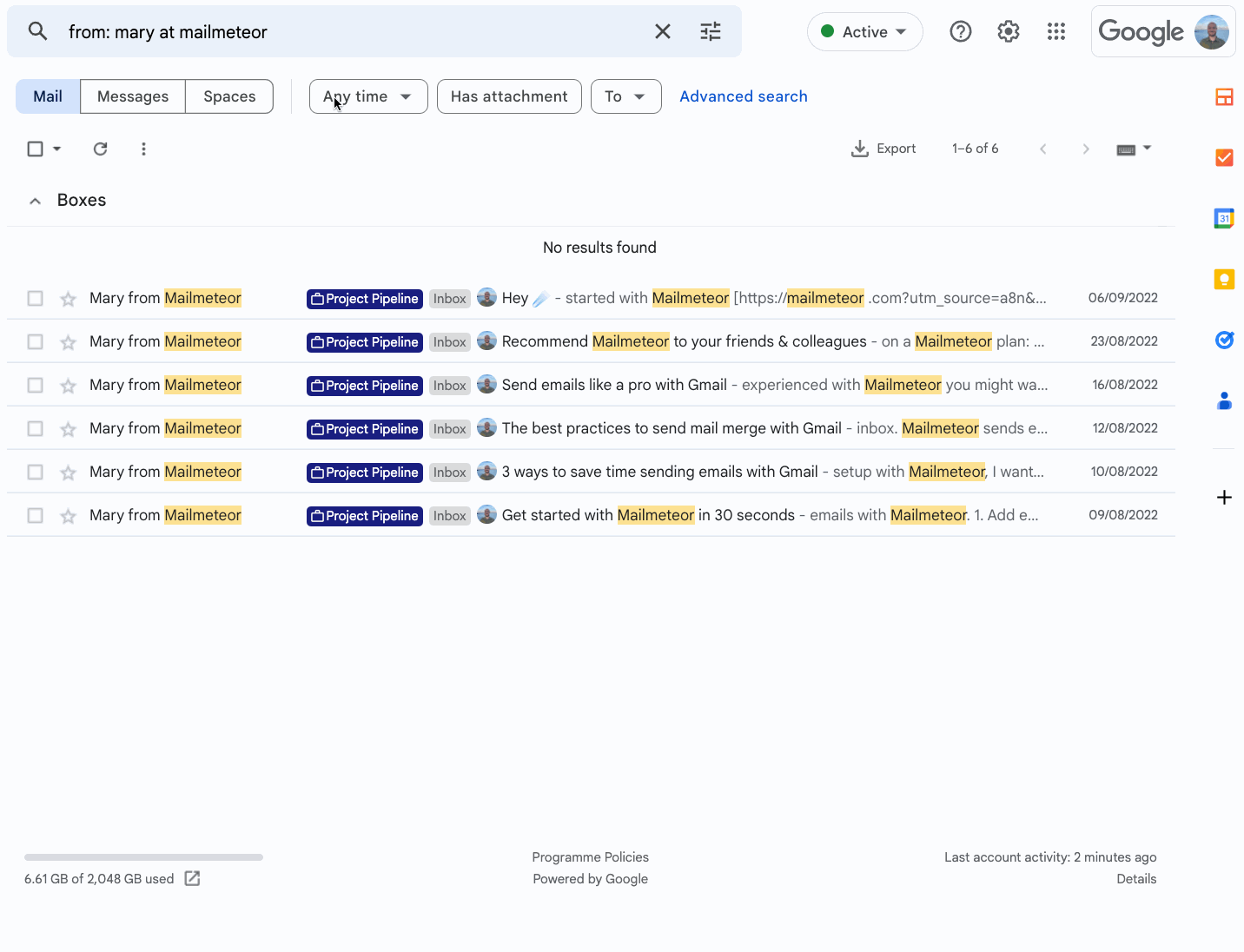 STEP 4: Hit "Export" to get your Gmail export to CSV
You'll receive your Gmail export emails as a CSV from a downloadable link that will be emailed to you.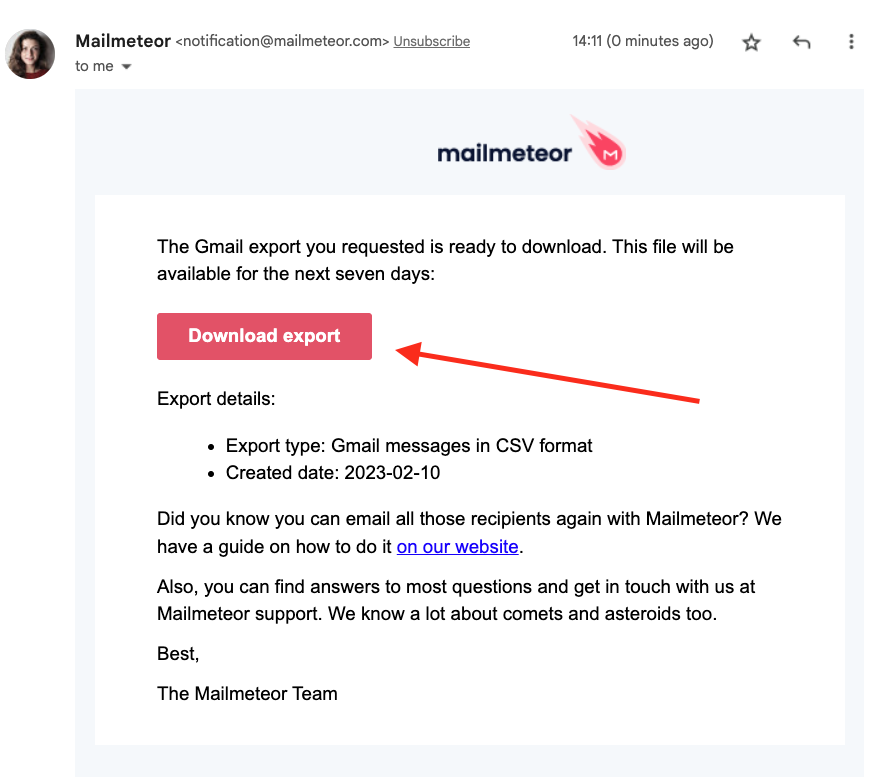 How long it takes to export Gmail depends on the size of your Gmail export emails:
Small batches (less than 500 emails), it'll take less than 1 minute.
Medium batches (less than 5000 emails) it'll take up to 10 minutes.
Large batches bigger than 5000 should come within 1 hour.
Exports are deleted automatically 7 days after being created (and Mailmeteor doesn't share your data with anyone.)
STEP 5: Use your Gmail export to connect with clients and customers
Now you've exported your Gmail CSV, you might want to email the list of people that you've exported.
Rather than emailing them one by one, you can upload your CSV to Mailmeteor's free Gmail plugin to send a mail merge in one click.
Looking for an email marketing solution that matches your needs? Here's how to send email sequences with your Gmail export in minutes.
You'll discover how to send the same email to thousands of recipients.
How to personalize with custom fields like name, company, and job title.
And how to send a follow-up sequence until you get a reply.
How to Download Gmail Emails for Offline Use
If you're on the go, you might want to download your Gmail emails offline. Gmail has an offline feature for you to read, respond, and search Gmail messages when you're not connected to the internet.
How to Turn on Gmail Offline mode:
On your computer, open Gmail.
Click the gear icon in the top right corner to open settings.
Click See all Settings and up top choose the offline tab.
Enable offline mail.
Choose how far back you want to sync and hit Save Changes.
Not got the option to enable Gmail offline? You might need to contact your admin to change your Gmail settings.
If you're offline, naturally you can't browse the internet. So it's worth bookmarking mail.google.com so you can get to Gmail.
Why is it recommended to download Gmail emails?
1. The risk of putting your eggs in one basket
Don't get me wrong, I love cloud storage and keeping all my photos, emails, and files on Google's cloud storage. But this carries a risk you only discover once it's too late. I've heard numerous stories of folks who have lost all their family photos overnight due to a random cloud error. So if you're reading this and thinking… "I don't wanna risk losing my emails," it's worth considering keeping a backup.
2. Keep the hackers at bay
Despite Google being one of the largest companies in the world with the best folks in the business to keep things secure, they can't prevent everything.
One of the most common ways Gmail accounts get compromised is through phishing attacks — those deceptive emails often disguise themselves as a mail delivery, fake online order, or bank request.
If your account gets compromised theirs no way to know what will happen to your data. That's why, it's you should consider doing routine backups of your emails which you can set up automatically using the Google Takeout method.
Looking to recover deleted Gmail emails?
If you're looking to recover deleted emails in Gmail. You should know that deleted emails are stored in the Trash folder for 30 days, after which they are permanently deleted. That's why it's recommended to archive emails instead of deleting them and keeping a backup of your emails on a routine basis.
To discover the 4 ways to recover deleted emails in Gmail, this guide is for you.
Want more ways to improve your Gmail game?
Our blog is full of ways to skyrocket your Gmail efficiency, here are some favorites relevant to you:
Frequently asked questions about Download Gmail emails
How do I download all my emails to my external hard drive?
When you download your emails as a CSV or use Google Takeout. Choose "Send a download link via email." (This is the default method if you're using Mailmeteor's export plugin.)
Then you can download the file to your computer, plug in your external hard drive, and copy it across.
How do I download emails from Gmail to my phone?
Currently, Gmail mobile apps don't allow you to download Gmail emails. Instead, you'll need to open Gmail on your computer and download the email using the method in this guide.
Can I save Gmail emails to my computer?
Yes. You can follow any of the 3 methods in this guide to download single emails, and attachments and export bulk emails to your computer to .eml or CSV.
How to download or save emails in Gmail before deleting your Gmail account?
To download all emails before deleting your Gmail account you can use Google Takeout. For a step-by-step guide on how to do it, follow the steps in this guide.
How can I save my emails before deleting them?
You can export emails using Google Takeout or any of the methods included in this guide. However, once you delete emails, you can't recover them post 30-days. That's why it's worth considering archiving your emails instead.
Do I need to use third-party software to export Gmail emails?
Nope. You can use Google Takeout to export your emails. However, if you want to export emails to CSV or Excel, use Mailmeteor export for Gmail.
How to back up Gmail emails with attachments?
You can export emails with attachments using Google Takeout, follow the steps in this guide on Google Takeout, just make sure to set what you want to download under 'Select data to include' — your attachments should be enclosed within the .zip folder.