Looking for a solution to send mass personalized emails? Then you may already have come across a tool called Yet Another Mail Merge. Or YAMM for short.
This well-known add-on for Google Sheets and Gmail enables you to send bulk emails. In minutes. And with a personal touch.
But Yet Another Mail Merge is not perfect…
It doesn't have a built-in drag & drop email editor.
Its email tracking system is confusing.
And it only works on desktop.
Fortunately, YAMM isn't the only mail merge available on the market. In this post, we'll review 5 of the best Yamm alternatives in 2023 ⤵️
Sounds good? Then let's dive right in.
1. Mailmeteor
With over 5 million users worldwide, Mailmeteor is a trusted email marketing solution to send personalized mass emails with Gmail.
This intuitive mail merge has a 4,9/5 rating on the Google Workspace Marketplace out of 10,000+ reviews.
Mailmeteor is used by small businesses as well as major companies such as Spotify, Uber and Pinterest to send stellar email campaigns.
This mail merge is a great alternative to YAMM. It was also listed as one of the 16 Recommended for Google Workspace apps in 2023.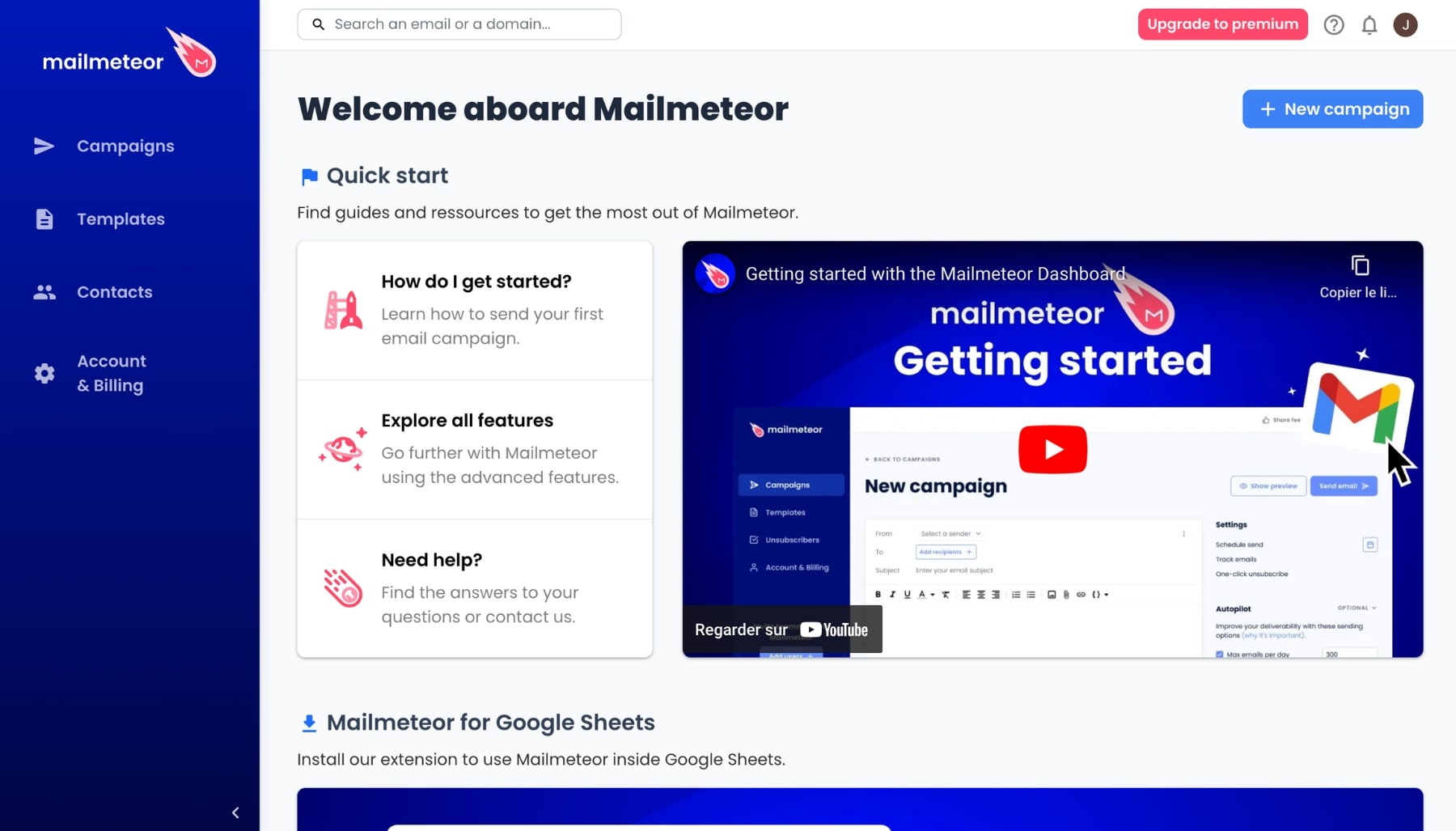 Pros of Mailmeteor
Mailmeteor does everything you would expect of a mail merge. And more. This simple email marketing platform lets you send thousands of personalized emails directly from your Gmail account. In just a few clicks.
Once you log in to your Mailmeteor dashboard, you can also track the results of your email campaigns in real time. This allows you to see how many opens, clicks and bounces you got. So that you can finetune your strategy.
Speaking of bounces, Mailmeteor recently introduced a new feature called BounceShield. This fully automated service verifies email addresses in your campaigns and detects potential bounces before sending any emails.
Mailmeteor focuses on maximizing your email deliverability. Your emails are sent using your Gmail address. This ensures that more of your emails land in your prospects' inbox instead of their SPAM folder.
Lastly, this email marketing platform respects your privacy. Mailmeteor only requests permissions to send emails. It does not require access to your email data, contrary to other mail merge add-ons.
Cons of Mailmeteor
Mailmeteor abides by the Gmail send limits. Which means that you can't send more than 2,000 emails per day. This can be a drawback if you have a very large audience and you need to email your recipients all at once.
What's more this mail merge was designed to work exclusively with Gmail. So if you're using another email service provider (ESP), this might not be the best YAMM alternative for you.
Lastly, Mailmeteor lets you import custom HTML code. But, just like YAMM, this platform doesn't have a drag & drop email builder. So you can't craft visually stunning email templates right from the Mailmeteor app.
Mailmeteor pricing
Mailmeteor has a generous free plan that lets you send up to 50 emails per day at no cost. It's a great way to start exploring how this tool works.
If you need to send more messages, you can try our Premium plan, which costs $9.99 per month and lets you schedule up to 2,000 emails per day.
To unlock the full potential of this popular alternative to YAMM, you can also subscribe to Mailmeteor Pro.
For $24.99 a month, you'll get access to powerful automation features, such as email sequences, auto follow up emails and bounce detection.
2. Mailshake
Mailshake is a simple yet powerful cold outreach tool designed to help sales reps get more replies, book more meetings and generate more revenue.
As of today, 49,000+ companies are using this YAMM alternative to automate their cold emailing campaigns.
Mailshake was created in 2015 and this email marketing platform is rated 4.7/5 on G2 and Capterra with 300+ reviews.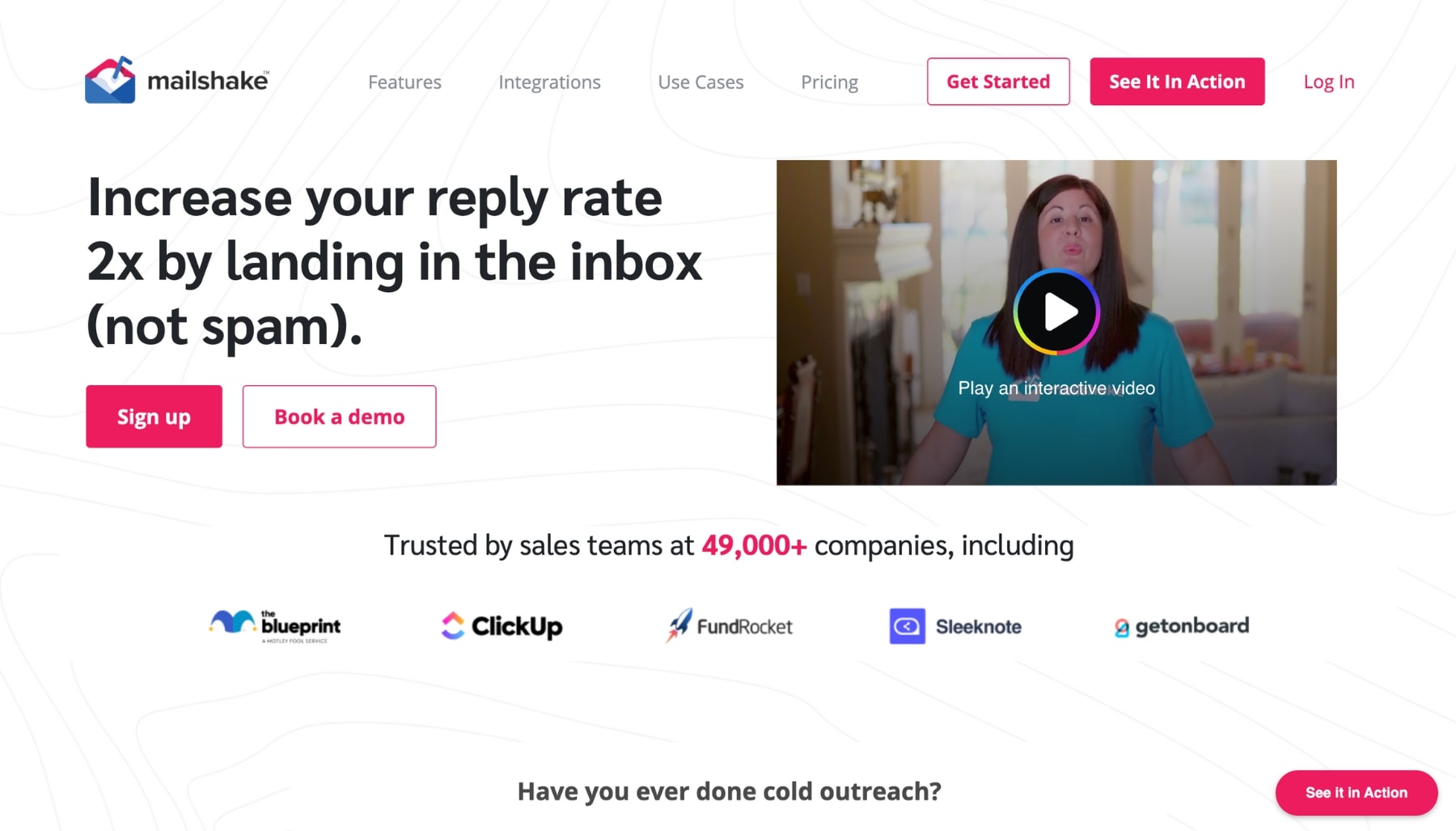 Pros of Mailshake
You can add your prospect list to Mailshake in minutes. To get started, simply upload a CSV file including your recipients and their data.
Mailshake also lets you import data from LinkedIn and Pipedrive, which will help your sales team to save hours of work.
What's more, this YAMM alternative allows you to easily schedule email campaigns and personalized follow ups to close more deals.
Mailshake also comes with features to improve your deliverability. Such as a free email warm up tool to improve your email reputation.
Last but not least, you'll get access to an extensive library of cold email templates and an AI will help you write custom emails.
Cons of Mailshake
Mailshake is a great platform to automate your cold outreach. But if you want to send newsletters or transactional emails, this may not be the right tool for you.
What's more, Mailshake is quite expensive. So this may not be the best alternative to YAMM if you're a small business owner.
Lastly, Mailshake built its own interface. So you'll need to learn how to use yet another tool before you can send your first email campaigns.
Mailshake pricing
Mailshake does not have a free plan. And there is no free trial either. But you can book a demo with one of their sales reps.
To use this Yet Another Mail Merge alternative, you'll need to subscribe to their Email Outreach plan, which costs $58 per user and per month.
This is more expensive than most of the other mail merge apps listed in this article. And the plans are only billed yearly.
3. GMass
GMass is somewhat affordable and very similar to Yet Another Mail Merge. Which makes it an excellent substitute for YAMM.
Just like Mailmeteor, this mail merge was built specifically for Gmail and it integrates seamlessly with the Google Workspace productivity suite.
This YAMM alternative was created by Chicago-based entrepreneur Ajay Goel and is now used by 300,000+ people worldwide.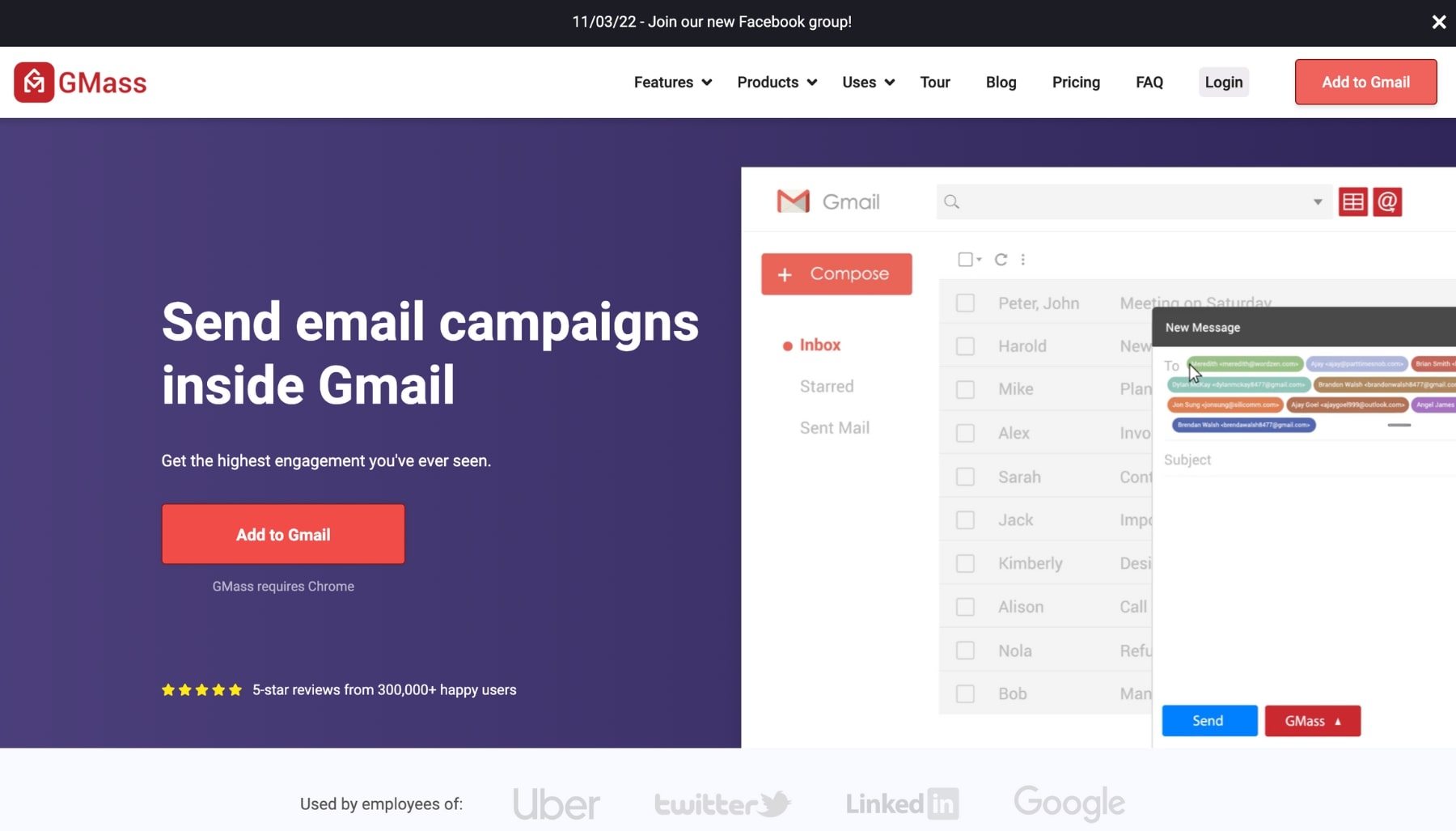 Pros of GMass
One of the main advantages of GMass is that you can exceed the Gmail limitations and send up to 10,000 emails at once.
This add-on lives inside your Gmail account. Which means that you can set up your email campaigns directly from your inbox.
You can also personalize your emails and your subject lines at scale with dynamic fields and conditional logic.
GMass also lets you add quick 1-question surveys to your email campaigns. Which can be a great way to learn more about your recipients.
This emailing platform offers other key features, such as A/B testing, email scheduling and unsubscribe management.
Cons of GMass
You can only use GMass with Google Chrome. Other browsers, such as Firefox, Microsoft Edge and Safari are not supported.
What's more, GMass doesn't work with Microsoft Outlook. Though you can bypass this limitation by sending emails from an alias.
GMass is powerful. But it's also complex. The interface is not as intuitive as what you can expect from YAMM or other alternatives.
Also, this tool lacks some features, such as advanced reporting, pre-designed email templates and a drag & drop template builder.
GMass pricing
GMass is more accessible than most of the other YAMM alternatives. Their free plan lets you send up to 50 emails per day.
To send more emails, you'll need to subscribe to one of their paid plans. The cheapest one costs $19.95.
If you want to experience everything that GMass has to offer you can choose their Premium ($29.95) or Enterprise ($49.95) plans.
4. Lemlist
Lemlist is another great replacement for YAMM. This email marketing solution is rated 4.1/5 on G2 and 4.6/5 on Capterra.
It was founded by the French entrepreneur Guillaume Moubeche. In less than 5 years, it grew from 0 to 10,000 monthly users.
Lemlist is not just a mail merge. It's more of an outreach tool that will help you send cold emails. At scale.
Pros of Lemlist
The feature that Lemlist is most famous for is undoubtedly Lemwarm – their email warm-up tool. Which is designed to improve your sender score and boost your deliverability.
Lemlist integrates with other CRMs, as well as with LinkedIn and Sales Navigator. Which means that you can scrape leads in just a few clicks, find their email addresses automatically and add them directly to your outreach campaigns.
This platform also lets you generate dynamic content (text, images and videos). For example, you can customize the name of your recipient, as well as the logo of their company to give your emails a more personal touch.
Finally, Lemlist enables you to set up drip campaigns, automate your email sequences and schedule follow ups. This way, you can always make sure that each of your leads will receive the right message. At the right time.
Cons of Lemlist
Lemlist is a solid option if you want to do some cold email outreach. However it's not the best YAMM alternative.
For starters, this tool doesn't let you send emails with attachments. Which means that you can't add a PDF file or a slideshow to your email.
This is also one of the most expensive email marketing platforms listed in this article. Their cheapest plan starts from $29 per month.
Lastly, Lemlist does not recommend sending more than 200 emails per day from their platform. Beyond this limitation your deliverability rate plummets.
Lemlist pricing
Lemlist has a 14-day free trial. Which you can use to set up your first cold email outreach campaign and explore what this tool has to offer.
Once your trial is over, however, you'll need to take out your wallet. The cheapest plan of Lemlist – Email warmup – starts at $29 per month.
But to unlock extra features such as cold calls, video prospecting and custom landing pages, you'll have to subscribe to one of their pricier plans.
The Email outreach plan costs $59 per month and the Sales engagement plan is available for $99 a month. Which is a lot more expensive than YAMM.
5. Woodpecker
Woodpecker is yet another YAMM alternative. This cold emailing platform is a great way to generate new leads for your business.
Trusted by over 15,000 professionals, Woodpecker is rated 4.3 on G2 and 4.6 on Capterra. But with less than 100 reviews.
This mail merge lets you send cold emails with a human touch that will warm up the conversations with your prospects.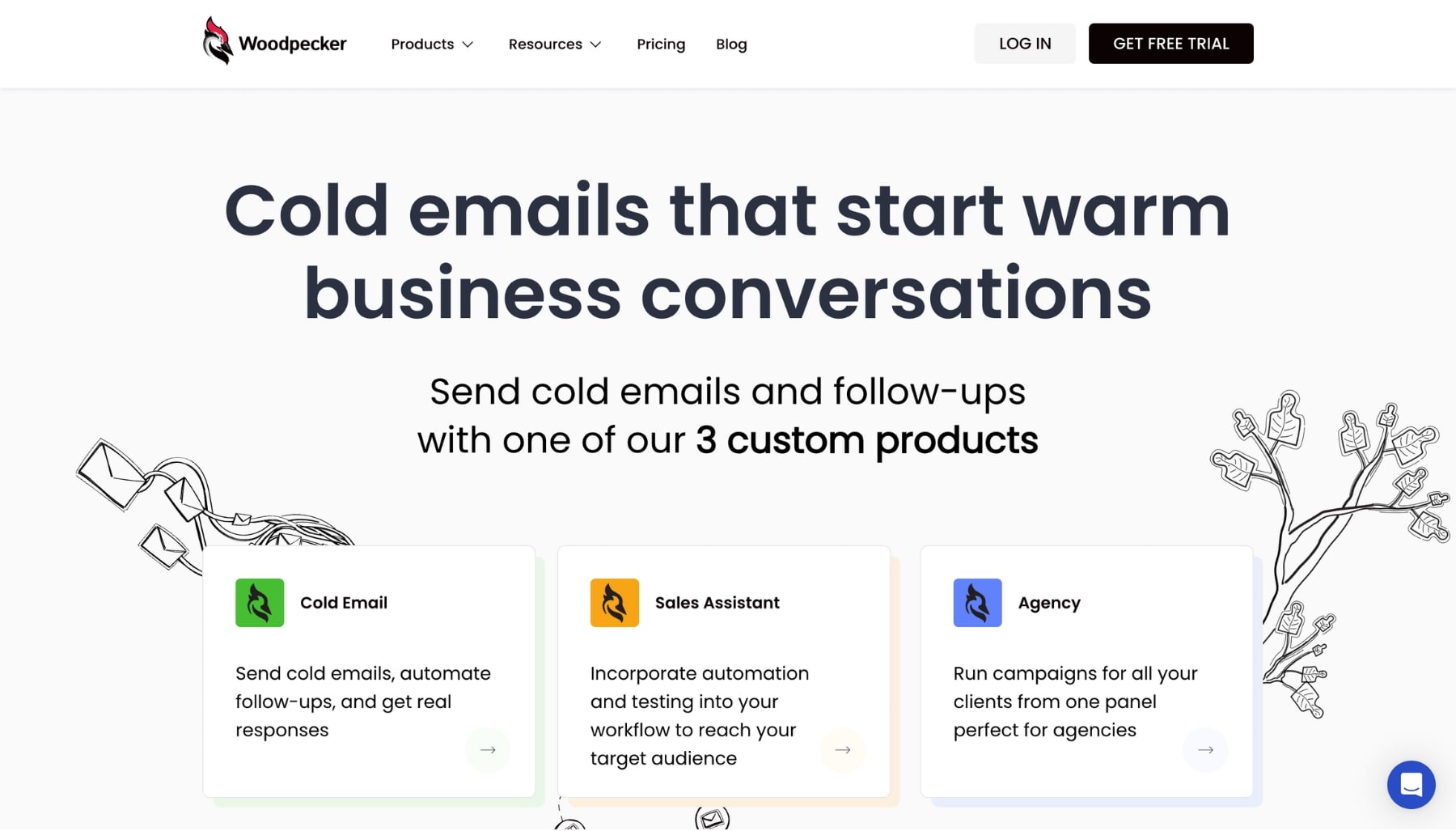 Pros of Woodpecker
Woodpecker was designed to help you send customized emails from Gmail and Outlook. But there's more.
Just like many other email marketing platforms, Woodpecker lets you schedule follow ups and email sequences.
For example, you can set up a gentle reminder after 3 days to prompt your prospect to respond if they ignored your first email.
Woodpecker integrates with all your software. Including Calendly, Google Sheets, Hubspot, Zapier, Slack and Pipedrive.
You can also access your analytics in real time and measure how well each of your email campaigns performed (opens, clicks, replies…).
Lastly, you can A/B test your messages and ask Woodpecker to check for invalid email addresses before sending your campaigns.
Cons of Woodpecker
Woodpecker is not foolproof. Their email warm up tool, for example, does not work if you're using a Google account.
What's more their pricing is (a bit) on the higher side compared to some of the other YAMM alternatives.
Lastly, Woodpecker requires access to your Gmail inbox and Google Drive files. Which goes against your privacy.
Woodpecker pricing
Woodpecker offers a free trial. No credit card required. But their offer is limited to 7 days or 50 emails. Which isn't much.
After you reach the end of your free trial, your account will be paused. Unless you subscribe to one of Woodpecker's paid plans.
They have 3 premium plans ⤵️
Their "Cold email" plan costs $54.
Their "Sales assistant" plan is billed $69.
And their "Agency" plan is worth $69 per month.
This is A LOT pricier than Yet Another Mail Merge. So we'd only recommend choosing this alternative if you want to go ham on cold emails.
The short of it
Yet Another Mail Merge is one of the most popular mail merge apps on the market. But this tool is far from perfect. Fortunately, there are plenty of great alternatives to YAMM out there.
If you want to send mass personalized emails straight from your Gmail account, you may want to check out what we do here at Mailmeteor. Our free plan lets you send up to 50 emails per day. Why not give it a shot?
Happy sending :)
Published in: